DUP leader Peter Robinson has said he is content that the British government has addressed the policing and security issues his party had concerns about.
Mr Robinson also said his party would take part in talks on Monday with the north's political parties and the Irish and British governments.
His comments come after Northern Ireland Secretary of State Theresa Villiers said the British government has commissioned a factual assessment from the security agencies and police on paramilitary organisations.
Speaking to the media this afternoon, Mr Robinson welcomed the "comprehensive" assessment.
He said Ms Villiers has shown that she is willing to take seriously the issue of paramilitary criminality in Northern Ireland.
Mr Robinson said that parliamentary activity would have to be dealt with during the talks process.
Ms Villiers said the assessment will be independently reviewed and checked by three individuals who she will appoint and it will be published by mid-October.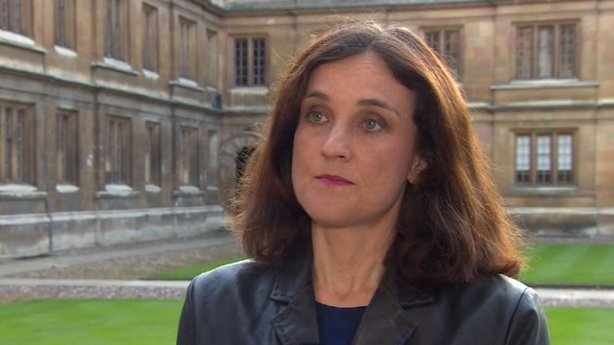 The names of the three individuals will be announced early next week.
The NI Executive is on the verge of collapse, with all but one of its unionist ministers having walked out over the shooting of former IRA member Kevin McGuigan last month.
The PSNI has said it believes the murder was carried out by current members of the Provisional IRA in a suspected revenge attack for the murder of Gerard 'Jock' Davison in May.
She said talks involving the five main political parties in Northern and the British and Irish governments will begin on Monday.
Minister for Foreign Affairs Charlie Flanagan said the assessment commissioned by the British government will be a "once-off exercise" and is intended to assist the parties in "their collective consideration of how the impact and legacy of paramilitary activity should best be addressed".
Pleased that Unionist Leaders will be present for vital inclusive talks on Monday.#Peace

— Martin McGuinness (@M_McGuinness_SF) September 18, 2015
PSNI Chief Constable George Hamilton also welcomed the announcement.
"The PSNI will provide full co-operation and support to all the measures that have been outlined," he said.
"Organised crime has a disproportionate effect on our most vulnerable communities and we welcome the clear focus on this issue.
"PSNI will continue to build on our work with the Organised Crime Taskforce, An Garda Síochána and our other partner agencies to tackle organised criminality.
"We welcome the independently reviewed assessment of paramilitary organisations announced by the Secretary of State and PSNI will play our part in assisting in this process."
Meanwhile, Sinn Féin MLA Martin McGuinness said that all-party talks should now proceed without further delay.
Mr McGuinness said: "Sinn Féin is committed to pursuing our goals through peaceful and democratic means and is entering these talks on the firm and sole basis of our electoral mandate.
"We have a burning duty to achieve a resolution to the outstanding issues from Stormont House and other agreements and a workable budget, which enables the Assembly to protect public services and grow the economy.
"We will work with the other parties to tackle the issue of armed groups, which want to drag us back to the past including active unionist paramilitaries and armed republican dissidents, and organised criminals who are a blight on the community."
---
Analysis: Northern Editor Tommie Gorman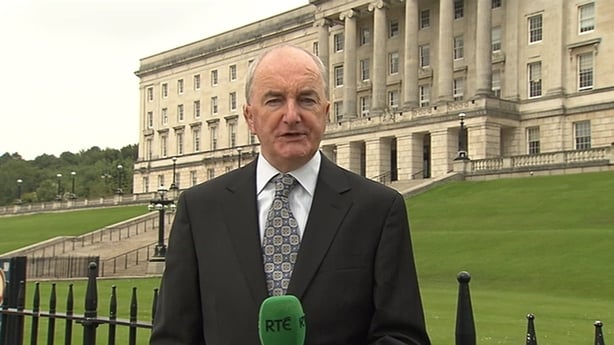 The timescale on this factual assessment of paramilitary organisations is pretty tight. By the middle of next month it will have to be checked by three independent people – they'll have some job on their hands.
The agencies that have been commissioned are MI5 and the PSNI. We know what the PSNI's stance on this was, but will MI5 have a different one? That's unlikely.
Will the level of information provided to these three independent persons be enough for them to say - that the IRA does exist in some form but there's no proof as yet that its members were involved in the killing of Kevin McGuigan? And will that allow the talks to continue?
In the statement that Charlie Flanagan released, he said he wanted to see the talks resume on Monday and wanted to see rapid progress. Given the way that Peter Robinson has stepped aside and that matters are in such a precarious state here, you can see this coming to a conclusion one way or another within a few weekends and certainly by the end of October.