Minister for Justice Frances Fitzgerald has said Ireland will welcome 4,000 refugees under the Irish Refugee Protection Programme.
520 of the people coming to Ireland are programme refugees and classed as such by the UNHCR and they will have the same rights as Irish citizens.
The remaining 2900 + 600 people that Ireland is going to accept will be seeking refugee status and will be processed through reception and orientation centres based around the country.
The process of application for refugee status will be fast tracked.
The details of this have yet to be released but it has been confirmed that they will not be going through the direct provision system.
Ms Fitzgerald has said that there will be an assessment process to establish whether the people arriving are refugees, but the working assumption across Europe is that the majority of those arriving are.
She told RTÉ's Six One News that newly established reception and orientation centres will be established and that the process to establish whether they are refugees will be fast-tracked.
Minister Fitzgerald said once they get refugee status, they can work and get involved in the community.
She said there is an established Refugee Programme in Ireland working with the UNHCR to provide the necessary services, but that the services will need to be accelerated and a range of housing needs will have to be met for these families.
Speaking following a special Cabinet meeting this morning, Ms Fitzgerald had said ministers have decided to establish a network of emergency network and orientation centres around the country.
She said the Government will make best use of offers of help made by the Irish public.
A budget allocation has been made to begin the process and will look at a special allocation of resources.
Ms Fitzgerald said that the 4,000 figure agreed goes beyond what, she thinks, the EU commission will be requesting.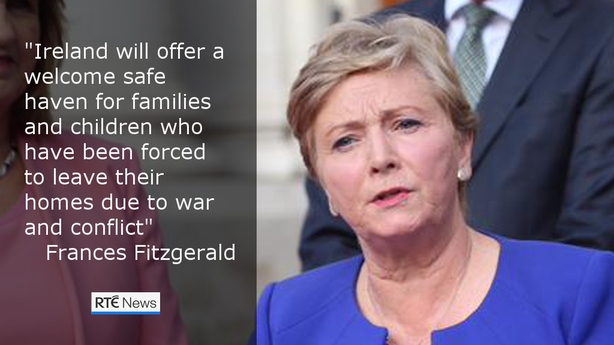 Tánaiste Joan Burton said the protection programme will focus in particular on women and children.
Ms Fitzgerald said the cost was €12m a year for every thousand refugees.
Her department has asked for a budget of €6m to deal with initial numbers and to put in place staff for the initial setting up of the new programme.
The minister said the Government would be applying to the EU for funding. It will also ask the European Commission to exclude the costings from the national finances.
She said the first refugees will start to arrive in the next number of weeks.
No asylum seekers are to be housed in Direct Provision.
An audit is being carried out of what accommodation is currently available and Ms Fitzgerald said she expects the accommodation will come from a number of areas, such as the Defence Forces and the Office of Public Works, as well as voluntary offers.
LIVE BLOG: Refugees, Stormont crisis & banking inquiry
The Department of Justice and Equality will work with the Department of Education and Skills, relevant agencies and NGOs to put in place appropriate integration measures including the provision of English language training and community socialisation programmes.
Ms Fitzgerald said: "We will put in place all the necessary supports to ensure that those coming to Ireland can integrate as well as helping them to overcome any trauma they endured on having to flee their home countries.
"Special arrangements involving the relevant state agencies will be put in place to support the needs for unaccompanied, vulnerable children."
Irish Red Cross Chairman Pat Carey has welcomed the plan and said the Red Cross will be coordinating offers of accommodation from community organisations across the country.
He said the organisation will be announcing a dedicated phone line and email address for people wishing to offer accommodation and local branches of the Red Cross will be working with communities who wish to get involved.
Mr Carey said he expects people could start arriving in Ireland within a couple of weeks and they would initially be accommodated in reception and orientation centres at first.
He added that previously in the case of Bosnian refugees, most moved on to more permanent accommodation after about ten weeks, but he said he expected it might take a bit longer this time and it would probably be around Christmas before people were moved to more permanent accommodation.
The head of the Dublin office of the United Nations High Commissioner for Refugees has warmly welcomed the Government's announcement.
Speaking on RTÉ's News at One, Sophie Magennis said it was helpful at both a national and international level.
"It's very welcome that the Irish has made this announcement today that they've made an indication of relocation numbers that is likely to be above what the European Commission would have asked of Ireland and also that Ireland is participating because Ireland is not obliged to participate but is opting in.
"So I think it's very helpful at a national level, it's also helpful at an international level when Ireland comes out with a statement like this in advance of a meeting."
Ms Magennis said that her office was there to assist the Irish authorities with this programme and they had been discussing how it will operate in practice with the office of the refugee applications commissioner.