The Keeper of Marsh's Library has deciphered a handwritten letter from Daniel O'Connell using crowd-sourcing through social media.
It was written to his wife Mary on the day in 1829 that the Emancipation Act was passed.
Four of the library's staff with PHDs and specialist historical training had failed to decipher the handwritten note, primarily because the handwriting was so poor.
Last month, the keeper of the library decided to use social media and tweeted and shared information about its difficulty.
Dr Jason McElligott said: "There was a great response, people really took it up. There was a range of ordinary members of the public. No learned historians stepped forward.
"Perhaps they were really good at crosswords; perhaps they were medics with terrible handwriting on prescriptions themselves."
The original post was seen by over 23,000 people on Facebook and over 100,000 viewed the tweet.
The library also offered €100 to the first person who could transcribe it.
Ten people got in touch with the correct transcription and the first of the ten got the prize.
In the letter O'Connell writes: "The day has at length arrived when the royal assent is to be given to the Catholic Bill – that Emancipation for which I have so long struggled is at length achieved...
"I am going down to the House of Lords to be present at the giving of the royal assent – Of course it is given by commission – And as to myself darling I think I can promise you that I will take my seat in the House the day on which the act comes in operation".
He also says how sorry he is that he did not see his girls in their court dresses and "I wish I had been present when my Betsy was kissed by the Duke. She must have blushed pretty deeply as much indignation as anything else".
He signs off "Ever Sweetest. Yours most most humbly Daniel O'Connell."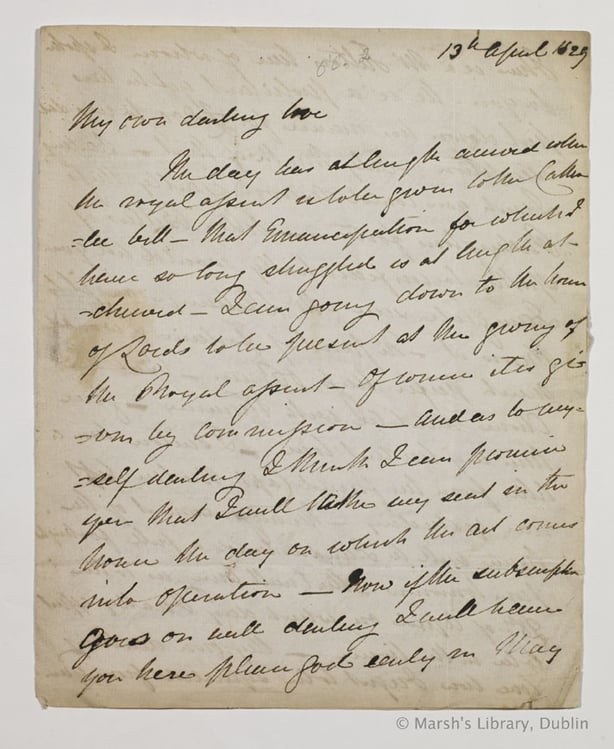 The letter is part of the Benjamin Iveagh Library which was donated to Marsh's Library by the Guinness library.
The collection was the work of the 3rd Earl of Iveagh, Benjamin Guinness; there are more than 5,000 items.
Dr McElligott said there were plans to use crowd-sourcing to decipher Roger Casement letters.