Austria and Germany threw open their borders to thousands of exhausted migrants from the east, bussed to the frontier by a right-wing Hungarian government that had tried to stop them but was overwhelmed by the sheer numbers of people.
Left to walk the last yards into Austria, rain-soaked migrants, many of them refugees from Syria's civil war, were whisked by train and shuttle bus first to Vienna and then on by train to Munich and other cities in Germany.
By early evening, about 6,000 had arrived in Munich and nearly 2,000 more were expected on two trains due after midnight, said Christoph Hillenbrand, head of the Upper Bavaria regional administration.
Clapped and cheered as they disembarked, new arrivals queued at registration tents to be screened, fed and clothed. Most were set to stay in Munich, although more trains were due to take 800 people to Dortmund and 460 to Frankfurt on Saturday evening.
Munich police said Arabic-speaking interpreters were helping refugees with procedures at the emergency registration centres.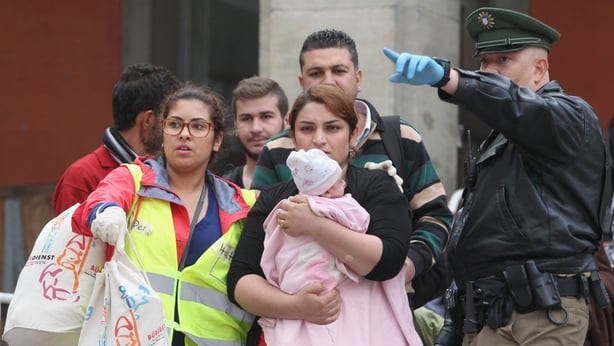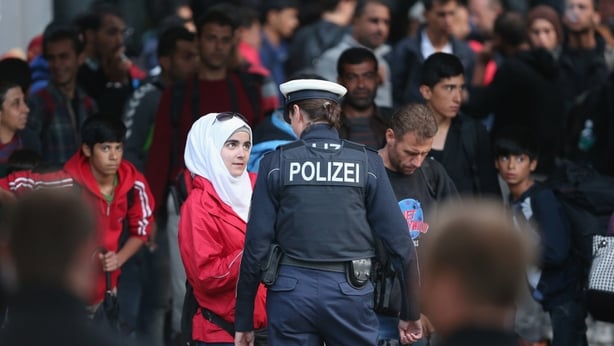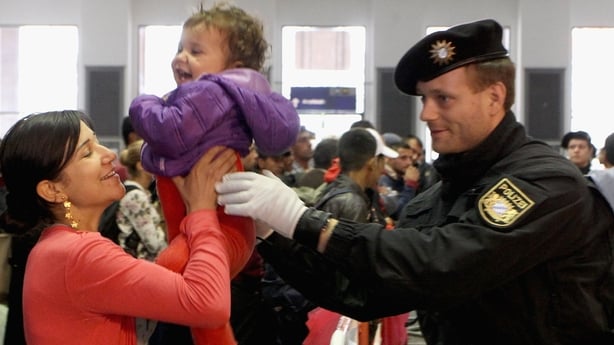 German Interior Ministry spokesman Harald Neymanns said Berlin's decision to open its borders to Syrians was an exceptional case for humanitarian reasons. He said Europe's so-called Dublin rules, which require people to apply for asylum in the first EU country they enter, had not been suspended.
"The Dublin rules are still valid and we expect other European Union member states to stick to them," he said.
After days of confrontation and chaos, Hungary deployed more than 100 buses overnight to take thousands of the migrants who had streamed there from southeast Europe to the Austrian frontier.
Austria said it had agreed with Germany to allow the migrants access, waiving the asylum rules.
This morning Hungary's police chief said that buses were no longer being provided to transfer people to the Austrian border, calling the measure that brought thousands overnight a "one-off".
Overnight and this morning around 90 buses brought several thousand migrants to Hungary's western border. Some 6,500 had crossed into Austria by early afternoon.
Austria allowed them to cross over and provided special buses and trains to take them to Vienna, Salzburg and into Germany - the chosen destination for all but a handful.
Hungary's provision of buses followed a march on Friday towards Austria by around 1,200 migrants from Budapest's Keleti train station - where thousands had been stranded for days - with several hundred people walking out of refugee camps.
Today at least 500 people took part in another march from Keleti towards Austria, after around 800 migrants reportedly walked out of Hungary's second largest refugee camp outside the eastern city of Debrecen.
Police prevented them from joining the M1 motorway, directing them onto a national road. 
Prime Minister Viktor Orban, who has taken a hard line against the migrants, warning against the arrival of so many Muslims from a "profoundly different culture", said  it was "unacceptable" for people to block motorways.
              
Wrapped in blankets and sleeping bags against the rain, long lines of weary migrants, many carrying small, sleeping children, climbed off buses on the Hungarian side of the border and walked into Austria, receiving fruit and water from aid workers. Waiting Austrians held signs that read, "Refugees welcome".
              
"We're happy. We'll go to Germany," said a Syrian man. Another said: "Hungary should be fired from the European Union. Such bad treatment."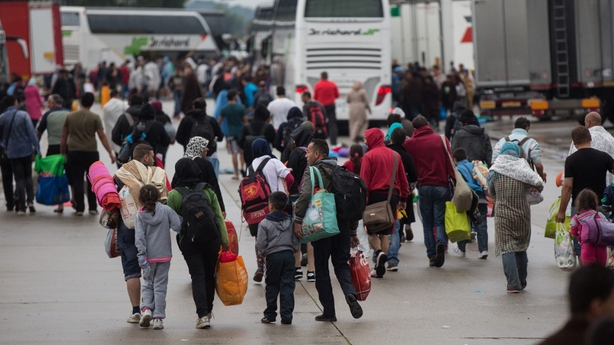 Hungary, the main entry point into Euro borderless Schengen zone for migrants heading northwards through the Balkans, has taken a hard line, vowing to seal its southern frontier within days. 
Hungarian officials have also painted the crisis as a defence of Europe's prosperity, identity and "Christian values" against an influx of mainly Muslim migrants.
For days, several thousand camped outside Budapest's main railway station, where trains to western Europe were cancelled as the government insisted all those entering Hungary be registered and their asylum applications processed in the country as per EU rules.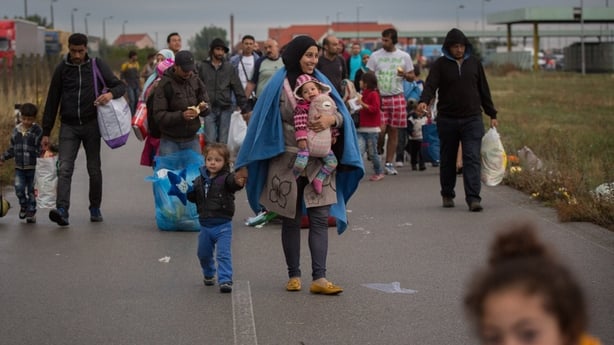 But yesterday, in separate rapid-fire developments, hundreds broke out of a teeming camp on Hungary's frontier with Serbia, escaped a stranded train, and took to the highway by foot led by a one-legged Syrian refugee and chanting "Germany, Germany!"
              
Citing traffic safety, Hungary said it would supply 100 buses to take them to the Austrian border.
              
But the move marked an admission that the government had lost control in the face of large numbers determined to reach the wealthier nations of northern and western Europe at the end of an often perilous journey from war and poverty in the Middle East, Africa and Asia.
              
By this morning, Austrian police said 4,000 had arrived at the border and numbers might more than double during the day.            
              
German police said they expected to receive 10,000 during the day, while in Hungary police reported new groups of migrants leaving reception camps and setting out on foot for the border.
              
After the disturbances in Hungary, Vienna police spokesman Roman Hahslinger said: "We (have) had no problems whatsoever with the refugees, everything is very peaceful."
              
Men, women and children poured out of the train, saying they were resolved to continue on to Germany, and were handed food, drink and other supplies on a fenced-off platform.
                           
The scenes were emblematic of a crisis, about 350,000 refugees and migrants have arrived in the European Union this year, that has left the 28-nation EU groping for solutions amid sharp divisions over burden-sharing.                       
              
The flow of risking rickety boats to cross the Mediterranean or baton-wielding police on Balkan borders shows no sign of abating despite more trips by sea ending in disaster.
Up to 40 people drown off coast of Libya
Yesterday, about 30-40 people drowned off the coast of Libya after a dinghy carrying 120-140 Somalis, Sudanese and Nigerians deflated, causing panic on board, the International Organization for Migration said.
              
A record 50,000 hit Greek shores in July alone and were ferried from inundated islands to the mainland by a government already floundering in financial crisis and keen to whisk them north into Macedonia, whence they enter Serbia and then Hungary.
              
Hungary said today it had recorded 165,000 entering so far this year. Countless others may have crossed its borders without registering.
              
Determined to stem the tide, Hungary is building a 3.5-metre (11.5-foot) high fence along its border with Serbia.
Yesterday,the Budapest parliament adopted measures the government says will effectively seal the frontier to migrants as of 15 September.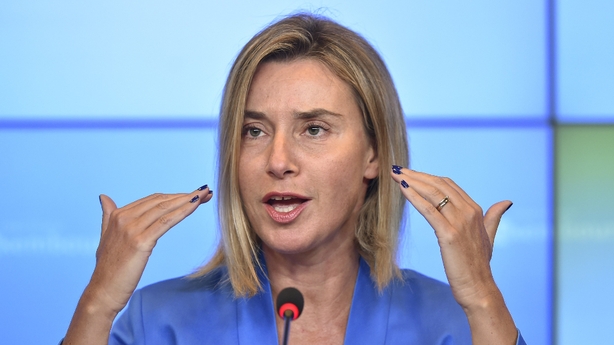 EU foreign affairs head Federica Mogherini said the refugee influx, which has opened deep divisions in the bloc, is here to stay and member states must adjust to that new reality.
The crisis has exposed sharp rifts in the 28-nation bloc, with Germany leading calls to take in many more people fleeing war and upheaval in the Middle East and North Africa.
However, newer eastern member states led by Hungary bluntly oppose European Commission plans for mandatory quotas and a permanent admission mechanism, saying that would only encourage more migrants to risk their lives coming to Europe.
The foreign ministers meeting, which as an informal gathering discussed policy but took no decisions, was overshadowed by dramatic events as thousands of migrants stranded for days in Budapest were bused to Austria en route to Germany.
Austrian Foreign Minister Sebastian Kurz said their plight and the growing human cost was a "wake up call" for Europe to resolve its biggest refugee crisis since World War II.
Austrian police said 4,000 people crossed into the country early this morning, with the number predicted to rise to 10,000.
German Foreign Minister Frank-Walter Steinmeier said the understanding with Austria and Hungary on letting the refugees through should not set a precedent.

Ms Mogherini said the issue was hugely important for the future of the European Union, which should remember that other countries were doing much more -- Turkey has taken in some two million refugees while member states could not agree on even the initial 60,000 proposed by the European Commission.
Commission head Jean-Claude Juncker is expected to present new proposals next week in a "State of the Union" address, including taking in some 120,000 people via a quota system.
Ms Mogherini said the EU must connect the dots -- to deal with the problem from start to finish by pushing peace efforts in Syria, Libya and working with transit countries such as Niger.
Efforts too must be made to tackle the stalled Middle East peace process, she said, arguing that the recent Iran nuclear accord showed how even long-standing problems could eventually be resolved.