Warning: This story contains disturbing images
The father of the young Syrian toddler whose body washed up on a Turkish beach yesterday has said that his children "slipped though [his] hands" as the boat was taking in water en route to Greece.
Abdullah Kurdi told Turkey's Dogan news agency: "I was holding my wife's hand. But my children slipped though my hands. We tried to cling to the boat, but it was deflating. It was dark and everyone was screaming."
A shocking photograph of the tiny body of three-year old Aylan Kurdi, washed up in the Aegean resort of Bodrum, swept social media yesterday showing the extent of the worsening migrant crisis.
The image sparked sympathy and outrage at the perceived inaction of developed nations in helping refugees.
His five-year-old brother Galip and his mother Rehan, 35, also died after their boat capsized while trying to reach the Greek island of Kos.
Warning: This story contains images that some people may find disturbing - NOT SUITABLE FOR CHILDREN
Mr Kurdi was found semi-conscious and taken to hospital near Bodrum, according to Turkey's Sabah newspaper.
Earlier Turkish police detained four Syrians suspected of involvement in organising the passage of the boat.
Dogan news agency reported that the four, including a boat captain, were held yesterday evening and that their questioning is continuing.
It was reported earlier that a relative of Mr Kurdi's told a Canadian newspaper that his family had been trying to migrate to Canada, after fleeing the war-torn town of Kobane.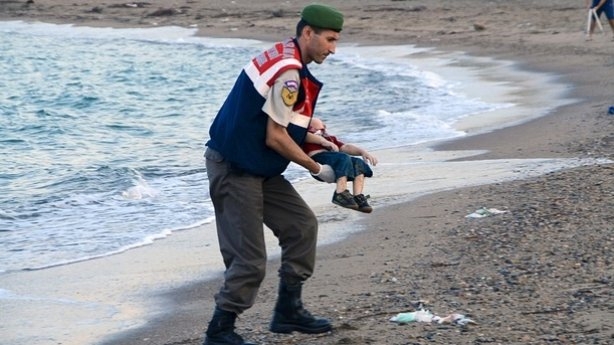 "I heard the news at five o'clock this morning," Teema Kurdi, Mr Abdullah's sister and a resident of Vancouver, was quoted as saying by Canada's National Post newspaper.
Ms Kurdi had been contacted by the wife of another of her brothers.
"She had got a call from Abdullah, and all he said was, my wife and two boys are dead," Ms Kurdi said.
Mr Kurdi, his wife and two children had made a privately-sponsored refugee application to the Canadian authorities that was rejected in June because of complications with applications from Turkey, the newspaper quoted Ms Kurdi as saying.
"I was trying to sponsor them, and I have my friends and my neighbours who helped me with the bank deposits, but we couldn't get them out, and that is why they went in the boat," she said.
"I was even paying rent for them in Turkey, but it is horrible the way they treat Syrians there."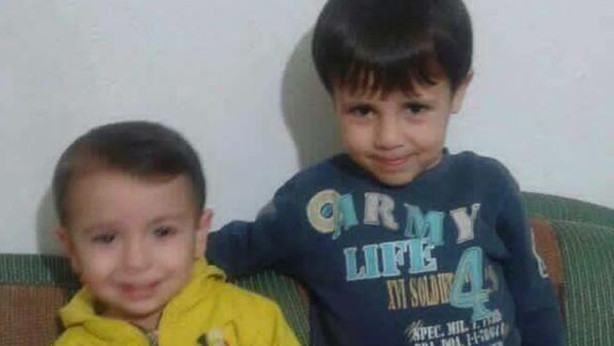 Canadian MP Fin Donnelly said he hand-delivered the Kurdis' file to Canada's citizenship and immigration authorities but the application was rejected in June.
He told the Ottawa Citizen: "This is horrific and heartbreaking news. The frustration of waiting and the inaction has been terrible."
The newspaper reported the UN would not register the family as refugees, and the Turkish government would not grant them exit visas.
Canada and Turkey have reportedly been in conflict over the bottleneck blocking Syrian refugees in Turkey from finding their way to Canada.
The Turkish government refuses to issue exit visas to unregistered refugees not holding valid passports.
Turkey has won international praise for taking in two million refugees since the Syrian civil war began in March 2011 spending $6bn caring for them and receiving just $400 million in outside aid.
But it has warned it is reaching capacity, and thousands are now making the perilous journey by boat from Turkey to Greece in a bid to enter Europe.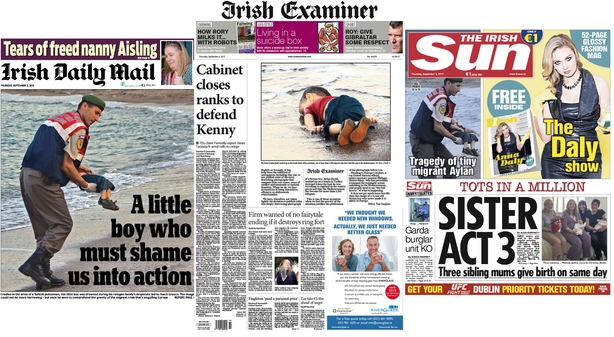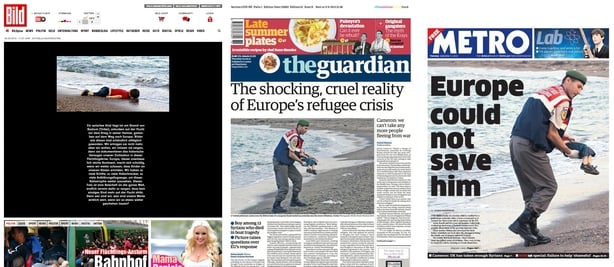 The image of Aylan washed up on the beach has resonated across the world.
He features on the front page of many newspapers in Ireland and abroad
The hashtag "KiyiyaVuranInsanlik" - "humanity washed ashore" - was for a time the top trending topic on Twitter, and the photos have been retweeted thousands of times.
French Prime Minister Manuel Valls said the images of Aylan showed the need for urgent action by Europe to address the migrant crisis.
Il avait un nom : Aylan Kurdi Urgence d'agir Urgence d'une mobilisation européenne pic.twitter.com/d2wkTGAdhX

— Manuel Valls (@manuelvalls) September 3, 2015
Analysis: Europe Editor Tony Connelly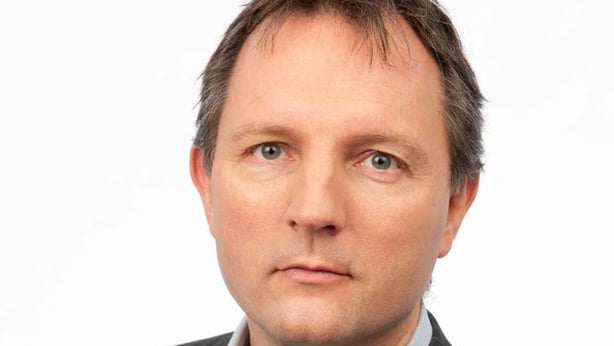 This is an image which will dominate the political discourse over the next number of days and it really has become a symbol for the whole migration crisis.
Already, UN High Representative for International Migration Peter Sutherland has singled out the UK as a country that, in light of the images we have seen, is a country who could take more.
There is, however, a furious debate going on in the UK at the moment about policy towards migration and refugees. Prime Minister David Cameron has said Britain already provides a lot of international aid to the countries from which these people are leaving.
This image really crystallises the sense of horror and the sense of impotence and helplessness - that events are occurring more quickly than policy making can cope.