A Hungarian train bound for towns near the Austrian border with several hundred migrants on board was stopped near one of the country's four main refugee camps and the migrants taken off, state news agency MTI reported.
The train carrying between 200 and 300 migrants was due to split, with three carriages due to travel to Szonbathely and the rest to Sopron.
The Sopron-bound train stopped at Bicske, around 40km west of Budapest, and police took the migrants off and directed them onto buses to take them to the nearby camp, MTI reported from the scene.
People were seen banging on the train's window's shouting "no camp, no camp" and trying to force their way back on board.
Police detained a number of people who lay on the train tracks in protests while dozens of others are reported to have fled the area.
A family - a man, his wife and their toddler - made their way on the track next to the train and lay down in protest. It took a number of riot police wrestling with the man to get them up again.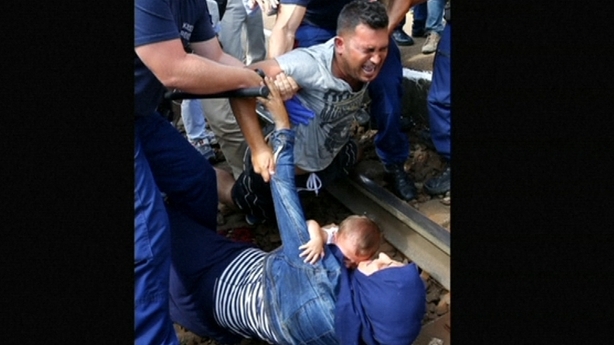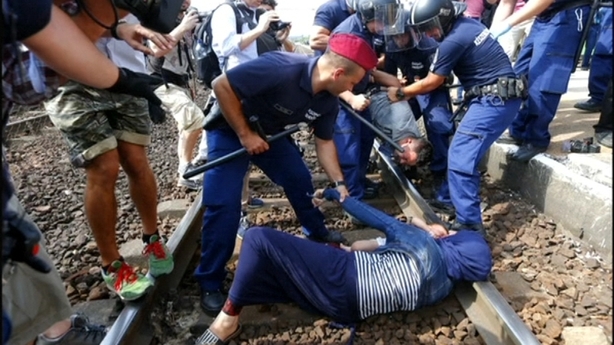 Other people caught in the train station underpass pushed back dozens of riot police blocking the top of the stairs in an attempt to get back on the train.
The train, still fully mainly of Syrians, is surrounded by police and waiting at the station.
A second train headed for Gyor, also near the Austrian border, meanwhile also departed from Keleti with around 100 migrants on board - as well as several dozen riot police, an AFP reporter said.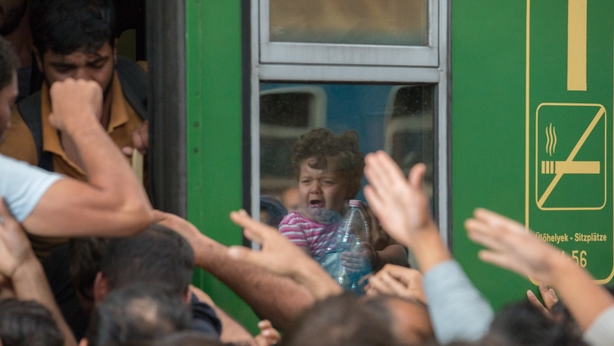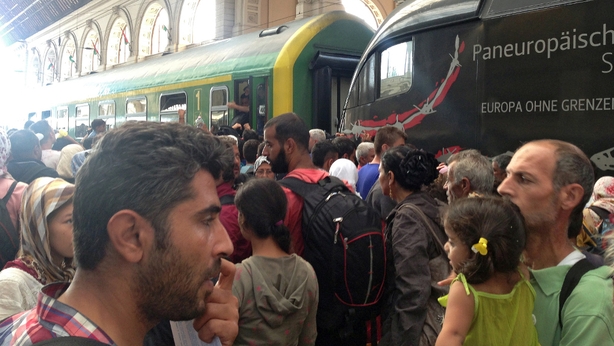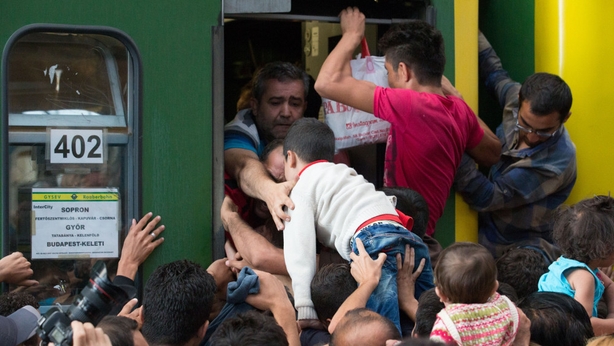 A volunteer at Keleti said he believed authorities tricked people into believing they were headed to Germany.
"I think this was a trick by the government, the police and the train company. The train looked like it was going to Germany," Marton Bisztrai said.
"They just want to get people the hell out of here and into camps. I think this was a very cynical trick."
On Tuesday Hungarian authorities stopped migrants taking trains to Austria and Germany after thousands travelled to these countries.
The next day, it closed Budapest's Keleti station to migrants, leaving some 2,000 people stranded and leading to a tense standoff with demonstrations and scuffles.
Then early this morning the station was fully re-opened and hundreds of people ran inside, cramming into trains.
Hungarian Railways said however that there would be no trains going to western Europe.
The police chief in the Austrian capital, Vienna, earlier said refugees arriving there from Hungary will not be controlled or registered and will be allowed continue their journey onwards.
"What we certainly can't do is check all those people coming through, establish all their identities, or possibly even arrest them - we can't do this, and we have no plans to do this," Gerhard Puerstl told reporters.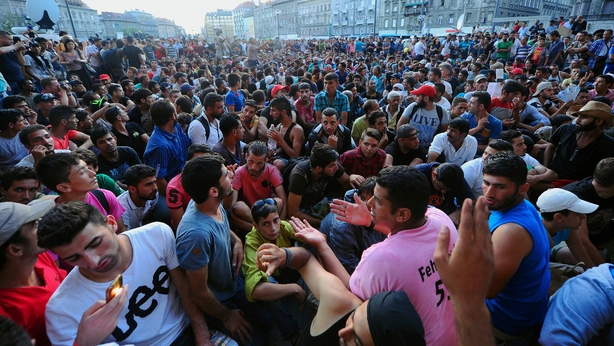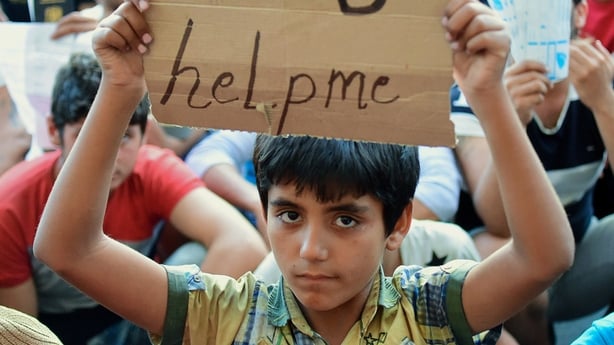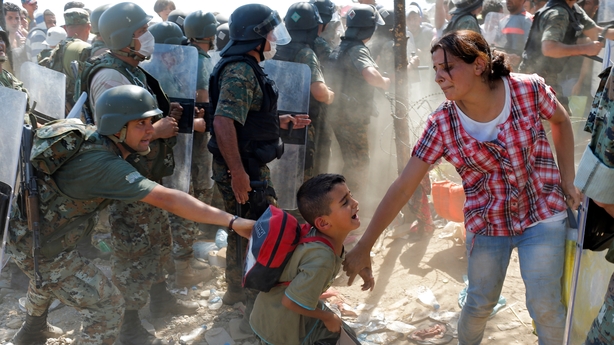 Migrant crisis a German problem - Orban
Hungarian prime minister Viktor Organ said Hungary must register anyone before the leave the country for Austria or Germany.
Mr Orban is holding talks in Brussels with the presidents of the European Commission and the European Council about the build up of refugees in Budapest.
At a press conference this morning he said the migrant crisis is a German problem and not a European one as he defended his government's handling of the situation in Hungary.
He said that without strict border control, EU migrant quotas are "an invitation" to migrants to come to Europe.
Hungary is completing a 3.5 metre-high fence on its southern border with Serbia to keep out migrants, 140,000 of whom have been caught entering the country so far this year.
              
The government said the new measures to be adopted by parliament this week would be enacted by 15 September and cut illegal border crossings to zero.
In an opinion piece in German newspaper Frankfurt Allgemeine Zeitung, Mr Orban said the influx of refugees into Europe threatens to undermine the continent's Christian roots and governments must control their borders before the can decide how many asylum seekers the can take.
"The people want us to master the situation and protect our borders," he wrote.
"Only when we have protected our borders can questions be asked about the numbers of people we can take in,or whether there should be quotas." 
European Council President Donald Tusk urged member states on to take in at least 100,000 refugees to ease the pressure on frontline countries.
"Accepting more refugees is an important gesture of real solidarity. Fair distribution of at least 100,000 refugees among the EU states is what in fact we need today," Mr Tusk said.
EU leaders have already rejected mandatory quotas way below 100,000, agreeing only at a summit in June to the voluntary relocation of 32,000 from Syria and Eritrea, short even of the target of 40,000 set by the European Commission in May.
The pattern of refugee deaths at sea, and the challenges posed by tens, if not hundreds of thousands of migrants to Europe's fragmented asylum system, are relentless.
The images of dead children washed up on a beach in Turkey have become a symbol of both the horrors of war in the Middle East, and the apparent failure of governments in Europe to get to grips with a crisis posing a challenge to humanity itself.
Overnight hundreds of asylum seekers were camped out at the main railway station in Budapest.
Amid scuffles with riot police yesterday, many chanted: "Germany, Germany".
The willingness of the German government to take perhaps hundreds of thousands of refugees, mostly Syrian, has been applauded - but it has also sown legal confusion.
Germany has effectively waived the EU rule which would require that Syrian refugees seek asylum in the first EU country they enter, mainly Greece or Italy.
That change has, it is believed, prompted a tide of people to push for Germany up through the western Balkans, causing humanitarian bottlenecks in places Macedonia and Hungary.
It has been reported that more than 230,000 migrants have arrived in Greece since January.