Three sisters have given birth to three babies on the same day at Mayo General Hospital, and a fourth sister hopes to give birth today.
The two boys and one girl were born at the hospital in Castlebar yesterday. 
Mairead FitzPatrick gave birth to Thomas Óg, Joeline Godfrey gave birth to Sorcha and Bernie Ward gave birth to Phelim.
Christina Murray, the fourth sister, is overdue and hopes to have her baby today. 
Staff at the hospital said they are delighted the three babies arrived healthy and well. 
The sisters are from Cloonfad in Co Roscommon, and all live close to each other. 
They say the babies were not planned and joked that if they planned it, it would never have happened.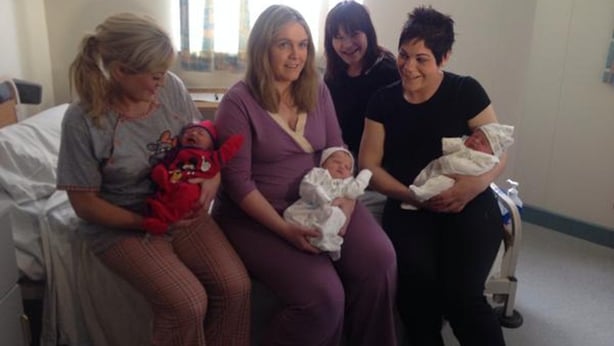 Speaking on RTÉ News at One, Mairead FitzPatrick said the staff at Mayo General Hospital never had a family on a multiple booking before.
She said: "We used to say to them there were four of us expecting but we just never realised it would all happen on the one day.
"I was the first one to go at 3.25am, and then my sister had her section and her little girl, Sorcha, was born at 11am. And then Bernie's boy, Phelim, was born last night at about half eight so I just think they couldn't believe it."
Ms FitzPatrick also said: "The two girls that delivered my little boy delivered Bernie's girl as well."