New Orleans has commemorated the 10th anniversary of Hurricane Katrina, paying tribute to its victims and homage to the city's resilience in the face of disaster.
Today's events mark the culmination of a week of reflection about a storm that left 80% of the city under water and displaced 130,000 residents.
More than 1,800 people were killed across the US Gulf Coast when Katrina struck on 29 August 2005 and one million were displaced.
The day began with Mayor Mitch Landrieu leading a somber tribute for the 83 "forgotten" victims whose unclaimed bodies lie in mausoleums at the Hurricane Katrina Memorial.
A decade after Katrina, 30 of those bodies remain unidentified.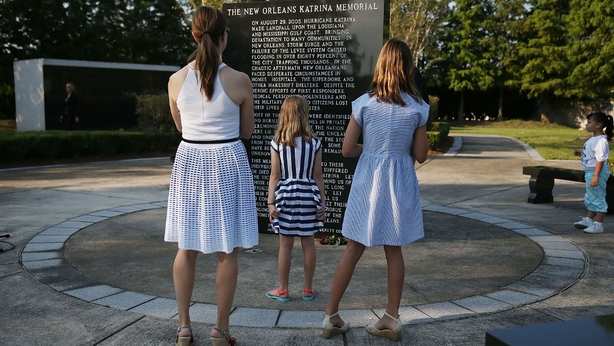 "Though they are unnamed, they are not unclaimed because we claim them," Mr Landrieu said on a clear morning reminiscent of the calm before storm's landfall ten years ago.
"This has been ten years of struggle," said the mayor, who was joined by Louisiana Governor Bobby Jindal and other dignitaries.
"But New Orleans is unbowed and unbroken."
Hundreds of people gathered in the Lower Ninth Ward on a grass verge that abuts the Industrial Canal levee that was breached during Katrina, causing some of the worst flooding.
Some locals wore traditional Mardi Gras parade dress including colorful headdresses.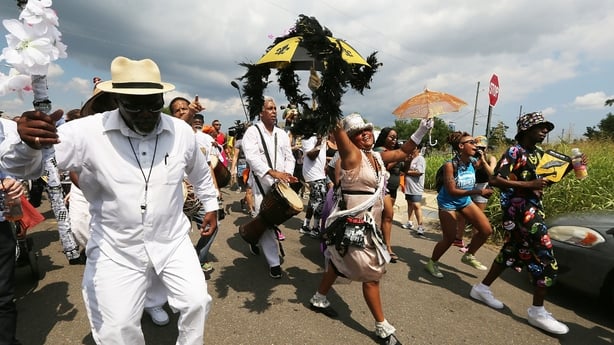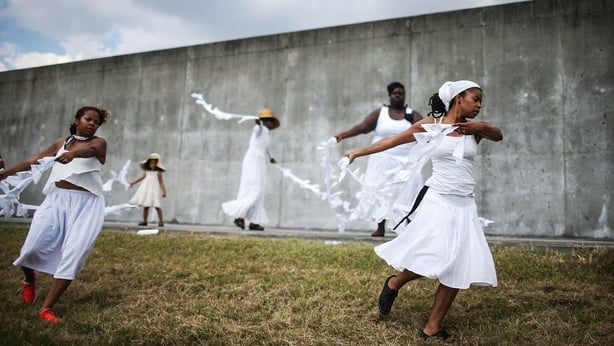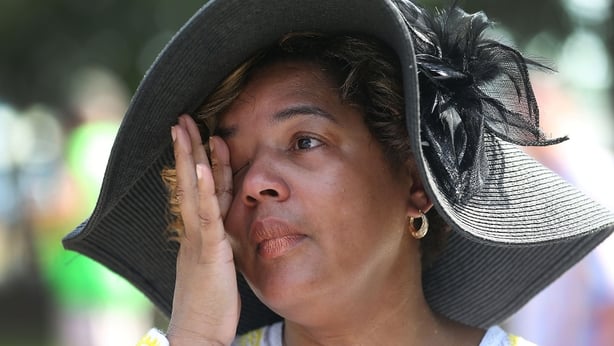 The mood started out reflective but not downbeat.
However, there was also an undercurrent of anger over the lagging redevelopment of the Lower Ninth, where empty spaces and the shells of destroyed houses are still common sights.
Other hard-hit parts of Louisiana were hosting memorials as well.
At Shell Beach, in lower St Bernard Parish just east of New Orleans, public officials and residents gathered along a waterway that burst through a levee in 2005 and killed 127 people.
Similarly, Lakeview, Broadmoor, Mid-City and a host of other locales are looking back on 2005.
A march and hand-holding ceremony is also scheduled at the Mercedes-Benz Superdome, the football arena that housed thousands of displaced people after the storm and became an emblem of the chaos and hardship that engulfed New Orleans after the flooding.
For several sweltering days, people were virtually trapped inside the Superdome without adequate food or water and little communication with the outside world.
The scene became one of horror and despair, with some people who were already ill succumbing to the conditions and dying.
The scene was a political embarrassment for President George W. Bush and Federal Emergency Management Agency officials, who were roundly criticised for a slow response to a crisis that mostly affected the poor and African-Americans.
Mr Bush returned to New Orleans yesterday to mark the anniversary by celebrating the city's "resilience."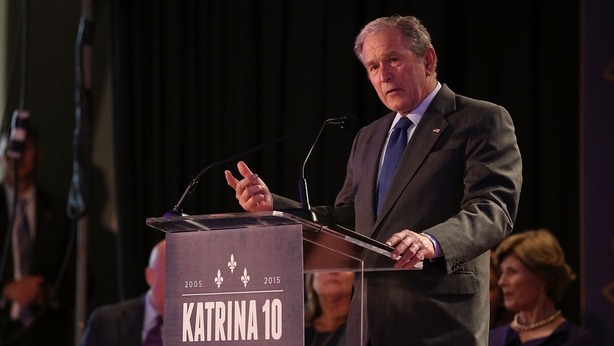 "The darkness of a decade ago has lifted," Mr Bush told a crowd gathered in a high school auditorium.
"The Crescent City has risen again and its best days lie ahead."
Mr Bush did not address the federal government's failure to adequately maintain the city's poorly-built levees, which burst under the pressure of Katrina's massive storm surge and flooded 80% of New Orleans.
Nor did he acknowledge the failure of state, local and federal agencies to adequately prepare for the storm or the fact that it took four days for supply trucks with food and water to reach tens of thousands of people who sought shelter at the city's convention centre and on its freeways.
"All of us who are old enough to remember will never forget the images of our fellow Americans amid a sea of misery and ruin," Mr Bush said.
"We'll always remember the lives lost across the Gulf Coast. Their memories are in our hearts and I hope you pray for their families."
While Hurricane Katrina is "a story of loss beyond measure," Mr Bush said it is also "a story of commitment and compassion."
"I hope you remember what I remember, the thousands who came here on a volunteer basis to provide food for the hungry and to help find shelter for those who had no home to live in."
Mr Bush said he was moved by the city's determination to "rebuild better than before" and "a spirit much stronger than any storm."
"We honour the resilience of a great American city whose levees gave out but whose people never gave up," Mr Bush said.
"On this anniversary, the work of making a stronger and more hopeful New Orleans goes on. You've achieved a lot over the last ten years and with belief in success and a faith in God, New Orleans will achieve even more."