Minister for the Environment Alan Kelly has criticised local authorities and local authority members for the lack of co-operation in dealing with the homelessness crisis.
Speaking at The Trust Homeless Centre in Dublin City Centre, Minister Kelly said local authority members need to step up to the mark.
He said when decisions need to be made and proposals put forward, there should be no nimbyism and local authority members are pointing to other issues and then saying there is a problem with homelessness.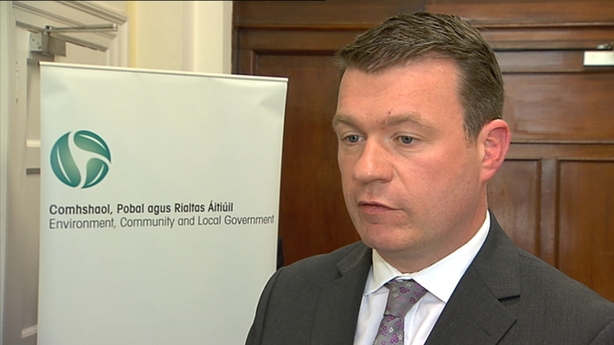 Minister Kelly said the homelessness situation is "unprecedented" and there has never been a problem of this scale.
He said rolling out the rent supplement protocol beyond urban areas across the country is a priority, and he would soon bring proposals to Cabinet on rent regulation in the private sector.
He said 800 properties for homeless people have been provided or are in the process of being provided since the beginning of the year.
Speaking on RTÉ's News at One, Minister Kelly said if more money was needed to cope with the homeless crisis he will make it available.
He added that he does not believe the problem is just funding and said that everyone needs to step up to the mark as he does not have control of all the "levers".
He said all the agencies and government departments need to cooperate as well as the local authorities and that when projects are put forward to members of local authorities they should support them.
"Local authorities also need to ensure that when funding is given to them that it's turned around quicker. That houses are purchased quicker, and people are put in them quicker, when houses are left vacant that the length of time that it takes to refurbish doesn't take long.
"There are a number of other issues. All I'm saying here is we need greater cooperation." 
He added that local authorities will also be faced with questions on the whole issue of the rate of the local property tax and expects that they will ringfence a percentage of the LPT for homelessness into the future.
Mr Kelly also urged councils not to reduce the LPT by 15% as some voted in favour of for this year.
In relation to the hoarding of land, Mr Kelly said it was not acceptable when there is a homeless crisis and he said the issue would be addressed in new legislation which he is bringing to Cabinet along with Minister of State for Housing Paudie Coffey.