Minister for Education Jan O'Sullivan has said the number of students failing honours maths is not out of step with other subjects.
Ms O'Sullivan's comments follow the release of Leaving Certificate results for almost 58,000 students today.
Speaking on RTÉ's Today with Keelin Shanley, she said the 5% figure of those taking higher level maths who did not get a D or higher is not unusual, as this percentage is higher in other science subjects such as physics and chemistry.
The Labour TD said the department is keeping this under review constantly.
Ms O'Sullivan said students need to assess themselves in conjunction with teachers on their ability to take the higher level paper.
She said the number of students taking higher level maths has steadily increased over the past number of years to 27%, although this year it has evened out.
She also congratulated the students around the country who received their results and said it is a very positive day for them.
Ms O'Sullivan also said action has been taken on concerns about the quality of maths teaching, with teachers taking upskilling courses in maths.
Young asylum seeker living in Direct Provision scheme worries about third level access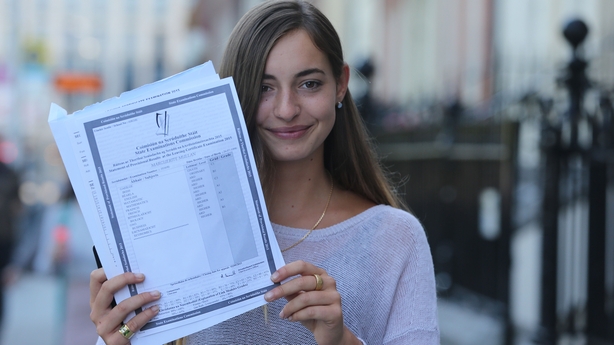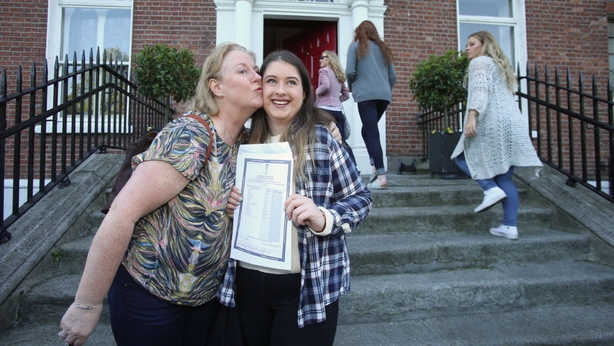 This year's figures show that the higher level Irish paper continues to grow in popularity.
However, the proportion of students choosing the higher level maths paper has remained at last year's level of 27%.
Over the past three years the introduction of bonus CAO points for maths has encouraged many more students to opt for the higher level paper, but it now appears that the impact of bonus points has plateaued.
27% sat that paper last June - the same percentage as the June before.
However, the number of candidates choosing higher level Irish continues to grow and was up by 7% on last year.
Castlebar student scores highest result in the country
One student, David Glynn from St Gerald's College, Castlebar, Co Mayo, achieved nine A1s.
His principal Daniel Hyland described David as a modest and unassuming student.
Speaking on RTÉ's News At One, he said everyone at the school was very proud of his accomplishment.
"It's a wonderful achievement for him and we as a school community are proud and delighted for him and his family.
"His goal is to go to Trinity College where he hopes to study maths and I'm confident he'll make a fine addition to that campus and academic life there.
"So we look forward to hearing great things from David in the future."
Eight students have been awarded eight A1s. Overall more than 6,500 students have received one or more A1s.
The results were made available online and in schools across the country today.
A number of celebrities on social media wished students luck today.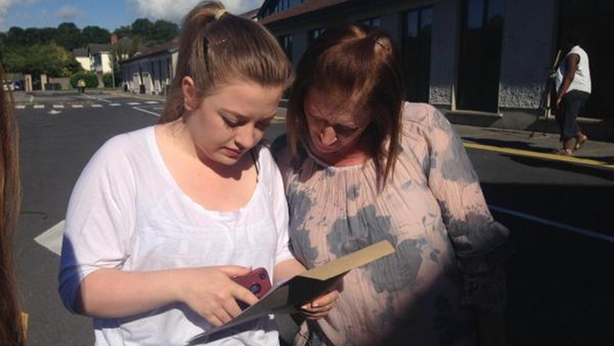 Best of luck to all the Leaving Cert students getting results today! If you have any questions call the exam helpline on 1800265165

— Jan O'Sullivan (@JanOSullivanTD) August 12, 2015
It's come to that time of year again...best of luck to all the leaving cert students getting their results. Take her handy tonight

— jamie heaslip (@jamieheaslip) August 12, 2015
Best of luck every getting their results! You'll be grand! #LeavingCert

— Kodaline (@Kodaline) August 12, 2015
Numbers sitting the exam have risen by 1.6%, from just under 57,000 a year ago to just under 58,000 now, after a similar increase the previous year. The popularity of science subjects is growing.
4.6% more candidates sat physics this year. The number taking chemistry rose by almost 4% and the number taking biology is up by 2,7%.
In all three subjects the numbers opting for the higher level paper have also grown, by between almost 7% and 4%.
It's Leaving Cert results day for almost 58,000 students https://t.co/yef0Wss6vw

— RTÉ News (@rtenews) August 12, 2015
Irish continues to grow in popularity, with almost 3% more sitting exams in the subject this year.
The number of candidates opting for the higher level paper also continues to grow - up by more than 7% this year compared to last.
This can be attributed to the decision, several years ago, to give more marks to an oral component in the exam.
Last June many students sitting the ordinary level maths paper were upset by some questions contained in it, but there was good news for them this morning, with a 7% increase in numbers receiving an A, B or C in that paper compared to last year.
Results 'do not determine the future'
The President of the Institute of Guidance Councillors has said students receiving their results should consider lodging an appeal if they genuinely feel that their grade in any paper was not what they expected.
Speaking on RTÉ's Morning Ireland, Betty McLoughlin said last year one in five who lodged an appeal were upgraded and the State Examinations Commission is to be commended for its accountability and transparency in this way.
She also said the lack of resources for guidance and counselling in secondary schools has led to high dropout rates in college.
Ms McLaughlin called the Leaving Cert results a "very significant milestone", but said it does not determine the future.
"You have to be ready when you go to college, you have to hit the ground running if you want to succeed," she said.
Ms McLaughlin advised people who may be disappointed with their results to take a step back and assess their options.
She said that 16% of first year students either do not go into second year or change course.