LÉ Niamh has made her way to port in Italy after rescuing 125 migrants in the Mediterranean yesterday.
A further 375 people were transferred to the Irish naval vessel from an Italian ship last night.
They were given food, water and medical assistance.
This latest rescue took place off the Libyan coast yesterday when the crew of LÉ Niamh were asked to assist an overloaded inflatable craft in distress.
A total of 125 people were rescued from the boat - 92 men, 26 women and seven children.
The migrants were from a number of sub-Saharan African countries including Ghana, Mali, Ivory Coast and Togo.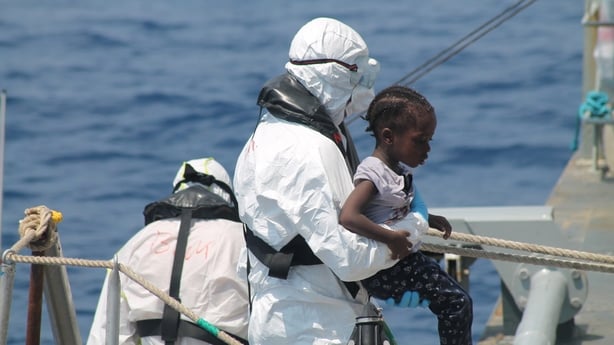 In a separate operation, the naval crew took on board another 375 people from Italian vessel the Mimbelli.
Yesterday's rescue was the 11th operation in which the Irish naval vessel has been involved since it arrived in the Mediterranean last month.
Lieutenant Commander Caoimhín Mac Unfraidh from the Naval Service said the migrants were distressed but had no specific injuries.
He added: "They've presented with the fairly typical symptoms of stress, dehydration, exhaustion, fear and just general distress but there were no reports of any specific injuries amongst them on this occasion.
"They are currently being cared for on board the LÉ Niamh where they're being brought to Augusta."
He said the migrants included 84 people from Nigeria, 19 from Ghana, ten from Mali, five from Gambia, three from Ivory Coast, two from Togo and two from Mauritania.
The Irish vessel last week brought ashore more than 360 migrants who were rescued from the sea after their overcrowded fishing vessel capsized.
It is feared up to 200 other migrants may have drowned in that disaster.