Plane debris which washed up on the Indian Ocean island of Reunion and is thought to belong to the vanished Malaysia Airlines Boeing 777 has been flown to France for checks, with officials hoping to gain some insight into the disaster.
Discovery of the debris, which may finally confirm the plane crashed into the sea after veering off course from Kuala Lumpurto Beijing with 239 passengers and crew members, could help end 16 months of lingering uncertainty for relatives.
Aviation lawyers said it had also rekindled efforts by family members of passengers to seek greater compensation if the part is deemed to have belonged to MH370, aviation lawyers said.
Experts hope the barnacled 2-2.5 metres(6.5-8 feet) long wing surface known as a flaperon and a fragment of luggage could yield forensic clues to the fate of Malaysia Airlines Flight MH370, which vanished without trace in March 2014.
A Malaysian official and aviation experts say the debris found is almost certainly part of Boeing 777, however relatives, officials, the airline and governments must await the result of tests.
Investigators believe someone deliberately switched off MH370's transponder before diverting it thousands of miles off course.
Most of the passengers were Chinese. Beijing said it was following developments closely.
The Air France flight transporting the debris is due to arrive in Paris early tomorrow. The debris, which may have stayed afloat because of air pockets in the structure, will then be delivered to a military unit near the southwest city of Toulouse specialised in analysing aviation wreckage.
The Toulouse laboratory, which employs some 600 staff, is expected to verify the serial number of the wing-flap recovered in Reunion before conducting further tests to try and establish how it came to be separated from the rest of the plane.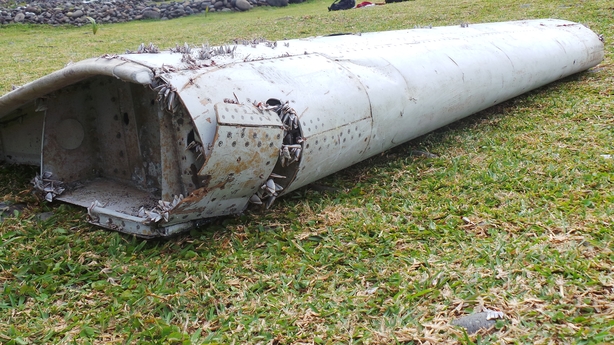 Timeline: The search for MH370