Migrants trying to reach Britain from Calais are remaining defiant as they made new attempts to storm the Channel Tunnel, just a day after one person was crushed to death under a truck.
The man, believed to be a Sudanese national, was killed on Tuesday night as the migrant crisis in northern France worsened.
Nine people have been killed attempting to cross the Channel in the last month, according to Eurotunnel.
It said 2,000 migrants tried to get to the tunnel terminal on Monday, and 1,500 tried on Tuesday.
Several hundred migrants were escorted away from the tunnel's freight terminal by French police last night - the third night of large-scale attempts to storm the terminal.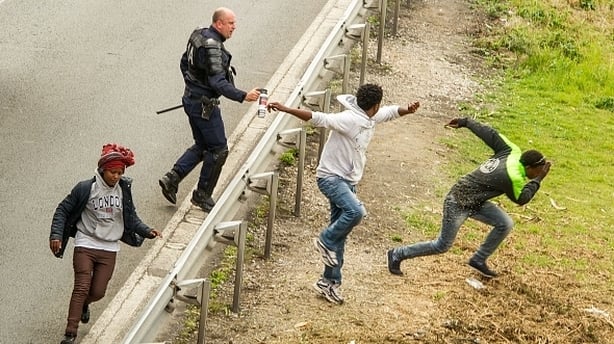 Despite the risks, hundreds of migrants - some looking as young as 13 or 14 - gathered along the fence to the freight terminal in Coquelles.
TV crews filmed as some 15 climbed through a hole in the wire and used clothes to help them jump over the first of two fences.
When French police arrived in riot vans some of the migrants were rounded up while three or four made a dash towards parked lorries. Meanwhile, truck drivers continue to be diverted from the port of Calais.
Speaking on RTÉ's Morning Ireland, Tony Henderson, one of the drivers affected by the crisis, explained how he had found three migrants in the back of his truck.
Mr Henderson also said he had been threatened with weapons at the port of Calais.
"There's confrontation all the time they come at you with iron bars, broken bottles, some with machetes. They all have a stanley knife to enter the vehicles, minimum.
"We've all been threatened. When they see that you're not going to stand for it, they normally run. It's when it gets more than a couple or three, you have to retreat.
"As do the police, unfortunately. I know it sounds very heartless but when someone is waving an iron bar at you... the heartlessness goes out of you."
Peter Sutherland, UN Special Representative on Migration, has accused the British government of trying to block migrants coming from Calais and leave France responsible for them.
Speaking on RTÉ's Morning Ireland he said: "last year the total approval of refugees coming into France was 68,000 which is more than twice the figure of the UK. There should be a fair allocation across EU countries."
"The least that could be done with Calais is to have a proper capacity there to assess whether the people and how many of them are refugees and therefore entitled to be retained. The UK government is being very careful to ensure they don't come to Britain and then the country responsible would be France."
Mr Sutherland also said any reports that suggest the UK is being flooded with asylum seekers is nonsense.
"It is exaggerated and calculated to inflame tensions with regards to the numbers trying to come into Britain."
He said that when you look at the numbers of migrants and refugees that other European countries have approved and taken in, it is significantly more than the 10,000 that are the alleged threat to Britain. He is calling for a more holistic European policy that works.
"We are all legally obliged to keep a refugee and not send them back to where he or she was being persecuted," he said.