Former IBRC chief executive Mike Aynsley has told the banking inquiry the Department of Finance wanted an asset sold for €100m less than the top bid.
Mr Aynsley said he was shocked when the issue emerged in January 2013. A department official had indicated the lower price was preferable and that minister Michael Noonan would support that decision.
The official had already indicated that another sale should not be completed to the same named Irish businessperson or his company.
Mr Aynsley said they had been encouraged to accelerate wind downs and disposals at the banks and the pace of this had to be managed versus minimising the capital impact.
Mr Aynsley also told the inquiry he was worried that the Department of Finance will continue to direct banking policy. 
He said that was a significant contributor to the breakdown in banking in Ireland. 
Mr Aynsley said the relationship with the Department of Finance deteriorated rapidly and sometimes he got fed up of it. 
Earlier, Alan Dukes strongly criticised the Department of Finance, telling the banking inquiry the Department had wasted a great deal of time and created an unnecessary political controversy by not trusting IBRC.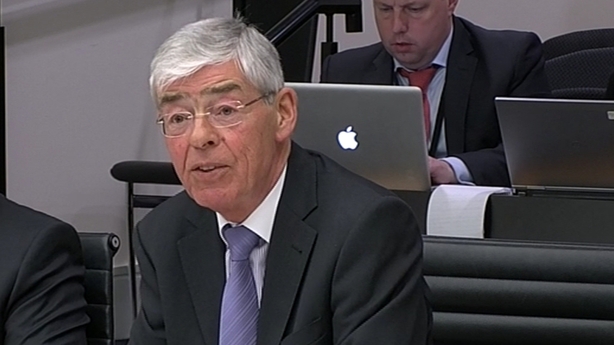 Mr Dukes, former public interest director at Anglo Irish Bank and later chairman of IBRC, said the Department did not trust the institution it had set up.
He said the relationship between the nationalised Anglo/IBRC and the most senior officials in the Department of Finance was unnecessarily complicated by the mistaken belief on the part of a former senior official that the bank should be run as a subsidiary of the Department.
He said the Central Bank did not have the skills to micro manage banks.  
Mr Dukes said Anglo Irish Bank was not specifically risk averse and that individual exposures were not clear.
He said it was a mistake to mix risk function with finance function. 
He said liquidating IBRC to deal with the promissory notes was an astute piece of financial engineering and that a better return might have been made from the bank's assets if they had not been disposed of in liquidation.  
Stream provided by HEAnet
Senator Michael D'arcy asked Mr Aynsley if he thought greater value would have been created for the shareholder if the bank had been allowed to continue in "an orderly, slower, more careful right-down than liquidation"- rather than the liquidation that occurred in 2013.
Mr Aynsley responded saying markets are markets and there are lots variables…"you can put a lot of assets into a market at a time and the timing is right and you do very well off them and the market is not the same three months later, we've all seen that."
"Having said that I think we recognise since the liquidation the markets continue to rise…if you look to spread out the loan sells over a longer period of time you will get a better result.
He added: "it is academic isn't it....we're in the situation we're in."
Mr Dukes told the inquiry that Anglo Irish Bank had made a provision for impairment of its loans of €879m for 2008.
The impairment increased to €15.1 bn in 2009.
Mr Dukes said the 2009 results came as a 'huge surprise' to the Department of Finance, which subsequently commissioned its own review.
He said this came to broadly the same conclusions as those reached by Anglo Irish Bank.
Drury defends golf outing with Cowen at banking inquiry
Earlier, former Anglo Irish Bank non-executive director Fintan Drury told the banking inquiry if he wanted to bring undue influence to bear on then taoiseach Brian Cowen in July 2008, he could have met him privately rather than arranged the Druid's Glen Golf Club outing with members of Anglo Irish Bank.
He told the inquiry he understood that people had difficulty in accepting that banking matters were not discussed at this gathering.
However, he said the idea that the meeting was part of some conspiracy to capture the support of Mr Cowen for some kind of imagined need that Anglo had in July 2008 is lacking in credibility.
He said: "The then taoiseach is a friend of mine. I saw him regularly, often in his offices.
"So why if I as a former director of Anglo at that time wanted to lobby him or to bring undue or inappropriate influence to bear on him would I choose such a convoluted and public route to do so, when I could have arranged to meet him in his office close the door, sat down and had the conversation?"
Fine Gael TD Eoghan Murphy asked whether there was a possible conflict of interest to set up contacts. Mr Drury said "absolutely not".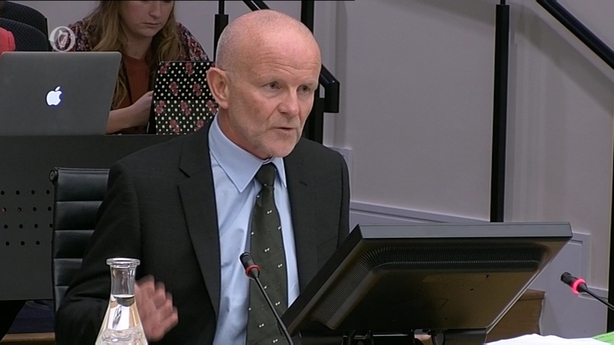 Mr Murphy asked if any of their contacts might have influenced Mr Cowen's decision-making in the run up to the guarantee.
Mr Drury said you could give a passionately expressed view to Mr Cowen but if he did not think it was the right thing, you would be wasting your time.  
He said that in the past year, he had met Mr Cowen very irregularly, which he regretted, but the truth was they lived in a very small country and if they had a pint or went to a match, a percentage of people would think they were up to no good. 
Mr Drury said that all of this "palaver" had constrained the friendship, which he said was regrettable, but they had to protect each other.  
Mr Drury told the inquiry that in November 2008, five months after he had finished as a board director, a review was done on the bank and the view was taken that there was no requirement to have concerns, that the bank was perfectly solvent.
In connection with unzoned lands, he said the risk committee would have questioned executives within the bank to determine whether the people they were loaning money to had the capacity to do what they said they would do.
When questioned by Sinn Féin's Pearse Doherty about the Druid's Glen event, Mr Drury said the principle reason for having the outing was to have discussions about the kind of issues that Alan Grey had tabled.
He said the game of golf was to get the taoiseach out for fresh air and they would then convene after dinner.
He said he is sure he would have said that they were to play golf and that Sean FitzPatrick was going to play. 
Mr Drury said there was no material discussion of Anglo Irish Bank at the dinner and golf outing to Druids Glen.
He also said he did not arrange for Sean FitzPatrick to meet Mr Cowen and have dinner and golf in July 2008.
Mr Drury denied that Anglo's board was blinded to risk by the pursuit of growth.
Fine Gael's Kieran O'Donnell asked if it was credible to an ordinary person that banking was never discussed at Druids Glen.
Mr Drury asked him to define an ordinary person. He said a great many ordinary people do accept that it is credible, but he had friends who thought it lacked credibility.
He said there was an element of frustration in being constrained in what he could say today having waited seven years.
Mr Drury also said he did not know who paid the bill at Druids Glen.
Joe Higgins asked about the level of bonuses at the bank, including during 2001 when one unnamed person got a €1.7m bonus.
Mr Drury said bonuses in banking were out of kilter with how remuneration was structured in other areas of industry.
He had no sense of apprehension when stepping down from Anglo's board in 2008.
He did not recollect being aware of the level of interest roll-ups. 
He said combining the Finance Director and Chief Risk Officer's roles was a mistake and that there should have been a greater degree of care and caution.
Mr Drury said that he was appointed to the board of Anglo Irish Bank in 2002 and thinks he was appointed because he was a journalist.
He said he felt he contributed very well as non-executive director and that the issue around his suitability, in some people's minds, relates to his role on the risk committee.
He said when he assumed the role of chairman of the risk committee he had five years under his belt and a strong understanding of how it operated. Mr Drury said his experience in his role in Paddy Power made him suited to the position.
In his closing remarks, he said he has been attempting to account for what he can account for.
Mr Drury said he was compromised by the fact there was a significant amount of information that was not shared with the board of directors. He said the information was significant in terms of its importance. 
He added that prior to giving evidence to the committee, he was told he could not talk about the leadership of the institution and that he has been giving evidence to the committee in the most honest way he can.
Further talks on publication of Drumm statement
The banking inquiry was delayed for several hours earlier today, as the committee continued to engage with the Director of Public Prosecutions on publishing former Anglo CEO David Drumm's statement to the inquiry.
The DPP is opposed to its publication on the basis that it could prejudice upcoming prosecutions.
After another private meeting, the committee decided to suspend publication while continuing to engage with the DPP.
At one stage yesterday, it is understood the DPP threatened to go to court to prevent the inquiry going ahead with its plan to publish the evidence.
It is understood the inquiry's legal briefing today advised to continue to hold off on publishing and to engage with the DPP to establish if at least some parts of the statement can be published.
The session with Mr Drury was delayed as there were further issues with the impact of the decision to hold off on publishing Mr Drumm's statement.