A terminally ill patient with pancreatic cancer has called for greater research and funding to improve survival rates here.
Tonight, academic and journalist Charlie Fell delivered his last lecture, to raise awareness about the disease, at the UCD Michael Smurfit Graduate Business School in Dublin.
He was diagnosed with the cancer in March 2013.
Mr Fell said he had ignored the early symptoms of abdominal pain and weight loss, as they were not significant but then he developed jaundice.
He also said there needed to be more dedicated support for people with the disease.
Attending the lecture this evening, consultant clinical oncologist at St Vincent's University Hospital Dr Ray McDermott said one of the issues with the cancer is that the symptoms can be vague, and by the time a patient presents for diagnosis it has spread.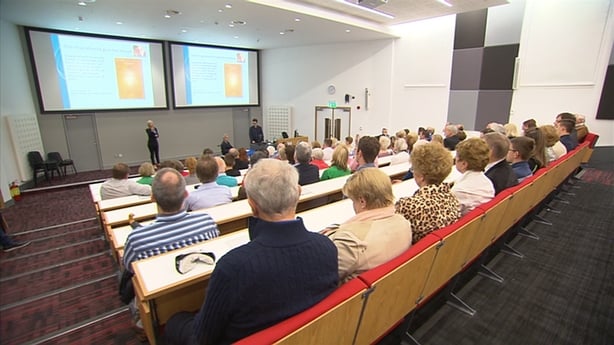 This is one of the reasons why not as much progress has been made in treating it in Ireland in recent years, as experts would like.
He also said plans for a funding cut of 20% to the Irish Clinical Oncology Research Group (ICORG) should be reversed, to help research in this area.
Mr McDermott, who is chairperson of the ICORG, said the cut would amount to around €750,000 from January next.
The pancreas aids digestion and around 480 new cases of the cancer are diagnosed here each year.
It is not is not a common cancer and there is no single screening test to diagnose it.
Classic symptoms are stomach pain, weight loss and jaundice.
Currently the five-year survival rate for pancreatic cancer is just under 9%.
St Vincent's is the designated national centre for surgery for the cancer and a satellite centre also operates in Cork.