Taoiseach Enda Kenny has said that while he does not want to interfere with the banking inquiry, he thinks anyone who is called before it should give it their full co-operation.
He was replying to questions about former Anglo Irish Bank chief executive David Drumm's offer to give evidence to the inquiry by video link.
Mr Drumm has ruled out returning to Ireland from the United States to give evidence to the inquiry.
He moved to the US six months after resigning from Anglo Irish Bank in December 2008.
He has refused to return to Ireland to be questioned about events leading up to the collapse of the institution.
His extradition from the US is being sought by the State.
Mr Drumm has furnished the inquiry with a witness statement and is technically in compliance with its request for co-operation.
Gardaí have sought Mr Drumm's extradition from the US and he has told the committee he is unwilling to come back to appear.
The inquiry has sought legal advice about the admissibility of such a move.
It has also sought the views of the Director of Public Prosecutions on whether Mr Drumm should give evidence by video link.
Fianna Fáil TD Michael McGrath has said he believes it would be "a grave error" if the banking inquiry was to allow Mr Drumm give evidence via video link.
Mr McGrath, who is on the banking inquiry committee, said Mr Drumm should return to Ireland to co-operate and support the criminal investigations under way and attend the inquiry in person.
In a statement, the Fianna Fáil finance spokesperson said that he has taken legal advice that advised him that "by refusing to appear before the committee in Leinster House next Wednesday as directed under the Act, Mr Drumm is in breach of the Direction Order issued to him under the Houses of the Oireachtas (Inquiries, Privileges and Procedures) Act 2013".
Mr McGrath also said that if this engagement with Mr Drumm were to proceed, he is "deeply concerned" that comments made remotely from the United States could prejudice forthcoming criminal trials in Ireland.
"I will not support or play any part in such an exercise," he said.
Meanwhile Sinn Féin finance spokesperson Pearse Doherty has said the banking inquiry committee would seek legal advice on whether to accept Mr Drumm's offer to give evidence via video link.
Mr Doherty, who is also a member of the committee, said the Director of Public Prosecutions would be involved in the decision.
The DPP had previously blocked the inquiry from having certain individuals before it, he added.
Speaking on RTÉ's Morning Ireland, Mr Doherty said he will wait to see all the available information before forming an opinion on whether Mr Drumm should be allowed to give evidence by video.
MacSharry echoes McGrath calls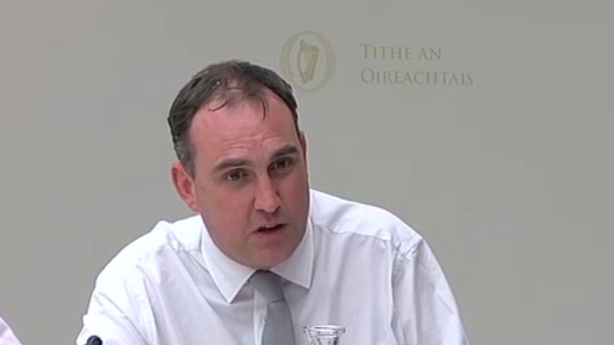 Fianna Fáil Senator Marc MacSharry has said he supports the position of his colleague Mr McGrath.
Speaking on RTÉ's Today with Sean O'Rourke, Mr MacSharry said he would like to see Mr Drumm attend the inquiry in person next week and give evidence.
He said the "farcical nature" of former ECB head Jean-Claude Trichet's attendance had demeaned the inquiry and its work, and he believed it set a bad precedence.
Mr MacSharry said he had not seen the statement Mr Drumm had given to the inquiry.
On the issue of the allegations made by a whistleblower in relation to the banking inquiry itself, he said that a full independent investigation was required.
Mr MacSharry said the Government needs to "step in" before the August recess and arrange an independent investigation.
Fine Gael's Eoghan Murphy also said he is opposed to the idea of evidence via video link.
In a statement, he said: "For me this is a matter on which the inquiry's integrity rests and may have serious implications for the future of our work.
"Mr Drumm should appear in person, as he has been directed to do.
"Failing that, the inquiry cannot give special treatment to a person who is of interest to the gardaí, who will not comply with their requests and whose extradition is sought."
Renua leader Lucinda Creighton said that she has a difficulty about Mr Drumm appearing by video link before the inquiry as there are attempts to extradite him at the moment.
She said it would not be appropriate in the same way she said it was not appropriate that the inquiry "shipped up" to Dublin Castle to talk to Mr Trichet.
She said there had to be some respect for the national parliament and that Mr Drumm should appear before it in person.