President Michael D Higgins has told a climate change summit in Paris that we are at a moment of truth in relation to climate and that we will require moral courage to effectively respond to the now urgent effects of climate change.
The President was speaking at the Summit of Conscience organised by French President Francois Hollande.
It is a gathering of spiritual and religious leaders from around the world to answer the question of why people care about the climate and is a precursor to the international climate conference aimed at a new global climate agreement in Paris in November.
Mr Higgins said this could be the last generation with a chance to respond to climate change.
The great challenges of our time are ethical and intellectual and that the first ethical test is in accepting that there can be no compromise with truth, he added.
He said people must accept the science, and unequivocally reject the position of those who would obscure the scientific reality of climate change.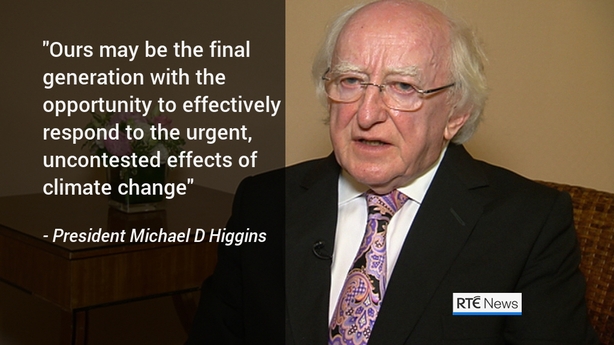 He also said we owe an ecological debt to poorer nations and need to confront individualism, and insatiable consumption.
In relation to the actions required to tackle the climate, the president added that we need to be candid about the global capacity to change and the obstacles that are there, and that in many instances it will take moral courage to swim against the tide to change our models of economics and development.
He told the summit that what is needed is an inclusive, humane, non-judgmental engagement with the voices of those most affected by climate change and that we need to place those people at the centre of proposed solutions.
In ending his speech, Mr Higgins warned when history records the actions we take at this moment of truth we will not have the excuse that we did not understand or that we did not know.
Mr Hollande told the summit that we live in a world in which there is a profusion of science and a deficit of conscience and that we need to rethink our entire relationship with the planet.
He said that all human beings will have to engage to meet the climate challenge.
Former United Nations secretary general Kofi Annan and Prince Albert of Monaco were also keynote speakers at the summit.