An unpublished report by the National Child and Family Agency, Tusla, has found that serious cases of suspected child abuse are not being followed up due to pressure on staff resources.
The report, obtained by RTÉ's This Week, includes cases of children being exposed to serious incidents of domestic violence, reports of physical abuse and other serious welfare or neglect concerns. 
'Report of the 2015 National Review of Cases Awaiting Allocation' found that as of 28 February, of the total 27,337 open cases, 8,865 had not yet been allocated a social worker.
However Chief Executive of Tusla, Gordon Jeyes, told RTÉ the agency believes the number of cases awaiting an allocated social worker is closer to 5,000.
The report features one case in which a child in the Midlands has been waiting for an allocated social worker for over four years.
The findings of the report are based on reviews of services with Tusla management and staff. 
44% of social workers reported an unmanageable case load burden, which did not permit them to fully act on files.
Tusla staff also told the report's authors that the true number of children at risk may not be known: "The reality is that high allocation of what are assessed as being unmanageable caseloads is in fact hiding the extent to which areas may be under resourced".
Six area managers from Tusla told the report's authors "they could not provide assurance that all at-risk children in their area were being responded to, even where there were systems of review and prioritisation in place".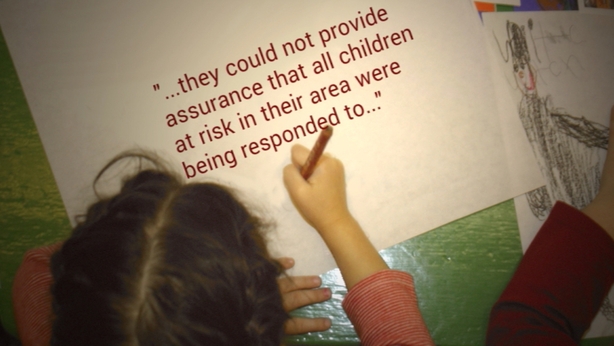 Based on the findings of the report, an estimated 1,600 children in need of immediate attention are not being addressed adequately. 
Referrals of domestic violence in particular were, in the opinion of the review team, categorised as lower risk for response than they should have been, an approach which is not supported by research evidence and best practice.
Over 200 social workers needed to clear backlog - Gordan Jeyes
On Friday the Chief Executive of Tusla, Gordon Jeyes, told the Oireachtas Committee on Health and Children that the service would need an additional 200-280 social workers to clear the backlog of cases currently being dealt with by Tusla and to prevent such a backlog recurring. 
Mr Jeyes also pointed to a need for greater ICT and support staff and told members that an extra €25m would be needed by the agency to stand still after efficiency savings had been found.
He told the Committee that Tusla's concerns about the "fragility" of the agency were serious and not an exaggeration. "We are not in the business of waving shrouds", he said.
The Department of Children has said that Minister James Reilly is aware of the difficulties covered by this report and it was the Minister who requested that Tusla would prepare the report with a close analysis of the needs related to social workers.
Minister Reilly met Tusla to discuss the report on 16 July. Tusla's Chief Executive and Chairperson, Gordon Jeyes and Norah Gibbons attended the meeting, as did senior officials.
It said that: "Tusla is now preparing a formal business case on the issue and the need for extra social workers and the business case will then be entered into the Estimates process for 2016 which is now underway."