A woman murdered in the United States 183 years ago has been laid to rest in her native Co Tyrone, after her remains lay buried in an unmarked grave for almost two centuries.
Catherine Burns, 29, left Tyrone for the US in 1832 to begin a new life, but within six weeks of her arrival she was dead.
The young widow,was among a group of 57 Irish immigrants from Donegal, Tyrone and Derry who were hired to build a railway between Philadelphia and Columbia, on a site that became known as Duffy's Cut.
Within six weeks, all were dead of cholera and possibly violence, and were buried anonymously in a ditch.
All that is known about Ms Burns prior to her death is based on an entry in the ship's log which brought her to the US and which states her age, the county she was from, her marital status, and the fact she had no luggage.
Her funeral mass and burial took place at Clonoe Chapel, near Coalisland today
Parish priest Fr Benny Fee said: "Today surely, all of Tyrone belongs to Catherine Burns.
"183 years ago last month she landed at the port of Philadelphia in the hope of a new beginning and a new life.
"Within six weeks those hopes would be shattered and her dream dashed.
"Catherine was dead. She was one of 57 victims of disease and violence at a place that would be infamously known as Duffy's Cut.
"Today almost two centuries later after being buried in an unmarked grave it is our solemn privilege to welcome home to her native Tyrone Catherine's mortal remains and to lay them to rest with the prayers and rites of the church and with the dignity and respect they deserve."
Fr Fee hailed the US researchers at the Duffy's Cut Project who have been working on the case for more than a decade.
"This poignant day of joy and sadness would never have come to pass without the goodness, courage and perseverance of wonderful people from the United States. Today it is my great joy to welcome them to Tyrone and to the Parish of Clonoe," he said.
The priest added: "May Catherine Burns who suffered so much in life find peace in death and rest safely under the Tall Cross of Clonoe."
Local people marked her homecoming with an Irish wake on Friday night complete with traditional music, song and dance, as well as a "wee dram" of whiskey.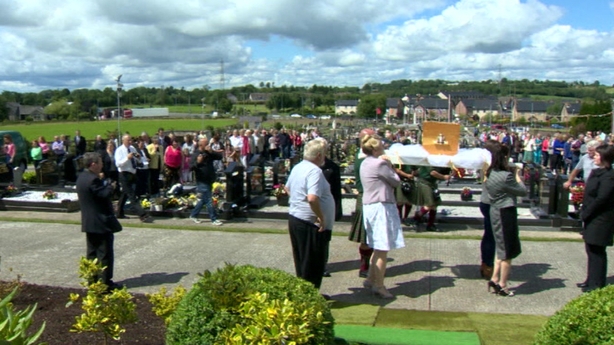 The incident has been researched at Immaculata University by the Duffy's Cut Project, an ongoing archival and archaeological search into the lives and deaths of the Irish immigrants, seeking to provide insight into early 19th-century attitudes about industry, immigration and disease in Pennsylvania.
Speaking at the wake in Washingbay, near Coalisland, Dr William Watson, professor of history at Immaculata University and senior member of the Duffy's Cut Project, said he found the event "very emotional".
Accompanied by colleagues from the project, Dr Watson said: "I think it's amazing that Catherine Burns got something that she has not had for the past 180 years.
"For the sake of justice and righting a historical wrong this goes a long way. This is huge. From our perspective this is overwhelming actually."
He added: "We're researchers but we're also human beings. And it's just a very emotional thing."
Dr Watson said many historical projects can be "boring", but this was the "human face" of their research, and about a "real human being" who had "something terrible" happen to her.
"And she had no one to advocate for her over in our country in 1832, so we see it as our mission to advocate for her and for the others who died there," he said.
Dr Watson said forensic teams were able to confirm that the remains belonged to a woman of about 30.
Previously, Dr Watson said the skull of Ms Burns shows "massive peri-mortem violence by means of a sharp implement which would have caused her death".
He added: "We believe Catherine was murdered in an attempt to contain the cholera epidemic, which the locals believed was being spread by the immigrant railroad workers.
"The workers were a convenient scapegoat for the community, which did not understand the etiology of the disease."
Dr Watson said they believe the first seven they excavated were healthy and fled the valley.
They were all murdered with no defensive wounds - one man dying of a bullet in the head after an axe blow - and buried in coffins with an extremely large number of nails to seal the lids - averaging over 100 nails per coffin lid, he said.
It is believed the lids had so many nails in order to prevent them from being opened.
Some people also believe anti-Irish feeling may have been a factor in Ms Burns' murder.