Former taoiseach Bertie Ahern has admitted that he did make mistakes during his time in government and he has apologised for these mistakes.
However, he told the banking inquiry that he could honestly put his hand on his heart and say he did try his very best to do the right thing by the Irish people.
Mr Ahern apologised for his mistakes, but he was also pleased that he did get a lot of things right.
He said that the past few years for ordinary Irish families had been very hard and he said that "breaks his heart".
Mr Ahern said he wished the recession did not happen but it was disingenuous to suggest that all the gains this country made have been wiped out.
He said that despite the recession the progress his government made was still is still there.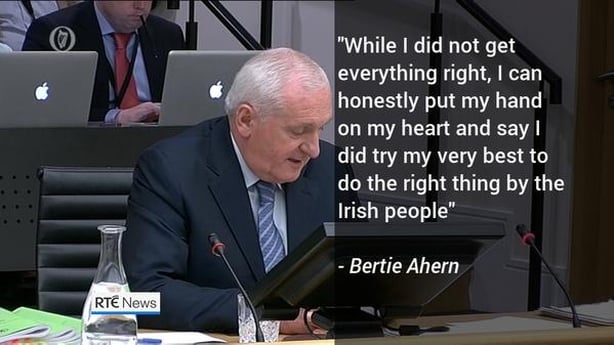 Housing boom created a 'structural weakness'
Defending his record on economic growth and jobs he said the main economic problems facing Ireland in the mid-1990s were high unemployment, net emigration, relatively low incomes and the need for increased productivity.
He said that a decade later these problems were substantially solved.
Mr Ahern said that throughout the country people now drive on better and safer roads, people travel on better trains and he said we have better schools.
He said that during his tenure his aim was to improve the quality of life for people and to improve services that were not there.
Mr Ahern said that when he left office, the IMF and other international organisations such as the OECD, along with national ones were all predicting growth in the Irish economy in the region of 3% for 2009.
He pointed the finger at the ESRI, and quoted from one of their 2005 reports, which he said noted that no slowdown was seen and that "there is a growing aura of invincibility about the Irish economy".
Mr Ahern told the inquiry that the housing boom created a structural weakness in the economy and the international downturn ensured this has turned from a soft landing into a very hard one.
In response to a question from inquiry Chairman Ciaran Lynch, Mr Ahern said he believed the economy was definitely sound when he handed it over to Brian Cowen in 2008.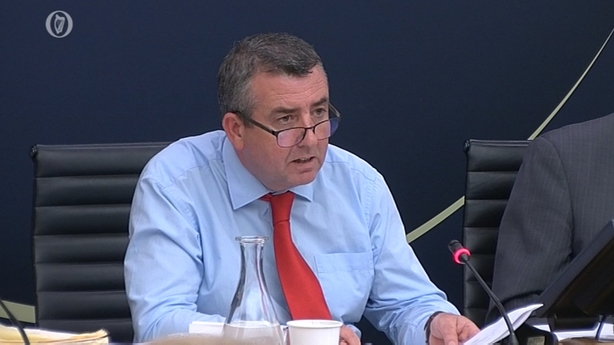 Sinn Féin's Pearse Doherty asked Mr Ahern why some of his testimony is identical to passages in his autobiography. My Ahern said it was because his opinion has not changed.
Mr Doherty also asked him to describe the relationship between Fianna Fáil and the building industry.
He asked about him being "backslapped" by developers going into Croke Park and borrowing a helicopter to go canvassing in Donegal.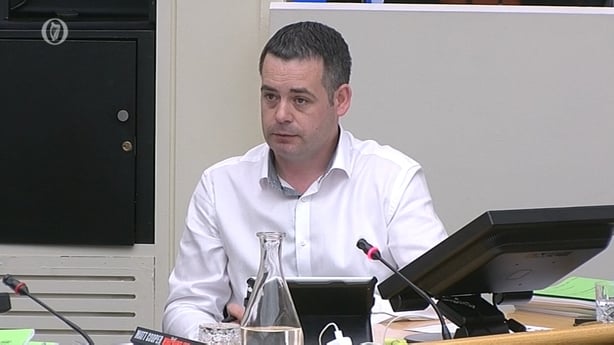 Mr Ahern said the Fianna Fáil tent at the Galway Races was no secret nor was the one at the Listowel Races sponsored by a construction company
In response, Mr Ahern said there was no big deal over the tent and there was no big business done.
He said said Fianna Fáil was wrong to abandon the Galway tent as a fundraiser and he did not accept it left a grubby impression of the party. "It was a bit of craic, the rest of fundraisers were nuisances" he said.
Mr Ahern also said he does not believe he personally had much interaction with developers.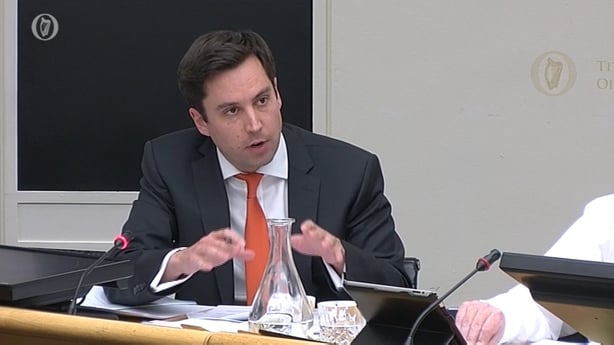 Fine Gael TD Eoghan Murphy asked if Mr Ahern missed warnings in OECD reports.
The former taoiseach said that OECD reports gave upsides and downsides and he accepted that his government did make mistakes on competitiveness - particularly in salaries.
Deputy Murphy said in February 2001 the EU council censured Ireland for its failure to use fiscal policy to ensure economic stability given that we were now in a monetary union.
Asked if he accepted that charge Mr Ahern said he did.
"If hindsight was foresight, I'd be a billionaire" - Ahern
Asked by Deputy Murphy if he accepted that Ireland failed the test of prudent fiscal management Mr Ahern said he accepted it now in hindsight.
However, he said at the time the country still had over 10% unemployment.
Mr Ahern said "If you asked me to say now, should we have built up more balances if we knew there was going to be a bust in 2008?... Yes."
He told Deputy Murphy that if hindsight was foresight he would be a billionaire.
The former taoiseach is appearing before the inquiry in a highly-anticipated return to Leinster House.
He is being questioned on his role as taoiseach from 1997 to 2008 and as minister for finance in the 1990s.
He presided over the extended boom but when he stepped down in May 2008 Ireland was entering recession and the banks were struggling.
Asked by Fine Gael Senator Michael D'Arcy if the level of regulation of the banks was appropriate, Mr Ahern replied "Not at all, there was hardly any regulation that I could see".
He also said the banking regulator "never came to see him."
The inquiry is examining how his government's actions may have contributed to the crash.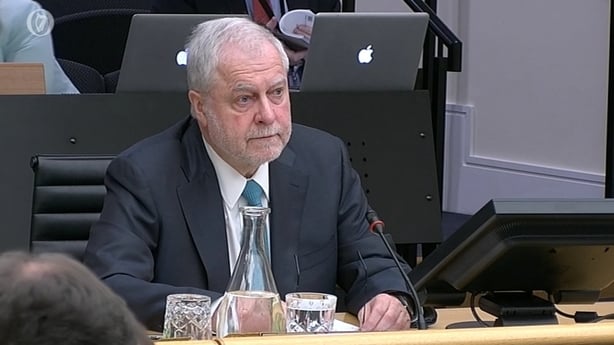 Earlier, a former attorney general told the inquiry that Ireland stood alone during the period of the banking collapse and had to rely on its own resources.
Paul Gallagher said his recollection of the time was a sense of the country's isolation when it was required to save its banks, use its own resources and make its own decisions.
Mr Gallagher was attorney general from June 2007 to March 2011. He said there was no suggestion on guarantee night that any bank might be insolvent.
The Central Bank governor and the Financial Regulator made it clear the banks were solvent but illiquid and there were difficulties with three institutions, he said, adding that they said there was an imminent risk of systemic failure in the banking system and a general financial meltdown.
They were told unambiguously they were on their own and the banks must be saved. The ECB and the EU would not get involved.
He said the then taoiseach and finance minster interrogated that and were told there were no proposals coming from European finance ministers.
Under the EU treaties, it was understood the EU could not bail out banks.
He said AIB and Bank of Ireland asked for a four-bank guarantee for a two-year period, along with nationalisation of Irish Nationwide and Anglo Irish Bank.
The banks draft guarantee brought to the meeting was an identification of what instruments should be covered, which he described as technical detail.
The banks were asked for their input and then asked to leave. The decision was made independently by the government after careful consideration.
Mr Gallagher said the decision was not about saving the banks, it was about saving the financial system and a calculation had to be made about the consequences for the financial system.
MacSharry calls for independent investigation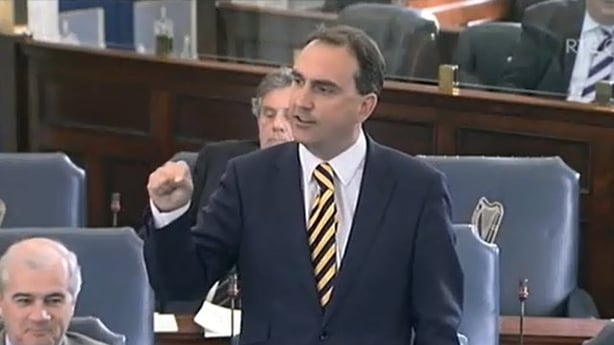 Meanwhile, Fianna Fáil Senator Marc MacSharry has called for a full independent investigation to protect the integrity of the banking inquiry and "get to the bottom of the unknowns of this crisis".
Yesterday, RTÉ News learned that an investigator working with the inquiry has made allegations of wrongdoing under whistle blower legislation and that these are being investigated.
The claims have been made to the Acting Clerk of the Dáil and relate to the work of investigators alleging serious irregularities.
Senator MacSharry said he expects an independent person will be appointed in the next week to ten days.