The newly-formed Social Democrats party has said it will abolish water charges and pause the water-metering programme if in government.
The party's founding members, TDs Catherine Murphy, Róisín Shortall and Stephen Donnelly, will share the leadership.
At the launch this morning, they said they were also in favour of a two-to-one division in favour of spending over taxation in the budget.
They also said they favoured repealing the Eighth Amendment of the Constitution.
The Eighth Amendment of the Constitution, which was enacted in 1983, states: "The State acknowledges the right to life of the unborn and, with due regard to the equal right to life of the mother, guarantees in its laws to respect, and, as far as practicable, by its laws to defend and vindicate that right."
The TDs said they have not yet started fundraising, have not yet spoken to other people about contesting the next election and will apply a whip on confidence votes and budgets, but will have a free vote on other occasions.
The party has not yet produced costings but said it will have a budgetary proposal.
Ms Murphy and Ms Shortall said they had not paid their water charges.
Mr Donnelly said to the best of his knowledge he had not paid them but added he probably would.
When asked if they would increase taxation to fund a Nordic child care system, they said they would extend paid paternity leave and establish child clinics.
Ms Murphy said they are not into auction politics but rather option politics.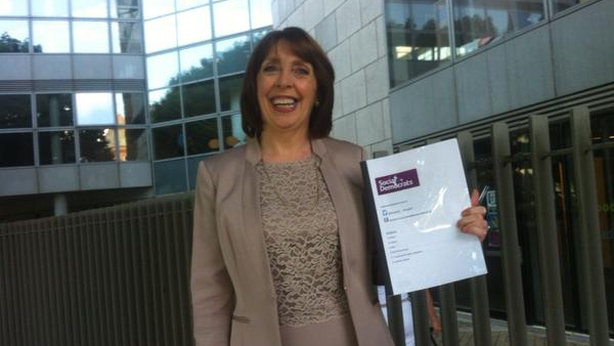 Ms Shortall said today was about getting the party up and running.
She said they had shared goals of progress, equality, democracy, sustainability and a commitment to a Nordic model of social democracy.
Ms Shortall said a significant proportion or a majority of Irish people had become disillusioned with the existing political parties.
The former Labour TD said the first five years of a child's life are the most important, but receive the least attention and investment.
Ms Murphy said openness was the key to good government, and said the party favours the abolition of the Official Secrets Act.
Launch of social democrats party #rtenews pic.twitter.com/xp5YCYYOif

— Martina Fitzgerald (@MartinaFitzg) July 15, 2015
Speaking to RTÉ's Today with Sean O'Rourke, Ms Shortall said the decision to have three party leaders was made very early on.
She said all three TDs are equals who have different experiences and backgrounds, but share the same ambition, which is to build a better future for Ireland.
Ms Shortall said the party is currently working on a number of policies, including in relation to health and childcare.
She said in childcare in particular Ireland is well out of step with the rest of Europe, where the average paid leave for a parent following the birth of a child is 19 months.
In Ireland it is six months and she said the Social Democrats want to increase that to 12 months initially.
She said that they have done a costing using the budget figures available and it is not as expensive as it would seem.
It would cost €360m a year if it was to be introduced all in one go, but numbers on the live register would drop because people would be needed to fill parental vacancies.
For each person removed from the live register, it saves the Government €20,000.
She also said that the Social Democrats believe in universal access to healthcare for everyone. She added that they believe in the current Programme for Government, but that it has not been delivered.
Ms Shortall said that the Social Democrats intend to intend to contest as many seats as possible and are appealing for people who share the same values, goals and ambitions to make a better Ireland for the future.