The so-called group Islamic State have claimed responsibility for a bomb attack in front of the Italian consulate in Cairo, Egypt which killed one person.
Prime Minister Ibrahim Mehleb said Egypt was at war and urged the world to unite against terrorism.

"The time has come for the world to unite in facingterrorism, which now threatens the entire world," Al-Ahram newspaper quoted him as telling reporters.
A security official said the blast was caused by a bomb placed under a car near the consulate and remotely detonated.
The blast caused heavy damage to the consulate.
It shook other buildings downtown and could be heard in several surrounding neighbourhoods.
A health ministry spokesman said one Egyptian civilian was killed and ten other people wounded.
State news agency MENA separately said two policemen were among the wounded.
Italy's Foreign Minister Paolo Gentiloni said there were no Italian victims in the blast.
"Italy will not be intimidated," he said on Twitter.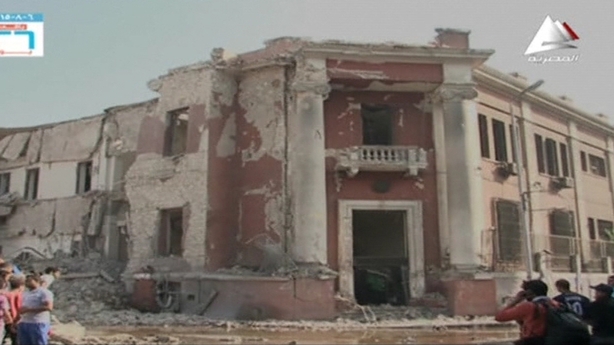 Islamist militants have carried out roadside bomb attacks and suicide bombings which have so far targeted members of the security forces and officials.
Hundreds of soldiers and police have been killed since the army toppled Islamist President Mohammed Mursi in 2013 following mass protests against his rule.
Egypt has witnessed a recent increase in attacks against tourism targets, including a suicide bombing near the ancient Karnak temple in Luxor last month.
An attack on Westerners could signal a dangerous escalation of violence in the country, which is relatively stable in a region engulfed by militancy and sectarian conflict since the Arab Spring uprisings.
A Western diplomat said he was aware of the explosion in front of the consulate but could not confirm that the building was the target.