Former Taoiseach, Brian Cowen, has defended his government's decision to guarantee the banks and said Ireland was "bounced" into the Troika bailout in 2010.
Mr Cowen said discussions about a bailout programme only began after European officials started to brief the media.
Mr Cowen was speaking at the Joint Committee of Inquiry into the Banking Crisis for a second time. The session focused on the period covering the bank guarantee and the bailout in detail.
He also accused the European Central Bank and the EU of anonymous and "unacceptable" briefings that Ireland was going into a bailout before formal negotiations had begun.
Mr Cowen said there was no intention to mislead the public in advance of the bank bailout and that the government of the day was just trying to get as good a picture as possible before formally applying for a bailout.
He said that when the IMF came to Dublin, it created a view that it was a bailout was a fait accompli, the Government underestimated the impact of the IMF arrival.
Mr Cowen said they were "in talks about talks" at that stage.
He said ministers Noel Dempsey and Dermot Ahern were just saying what they had been told when they said there was no bailout talks, which was technically true.
On 16 November 2008, the Cabinet were brought up to date and on 21 November the government formally applied for a bailout.
Mr Cowen said there no showdown with the Troika on 26 November blocking burden sharing, he said it confirmed what they had already gleaned.
He told the inquiry he knew a bailout was a possibility during discussions in September 2008.
Fine Gael TD Eoghan Murphy asked if the government explored the possibility of burning bondholders when the guarantee expired in September 2010 and Mr Cowen said they were still in the markets and the NTMA was against it.
Mr Cowen said Brian Lenihan may have left the meeting when they made the decision to include dated subordinated debt in the bank guarantee.
He said that although that type of debt would not normally be covered they wanted to give clarity to the market.
Fianna Fáil Senator Marc McSharry asked Mr Cowen about evidence from former Secretary General at the Department of Finance Kevin Cardiff about the lack of notice before Central Bank Governor Patrick Honohan spoke to RTÉ 's Morning Ireland in November 2010 about the likelihood of Ireland entering a bailout programme.
Mr Cowen said what the government was doing at that time was coming to a conclusion with the Troika and preparing for the 21 November Cabinet meeting.
He said it was unfortunate that that is the way it came out, and that it put the government in a poor light.
Mr Cowen said he was not suggesting that Mr Honohan had set out to do that; Mr Honohan answered the questions as they were put to him in the radio interview.
He said the government should have been saying that there were people from the EU/IMF coming over and that Ireland had not applied for a bailout yet but things would come to a conclusion soon.
Mr Cowen said that would have been the very accurate up-to-date situation as it was.
He said the government had been looking for a bit of final clarity for themselves before committing to applying for the bailout.
Senator McSharry asked Mr Cowen about his reference to the view that Ireland was being bounced into a bailout programme, and that there was briefing going on from European sources to facilitate Ireland's entry into a programme.
Mr Cowen said he did not believe Mr Honohan was part of this.
He said the Honohan interview on Morning Ireland did not have a detrimental impact in terms of the application for the bailout, but that there was a detrimental impact politically.
Mr Cowen said clearly there were people who did not like the pace at which Ireland was addressing the issue, which he said was quite fast as far as he was concerned.
He said Minister Lenihan was giving an indication generally of where the situation was heading.
He said the government was doing its job, engaging with the institutions, and should have been given a little bit of space and time and respect to come to a decision that they eventually came to.
Earlier Mr Cowen told the inquiry that a bank guarantee was a "safer option" than nationalising Anglo Irish Bank which he said would amount to an open-ended guarantee.
He said the full guarantee option would send a clear message that Ireland was standing behind the financial system, which would be understood by the markets.
In his opening statement, Mr Cowen said that allowing Anglo to fail was simply not an option on the night. It would have implications for the whole system.
The costs involved in terms of causing a run on other banks as well would put the whole payments system at risk and cause irreparable damage to the economy as a result of a banking meltdown.
He said it would, in former Central Bank governor John Hurley's words, "set the country back 25 years".
The options on the night were narrowed down to a nationalisation plus a guarantee or simply a guarantee of the system itself.
No decision was risk free, he said. There was no one good or right option that would guarantee a solution to the problem.
It was about trying to pick the "least worst" option, he said.
Former taoiseach Brian Cowen's opening statement to Banking Inquiry https://t.co/Oxi3d0EU4L

— RTÉ News (@rtenews) July 8, 2015
Cowen's answers 'unconvincing'
AS IT HAPPENED: BANKING INQUIRY
He denied that he overruled then minister for finance Brian Lenihan in their private conversation on the night, which he said was not adversarial or confrontational.
Mr Cowen also detailed how conditions worsened for Ireland in 2010 and said they were eventually pushed into the bailout.
Off-the-record briefings tried to create a situation where a programme was a fait accompli, without prior agreement on conditions, he said.
He also insisted that banking was not discussed on an infamous golf outing in July 2008 with a group of Anglo Irish Bank directors and its chairman Seán FitzPatrick.
As God was his witness, Mr Cowen said, they only discussed the economy.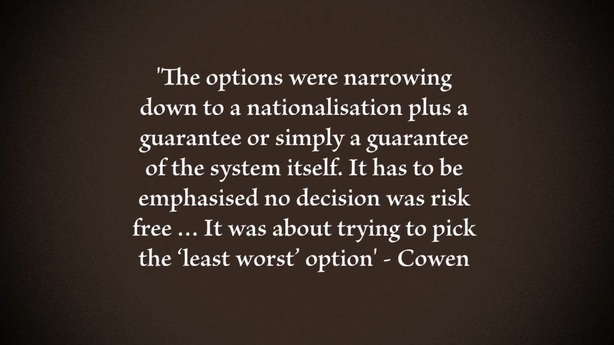 Mr Cowen said he accepted his share of responsibility of what happened to the country.
A silent run had begun by depositors on all Irish banks, he said.
Mr Cowen added that they knew over the weekend of 27-28 September 2008 that Anglo and Irish Life & Permanent were going to find it hard to get through the following week in terms of having no cash to conduct day-to-day business.
Money continued to leave the financial system at such a rate that a meeting was scheduled at the Department of An Taoiseach after close of business on 29 September 2008 to review the situation.
He said Governor Hurley told the meeting that a situation had developed at Anglo where it had lost €2bn in deposits that day.
Mr Cowen said Mr Hurley had been in contact with ECB president Jean-Claude Trichet and confirmed that there was no euro-wide initiative in the offing and "it was clear that we were on our own".
The former taoiseach told the inquiry that they were bounced into the bailout by anonymous briefings from ECB/EU sources in an unacceptable manner.
These off-the-record briefings were clearly trying to create a situation where a formal Irish approach for assistance was a fait accompli without prior agreement on conditions, he said.
The ECB also threatened to withdraw funding for banks if they did not accept the programme.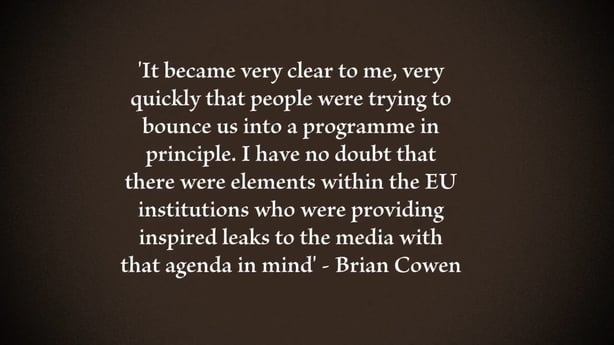 Sinn Féin's Pearse Doherty asked Mr Cowen when he had first become aware that the wholesale borrowing situation represented a systemic risk to the banking sector.
The issue would have come up in relation to the Northern Rock situation, Mr Cowen said, and the government had been watching how that was working out.
He said in relation to wholesale borrowings September of 2008 was a trigger, and that the government had been managing the situation up to then.
Mr Cowen said he had no recollection of anyone coming to him and suggesting a guarantee as a potential solution. He said he had never discussed this with anyone in any of the banks at any time.
He was aware of what the multitude of solutions might be from early on, he said.
The first time he became aware of the need to prepare legislation for the potential State guarantee of institutions was April/May, he said.
Cowen says he wanted to look at all angles
Mr Cowen said on the night of the guarantee he did not have his mind made up beforehand and did not know what they were going to do.
He said he had wanted to be briefed, that he wanted a discussion and he wanted to look at all the angles.
Mr Cowen was asked if, when he spoke to economist and Central Bank board member Alan Gray, Mr Gray mentioned that Seán FitzPatrick and David Drumm had called to his office a couple of hours beforehand.
Mr Cowen said Mr Gray did not mention that.
Inquiry chairman Ciarán Lynch asked Mr Cowen about the possibility of a different approach being taken if the true financial position of the banks had been known on the night of the guarantee.
Mr Lynch asked if a different approach might have reduced the losses ultimately sustained by the Irish taxpayer given the apparent insistence of the ECB that no bank should fail.
Mr Cowen said there had to be a decision about whether it was important to have a domestic banking system, and he said he had no doubt the answer was yes.
The question of pressing a nuclear button or saying let it fall where it may, he said, would have had devastating effects on the Irish economy.
Mr Cowen said one person had said to him it would have meant going back a generation, 25 years. He said the country went back five or six years but not 25.
It was his opinion that you could not allow a bank to close.
Mr Cowen said there was no cost free solution to the problem. The guarantee bought time, he said, and without it they would have had to recapitalise much more quickly.
'Banking not discussed at golf game'
Mr Doherty asked Mr Cowen about how a game of golf in Druids Glen in July 2008 with a group of individuals, including Seán FitzPatrick, came about.
Mr Cowen said he had suggested to former Anglo director Fintan Drury that a few people should get together to discuss how the economy was going after the Dáil broke up for the summer recess.
He said he did not believe it should stretch credibility that issues around banking were not discussed as this was the truth.
Mr Cowen said discussions there were about economic issues and were nothing to do with Anglo Irish Bank.
Fianna Fáil's Michael McGrath asked Mr Cowen about the night the decision was taken for the bank guarantee.
Mr Cowen said based on the information available that night the government had to avoid a run on the banking system in Ireland.
He said he believed the decision they made provided them with the best prospect of achieving that.
Further information the government received following analysis by PWC within six weeks of the guarantee reaffirmed the fact that the basis on which the decision was made was correct, he said.
He said the immediate problem was to get money into the system.
'National interest that they had to protect'
Mr McGrath asked Mr Cowen about a phone conversation he had with then British Prime Minister Gordon Brown in September 2008.
Mr Cowen said that Gordon Brown had been putting forward British concerns, and they obviously had a concern in relation to the possibility of extending the bank guarantee to UK banks with operations in Ireland.
Mr Cowen said at the end of the day the banks concerned made a decision not to come in on the guarantee scheme because of the conditions the Government would have had to set for them to do so.
Mr Cowen said he had said to Mr Brown that they would continue to work with those who had concerns, but that they had a national interest that they had to protect.
Fine Gael TD Kieran O'Donnell asked about warnings on the exposure of banks to the property market and the liquidity of banks in the months coming up to the bank guarantee.
He asked Mr Cowen what type of instructions he had given on taking up office as taoiseach to deal with the impending crisis.
Mr Cowen said for the previous 12 months prior to the guarantee the Government was managing the situation, and the Central Bank was working with the various institutions.
He said the regulatory authorities were informing the Government that they were doing stress tests, and all of that was indicating that while there were difficulties in the banks we were getting through this.
Mr Cowen said a trigger moment happened in September with the collapse of Lehman Brothers in the US.
He said a plan was in place, and there was a nationalisation bill ready to go if that was what they wanted to do, there had been arrangements made to have a fighting fund established if that was needed, and the legislation was ready to go if they were going the guarantee route.
Mr O'Donnell asked Mr Cowen about the game of golf at Druid's Glen in July 2008.
Mr Cowen said he thought all of the individuals concerned now would probably rather it had not happened if only for the optics.
However, he said he did not do anything untoward, or inappropriate, or discuss issues with any individual bank at the expense or cost of anyone else at that time or ever.
Senator Marc McSharry asked Mr Cowen about his relationship with Brian Lenihan and how they came to a decision on the night of the guarantee.
Mr Cowen said he had a very good relationship through the years with Mr Lenihan, and it was clear to colleagues, that in relation to economic and budgetary matters, he had his full support.
Mr Cowen said on the night of the guarantee they had to come to a conclusion then and Mr Lenihan's position was different to his, and they "chatted it out".
He said they came ultimately to a conclusion as to what they felt, on balance with different degrees of conviction, was what was going to be the best thing to do.
Mr Cowen said when the final position was put to those present there was no dissent.
He said it was not an atmosphere where he was overruling people.
Mr Cowen said it was in the best national interest to listen to the ECB's advice that no bank could fail.
It would have been very hard to fund the banks in the future without the co-operation of the ECB. It was clear that as a eurozone member, no bank of systemic importance could fail.
On banks' solvency on the night of the guarantee, they were dependent on the advice they were given at that time, he said.
Fine Gael's Eoghan Murphy asked why they trusted the Regulator's information at such a turbulent time.
Mr Cowen said you had to trust somebody and they put it to the Regulator and the Central Bank governor.