The Government did not initially support search and rescue missions in the Mediterranean, which ultimately rescued 170,000 migrants, according to documents obtained by RTÉ's This Week.
The documents, released under Freedom of Information Act, outline Irish opposition to search and rescue missions in the Mediterranean at high-level EU meetings for two years before an Irish naval vessel was ultimately deployed to the region as part of EU efforts in May of this year.
These missions included the Italian Mare Nostrum mission, launched in late 2013 in response to hundreds of migrants being drowned off the island of Lampedusa.
The papers prepared for Justice and Home Affairs Council meetings show Ireland "maintained a relatively low profile" on the issue of migrants in the Central Mediterranean on the basis that it had "little direct impact" on the country.
The briefing documents advised that no contribution should be made at meetings and were marked "No Intervention Anticipated".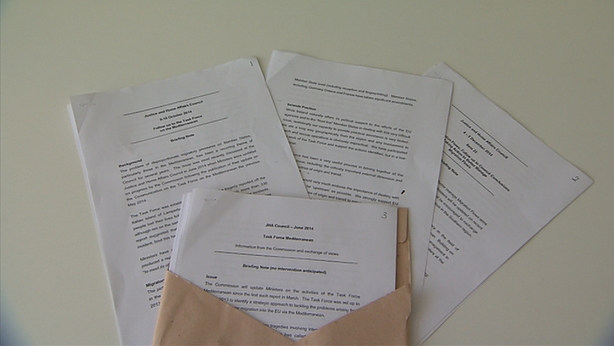 According to International Organization for Migration figures almost 4,500 migrants from the Middle East and Africa drowned during the period covered by the documents.
Briefing material prepared for JHAC Meetings, at which Ireland is represented by the Minister for Justice showed that Ireland believed "search and rescue missions such as Italy's Mare Nostrum operation, have inadvertently encouraged" criminals to "provide even less seaworthy vessels on the grounds that the migrants will be rescued at sea".
In its report on deaths in the Mediterranean, the International Organization for Migration described Mare Nostrum as a "positive step".
Minister for Justice Frances Fitzgerald told This Week she recalled discussions around the danger of search and rescue missions encouraging the movement of migrants by sea.
"What's become very clear is that people are going to risk their lives anyway", Ms Fitzgerald said.
The minister said she had partaken in discussions at the meeting.
"Since I have been minister, I have been intervening and involved", she said.
"All countries in Europe could have acted earlier, the truth is, in good faith it was felt, that putting out the ships, increasing Mare Nostrum at that time wouldn't actually be helpful that, in fact, it would encourage people to get into unseaworthy vessels boats.
"When you look back at that, clearly people lost their lives, of course we regret the loss of any one life, but there is a much more effective response now".
Ireland favoured policies with the long-term aim of discouraging migrants from attempting to make the perilous journey to Europe.
This included using "leverage" by attaching conditions to trade agreements with countries in North Africa and the Near East, which would oblige those countries to stop people progressing towards the EU.
However, a JHAC document from June 2014 showed that there was unlikely to be a short-term fall in the number of those risking their lives.
The paper estimated a ten-fold increase in the movement of migrants through the Central Mediterranean.
By October 2014 the documents show Ireland's still favoured policies "focused on prevention rather than on search and rescue".
The risk of seaborne migration is acknowledged in the same document: "Once people put to sea in large numbers in an area the size of the Mediterranean and do so in overcrowded and unseaworthy vessels, some level of fatalities is, sadly, inevitable".
The Irish Refugee Council told RTÉ that it reacted with "despondency and shock" to what the documents revealed.
The JHAC papers make reference to consistent calls by Italy during its presidency for help on the issue of migration.
A JHAC document date December 2014 records: "The top (perhaps only) priority of the Italian Presidency in the field of immigration/asylum has been the situation in the Mediterranean".
In October 2014, Italy announced it was standing down its Mare Nostrum mission which cost of €9m per month for reasons of cost.
It was replaced by the current mission Triton, which was initially a border security mission, operating just 48Km from the European coast, with one-third of Mare Nostrum's budget.
In March 2015 Triton was granted and extra €13.7m and extended to the end of this year.
In a number of the JHAC meeting's the State's position was to give its "political support" to European Union agencies and to the "front line" countries and material support to those countries from the EU. However in a document from Frontex outlining EU financial support to the border control agency, Ireland and the UK gave a combined amount of €820,000 in 2013 and €900,000 in 2014.
In briefing notes for JHAC meetings Ireland's position was outlined. It stated that it was "obviously impractical" for Ireland to get involved in SAR missions or provide aircraft or vessels. This changed in May 2015 with the deployment of the LE Eithne to aid the search and rescue mission in the region.
The documents show that in the meetings at which Ireland maintained its "low profile", if representatives were required to make a contribution, they were advised to highlight the presence of 300 Syrian refugees in Ireland and the provision of aid of €20m-€30m to Syrian refugees in countries neighbouring their homeland.
Responding to the documents, Irish Refugee Council Chief Executive Sue Conlon said her reaction was "a mixture of despondency and shock".
"The fact that Ireland indicated that it wouldn't really participate in discussions, and indeed would excuse any non participation and say what it was doing regarding a limited number of Syrian refugees, or financial support for Syrians in refugee camps was disappointing.
"It's an indication that Ireland at that time at least wasn't facing up to the fact that this is a crisis that is facing Ireland as much as anything else because we have responsibility within it", Ms Conlon said.