More than 61% of Greek voters have rejected fresh austerity demands by the country's EU-IMF creditors in a historic referendum, official results from over 95% of polling stations have shown.
Thousands of people gathered in central Syntagma Square in Athens to celebrate the result, despite warnings that failure to reach a deal with the creditors could trigger a Greek exit from the eurozone.
Greek Greek Prime Minister Alexis Tsipras said his government is ready to return immediately to negotiations with creditors.
Dismissing talk that the referendum was effectively a vote on whether Greece stays in the euro, Mr Tsipras said the mandate that Greeks had given him was to reach a viable solution rather than clash with Europe.
"With the difficult circumstances prevailing today you made a very brave choice," Mr Tsipras said in a televised address.
"I'm fully aware the mandate you gave me is not one of a rupture with Europe but a mandate to strengthen our negotiating position to seek a viable solution."
Mr Tsipras said he would ask the country's president to summon a meeting of political party leaders to brief them on the situation 
The country's finance minister, Yanis Varoufakis, said the No majority result was a vote in favour of democracy and social justice and will allow Athens to call on its partners to find a fair deal.
"As of tomorrow, with this brave 'No' the Greek people handed us.... we will extend a helping hand towards our lenders. We will call on each one of them to find common ground," Mr Varoufakis told reporters.
"As of tomorrow, Europe, whose heart is beating in Greece tonight, is starting to heal its wounds, our wounds."
Commenting on the preliminary results of the referendum Minister for Finance Michael Noonan said he hopes "the Greek government will continue discussions with fellow member states in an effort to provide certainty for the Greek people and return stability to their economy.
"Ireland will continue to engage in an effort to reach a successful conclusion to the negotiations" he said.
Many of Athens' partners have warned over the past week that a No vote would mean cutting bridges with Europe and driving Greece's crippled financial system into outright bankruptcy, dramatically worsening the country's five-year-long depression.
Greek banks, which have been closed all week and rationing withdrawals from cash machines, are expected to run out of money within days unless the European Central Bank provides an emergency lifeline.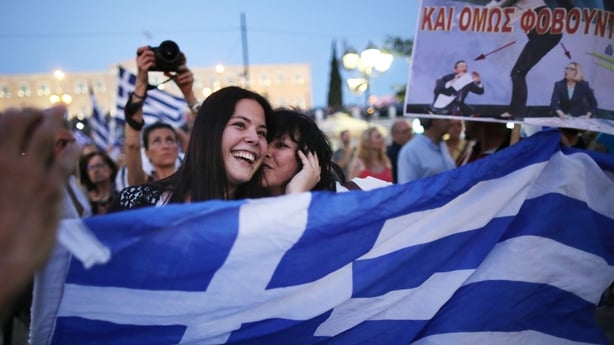 German calls for Grexit mount as EU stunned by No vote
France and Germany have called for an emergency summit of eurozone leaders to discuss the referendum vote to reject bailout terms, as calls mounted in Berlin to cut Greece loose from Europe's common currency.
German Chancellor Angela Merkel's deputy said Athens had ruined any hope of compromise with its eurozone partners by overwhelmingly rejecting further austerity.
Ms Merkel and French President Francois Hollande conferred by telephone this evening and called for a eurozone summit on Tuesday. They will meet in Paris tomorrow afternoon to seek a joint response.
However Vice-Chancellor Sigmar Gabriel, leader of Ms Merkel's centre-left Social Democratic junior coalition partner, has said it was hard to conceive of fresh negotiations on lending more billions to Athens after Greeks voted against more austerity.
Mr Tsipras had "torn down the last bridges on which Greece and Europe could have moved towards a compromise," Mr Gabriel told the Tagesspiegel daily.
His comments, saying Greeks had rejected the rules of the eurozone, reflected a mounting public demand in the most powerful EU country, which is also Greece's biggest creditor, to eject Athens from the 19-nation currency area.
It was not clear whether Ms Merkel, who has repeatedly said she wants to keep Greece in the eurozone, would shift to a similarly hard line.
But senior politicians in her conservative bloc also spoke firmly.
"Now one has to ask the question whether Greece would not be better off outside the eurozone," Hans Michelbach, a member of the Bavarian Christian Social Union said."Unfortunately, Greece has chosen a path of isolation."
The vote sharpened differences between Greece's few remaining sympathisers in the eurozone - mostly in Italy and France - and hard line countries led by Germany which are fed up with pouring loans into Greece.
Italy's foreign minister Paolo Gentiloni said the eurozone should resume efforts to reach a deal with Athens.
"Now it is right to start trying for an agreement again," he tweeted. "But there is no escape from the Greek labyrinth with a weak Europe that isn't growing."
Meanwhile, European Commission President Jean-Claude Juncker will hold a conference call with European Council President, Donald Tusk, Eurogroup President Jeroen Dijsselbloem and European Central Bank President Mario Draghi on the Greek situation tomorrow morning, the commission has said.
Mr Dijsselbloem described the outcome of the referendum as "very regrettable." In a statement the Eurogroup president "I take note of the outcome of the Greek referendum. This result is very regrettable for the future of Greece.
"For recovery of the Greek economy, difficult measures and reforms are inevitable. We will now wait for the initiatives of the Greek authorities."
He said he and his colleagues from the 19-country single currency area would "discuss the state of play" on Tuesday ahead of a special summit of eurozone leaders in Brussels.