The funeral has taken place of Co Westmeath couple Larry and Martina Hayes who were killed in a terror attack on a beach in the Tunisian resort of Sousse last Friday.
More than 2,000 people gathered at the Church of Saints Peter & Paul in Athlone.
Canon Liam Devine sympathised with the couple's only child, 30-year-old Sineád, whose birthday is today.
"Could anyone think of a sadder or more heart-rending way to celebrate your birthday than to attend the funeral of both of your parents?" he said to the packed church.
In his homily, Fr Devine said there is nothing, no human experience of grief or loss, that could possibly prepare a family or a community for what happened in Tunisia.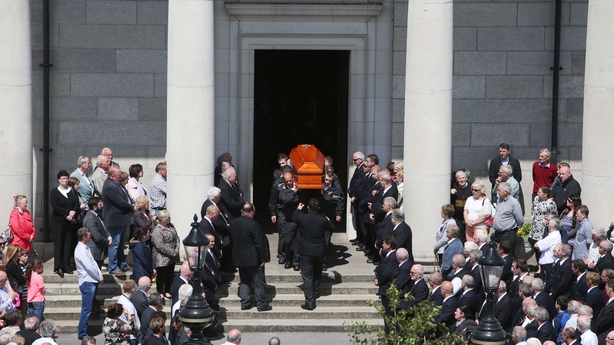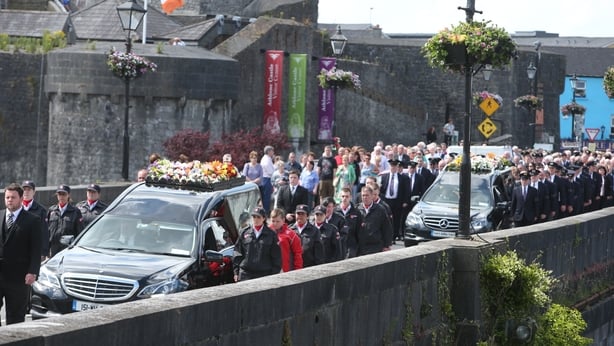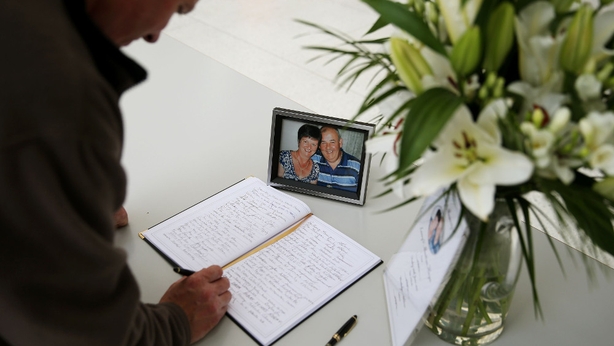 He said the violent deaths of Mr and Mrs Hayes had left "the entire community in Athlone shocked, stunned and devastated".
He said: "It is unprecedented. Unreal. It is almost impossible to come to terms with."
He said it is baffling to think that in the holy month of Ramadan - which he said is equivalent to Lent in the Catholic religious tradition - that a violent atrocity claiming 38 lives, would also touch the lives of people in Ireland.
Canon Devine said: "For some time now the violence of a misguided group of ISIS terrorist fanatics have invaded our living rooms.
"It was a long way away, we put it in the back of our minds, it didn't concern us.
"But now, it's here. It has invaded our town in two coffins."
He added: "The appalling massacre of Larry and Martina Hayes and 36 others at the hands of a crazed brain-washed fanatic on a beach in Sousse has stunned the entire nation into disbelief."
He described the couple as "soulmates" who went everywhere together and who shared a common interest in gardening.
They always looked forward to their annual holidays and this was their third trip to Tunisia, he said.
Speaking on RTÉ's Six One News, Canon Devine said that the Muslim community from Dublin, who were in attendance at today's service, are embarrassed by the terror attack and apologetic.
He said it is important that there is not blame attached to a broader Muslim community, describing the community as lovely and peace-loving.
Ms Hayes, who worked in a pharmacy in the town, treated her home as her castle, Fr Devine said. "You would be hard pressed to find a speck of dust in the house," he told mourners.
"Efforts to find fingerprints in the house proved futile, such was the pristine state of everything. The fingerprints were found in their car that was in the airport awaiting their return."
Mr Hayes was a school bus inspector with Bus Éireann and his work tie was one of the gifts brought to the altar.
Among the chief mourners were the brothers and sisters of Mr and Mrs Hayes.
President Michael D Higgins and Taoiseach Enda Kenny were represented by their Aides de Camp.
Minister for Tourism Paschal Donohoe represented the Government.
After the mass Mr Hayes's colleagues, dressed in their uniforms, joined the Order of Malta, where Sineád was a member, to form a guard of honour flanking the funeral cortege as it made its way through the town to Coosan cemetery.
A minute's silence in tribute to the pair was held at Bus Éireann stations around the country.
A group of more than 30 Bus Éireann drivers and inspector, marched in front of the funeral cortege as it was brought to the church ahead of today's funeral mass.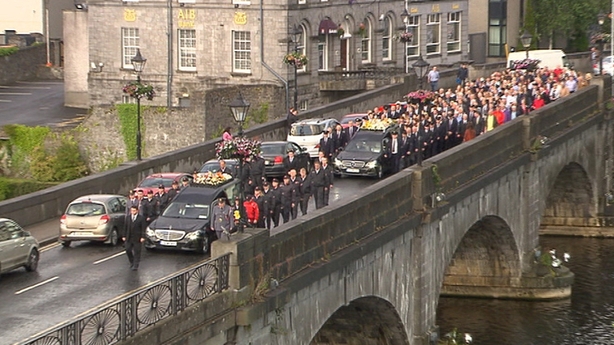 Last night, a crowd of more than 2,000 people attended the removal of the couple in Athlone.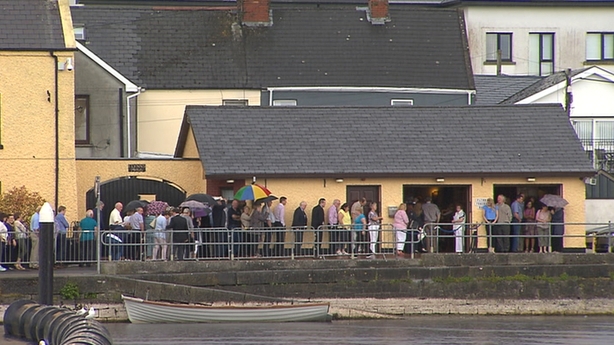 Funeral of Lorna Carty to be held in Robinstown
The funeral of a third Irish victim, Lorna Carty, from Robinstown in Co Meath, will take place at noon tomorrow in the Church of the Assumption.
She was on holiday in the popular beach resort of Sousse with her husband Declan when the attack happened.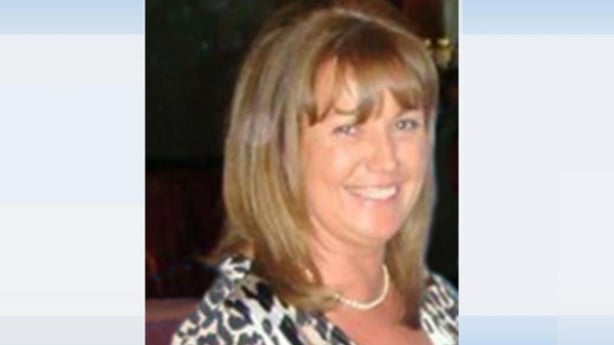 She is survived by her husband and two children, Simon and Hazel, her parents Johnny and Amy, sister Ruth and brothers Jim, Brian and Ronan.
The three Irish tourists and 30 British nationals were among 38 people who died when Seifeddine Rezgui, who had links to the self-styled Islamic State group, opened fire with a machine gun on tourists as they sunbathed and relaxed in front of a beach hotel.
Police reaction a problem, says Tunisian PM
Tunisian Prime Minister Habib Essid today told the BBC that police took too long to react to last week's attack.
"The time of the reaction - this is the problem," Mr Essid said.
Police had been "blocked everywhere", he added.
The prime minister added: "We feel really sorry about what happened.
"They were our guests. They came to spend their vacation with us, but what happened is a horror, unacceptable."
Eight people are being held in Tunisia on suspicion of being directly linked to the attack, for which so-called Islamic State has claimed responsibility.
A minute's silence was held across the UK at midday in memory of the victims of the attack.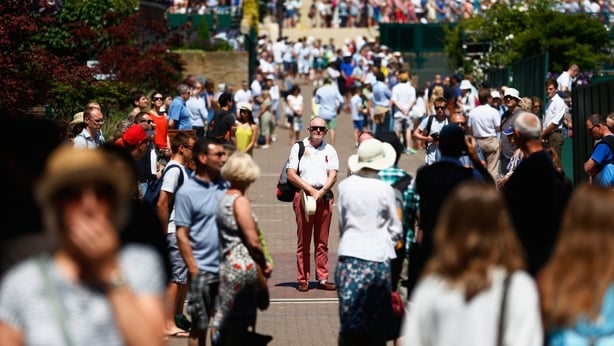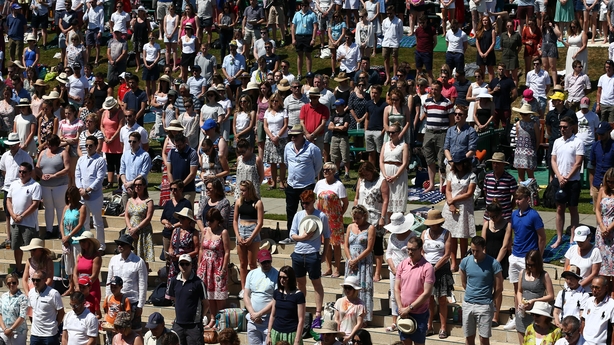 British Foreign Secretary Philip Hammond has said he was confident the figure of 30 was the final number of UK citizens who died in the shootings.
Twenty officers from the London Metropolitan Police Counter Terrorism Command have been sent to Tunisia to help in the investigation.
Britain has also sent specialist security advisers to support a review of security at resorts and tourist attractions.