At least 38 people have died after a ferry carrying 189 passengers and crew capsized off the central Philippines in heavy waves.
At least 118 people survived however it was not immediately clear whether the survivors were rescued or managed to swim ashore.
Up to 33 people are still unaccounted for following the incident.
Huge waves battered the MBCA Kim-Nirvana, bound for Camotes island in central Cebu province from the port of Ormoc, the coast guard said.
Scores, sometimes hundreds, of people die each year in ferry accidents in the Philippines, an archipelago of 7,100 islands with a notoriously poor record for maritime safety.
Overcrowding is common and many of the vessels are in bad condition.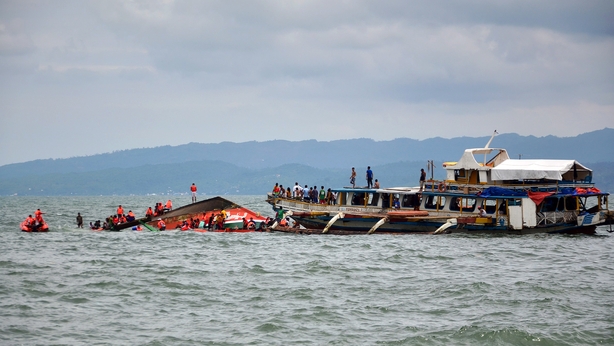 The vessel was carrying 173 passengers and 16 crew members, and was licensed to carry up to 200 people, a local official said.
The official added many of the passengers were traders bringing farm produce and other merchandise to the Camotes island grouping, whose residents rely mostly on fishing.
The authorities were puzzled how the accident had happened in relatively calm waters, after initial reports of choppy seas, and discounted speculation that it was overloaded.
"There wasn't any storm or any gale. We're trying to find out (why it happened)," Philippine Coast Guard spokesman Commander Armand Balilo told AFP.
He said the boat's outriggers apparently broke in the accident, and added it was possible the crew had committed a navigational error.
The Kim Nirvana was on its normal route to the islands, which sit about an hour's sail from Ormoc city.
Tolibao said at least 53 survivors were brought to the hospital while more than two dozen others walked home.