Waterford-born singer and entertainer Val Doonican has died at the age of 88.
Michael Valentine "Val" Doonican was born on 3 February 1927 into a musical family. He was the youngest of eight children.
He left school at 14 and started working in an orange box factory after his father had passed away from cancer of the throat and mouth.
He began performing in his home town before moving to England in 1951 to join Irish Quartet The Four Ramblers.
His solo career began in the early 1960s and had his own show on BBC television, which lasted two decades. He became famous for his relaxed style, his rocking chair and well-known guest artists.
He met entertainer Lynnette Rae around the same time. The pair married in the early 1960s and had two daughters.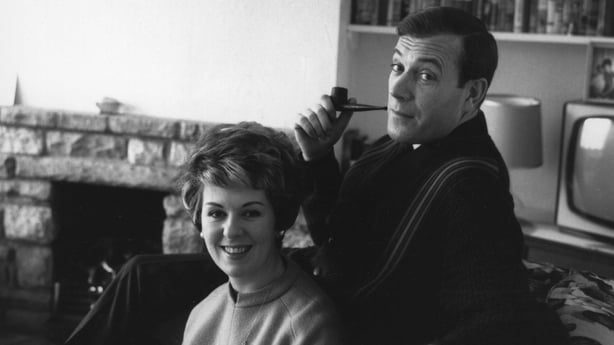 Doonican enjoyed considerable chart success in the 1960s and 1970s with hits including 'Walk Tall' and 'The Special Years'.
He also had five successive Top 10 albums in the UK Albums Chart in the 1960s, and had hits with 'Paddy McGinty's Goat', 'If the Whole World Stopped Loving', 'Delaney's Donkey', and 'Elusive Butterfly'.
Doonican recorded more than 50 albums, sales of which register in the millions, and had fans worldwide.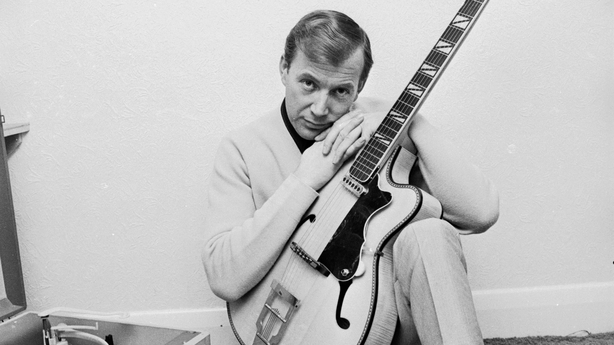 In 1970, he was the subject of "This is Your Life" on BBC1.
Doonican stopped performing in 2009 after more than 60 years in show business.
He was granted the Freedom of Waterford in 2011.
He is survived by his wife Lynn, daughters Sarah and Fiona and grandchildren Bethany and Scott.
He died peacefully overnight at a nursing home in England.
Speaking on RTÉ's News at One, Daniel O'Donnell said he was saddened to hear of Doonican's death.
He said Val was a big part of his childhood - watching him on television - and that in later years he had the opportunity of meeting him and he said Val was a gentle and lovely man.
Sad to hear of Val Doonican's passing ... RIP Val https://t.co/VpMI32OFHd

— Elaine Paige (@elaine_paige) July 2, 2015
Bruce Forsyth also described Doonican as a "lovely man".
"It is very sad. He was always a lovely man to work with. He had the top television show on the BBC. He had the warmth, the voice and the sweaters. He was one of the warmest personalities I think we have ever had.
"I did his show and then he did a couple of my shows.
"He was a very warm person, and number one in his field. He brought a lovely warmth with his personality and was a very popular man."
With his laid-back armchair style and his warm demeanour, Doonican was one of the most popular and best-selling singers of his generation.
It took him years to establish his niche, but once he had achieved success he remained at the top of his profession for more than two decades, a regular and a firm favourite on some of the most widely watched television shows of the time.
He had been writing and arranging music from a very young age, harmonising his friends' versions of the songs they saw performed on film.
His first "professional" engagement came at Waterford Fete - singing 'We're Three Caballeros!'
Doonican later joined a band as drummer and was ultimately hired to take part in a sausage commercial.
In 1951, he was approached by representatives of the Four Ramblers and invited to join them in England, where they are best remembered for 'Riders Of The Range' on BBC Radio. They also presented Workers' Playtime, their salaries augmented by gifts from the factories where the broadcast was being made.
On one tour, Doonican stepped forward, guitar in hand, and perched on a stool and sang a couple of ballads and 'Paddy McGinty's Goat'. Afterwards, he was urged to go solo, which he did.
He secured a weekly radio show with the BBC Light Programme.
Doonican continued to play cabaret and occasional theatre gigs but despite being a regular radio personality, no recording contracts were forthcoming. But he was spotted at a concert by Val Parnell, and booked on to Sunday Night At The London Palladium.
That eight-minute spot, he said, changed his life.
By the Monday, there were recording contracts and TV show offers flooding into his manager's office. As he said many times, he was "an overnight success after 17 years".
His TV shows ran for 24 years, from humble beginnings to being the mainstay of the Saturday night TV schedules.
He was also a landscape painter of considerable merit.