Former taoiseach Brian Cowen has told the banking inquiry that he took full and complete responsibility for his role and response to the crisis.
In his introductory remarks, he said he was "sorry" that policies he implemented brought hardship and distress and the human cost was very difficult.
But he said there was never as much room to manoeuvre in a crisis as some would believe.
Mr Cowen said if the banks had been allowed to collapse the cost to the State and the economy would have been "catastrophic".
Reaction to Brian's Cowen's evidence
He told the inquiry the government he led strove to do its job in the most difficult of circumstances.
Mr Cowen said he regretted that spending growth was not reduced during his time as finance minister.
However, he added that this would not have eliminated the need for the painful fiscal adjustments from 2008 on.
Mr Cowen said "grave mistakes" were made in the judgement of capital adequacy of Irish banks and the assessment of future loan losses.
However, he said no one in the independent authorities ever advised the government that the capital adequacy was not sufficient.
These lessons have been taken on board and policies implemented to ensure a banking crisis will never happen again, Mr Cowen added.
He said the bank guarantee was the most decisive step the government could have taken, and it was clear they were on their own and they had one shot to get it right.
"We had one shot at it. If we did not get it right, Ireland, we were told, would be set back 25 years. We had to go with the best information available to us at the time.
"No option looked good - it was a case of taking the least worst option available."
He said the government was in favour of burning bondholders but was left in no doubt that there would be no bailout programme if they did.
It was one or the other and they decided it was better to go with the programme, he added.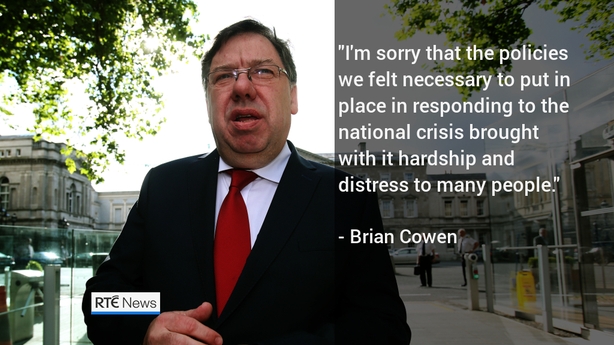 "I want to say to the Irish people that the government I led dealt with the financial crisis to the very best of its ability," Mr Cowen said.
"I know the crisis brought with it difficulties and problems of all kinds to many people throughout the country, and as head of the country I accept full and complete responsibility for my role and our response to that crisis.
"I'm sorry that the policies we felt necessary to put in place in responding to the national crisis brought with it hardship and distress to many people.
"The human cost of dealing with this crisis, which we sought to mitigate as best we could, was the most difficult aspect of the decision we had to make."
Bubble 'due to a number of factors'
However, Mr Cowen conceded mistakes were made. He said he should have closed off some property based tax incentives earlier and there was a mis-judgement of risks in the banking sector.
Mr Cowen said policies should have been adjusted to reflect euro membership and he personally should have been more questioning as a minister.
Fine Gael TD Kieran O'Donnell asked if his policies as finance minister had contributed to the property bubble and the crash.
Mr Cowen said the bubble had emerged during his time but it was due to a number of factors.
He said some tax reliefs should have been looked at earlier but demand had far exceeded supply and they had to ramp up capacity.
Socialist Party TD Joe Higgins put one of Mr Cowen's previous speeches to him, when he lauded bankers as "a remarkable driver of change".
Mr Higgins accused him of encouraging the worst excesses of bankers and asked why speculators were allowed to profiteer.
Mr Cowen said they tried to modify prices by increasing supply and said Mr Higgins was setting him up as providing for "cowboy" speculators. He said he did not travel in those circles.
Asked about the "Galway tent", Mr Cowen said a mythology had grown up around it of contracts being signed and meetings held.
He said that was nonsense and people were just attending a race meeting. He was his own man and was not beholden to anyone and any decision he took was in the public interest, he added.
'With hindsight I would do things differently'
Mr Cowen was asked by Fine Gael TD John Paul Phelan if he viewed his time as Minister for Finance as "successful".
Mr Cowen said he looks at the budgets he passed and is glad with the initiatives he introduced.
He said the medium term projections remained positive and unfortunately when that changed we have a totally different situation to deal with.
"But I am happy I did what I did. But with hindsight now I would do some things differently," he added.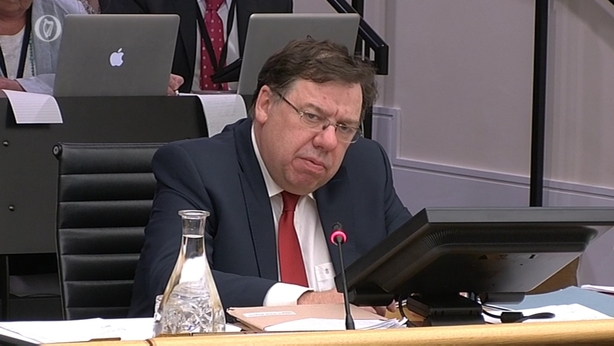 When questioned if he gave sufficient backing to the regulator, he replied: "We didn't tell the regulator what to do. We were not involved in influencing the decision by the regulator."
Fianna Fáil TD Michael McGrath asked Mr Cowen if he believed there was enough information made available to him in relation to a possible financial crisis and if he challenged reports he was getting from the Central Bank about financial stability.
Mr Cowen said he had not viewed the lending decisions made by the bankers and PLC as an imminent risk and that this was a misjudgement.
Today's session was confined to Mr Cowen's years in the Department of Finance from 2004 to 2008, and investigated his handling of an economy in rapid growth and whether he heeded warning signs of overheating.
Next Wednesday, he returns for an examination of his time as taoiseach - a tumultuous period covering the collapse in the economy and the banks, along with the arrival of the Troika.
Questions relating specifically to the bank guarantee and the bailout will be confined to next Wednesday's hearing.
Sinn Féin's Pearse Doherty asked if his policies sustained and developed the property bubble. Mr Cowen said they did not set out to develop the bubble, they tried to ease the situation to the projected soft landing.
Labour's Ciarán Lynch, chairman of the inquiry, asked if he agreed Irish banks had become overly dependent on wholesale funding. Mr Cowen said they were more dependent than elsewhere in Europe but the housing market was catching up.
Mr Cowen said former Anglo Irish Bank non-executive director Fintan Drury has been a friend for 20 years, but they never discussed Anglo business.
Fine Gael's Eoghan Murphy asked if he agreed with the Wright Report's assessment that social partnership and programmes for government overwhelmed the budgetary process. Mr Cowen said PFGs clearly influenced the budget.
He regretted intervening too late to pare back indebtedness and reckless lending and said he could have said more publicly.
Mr Cowen accepted that construction became too big a component of the economy and crowded out activity elsewhere.
He conceded he should have spent less in the 2008 Budget.
He said it was a new government just after an election and issues arose. It was not the one he was proudest of, he said.
It is very concerning that we did not have the true position of the banks at a time when we had to make decisions, he said.
Mr Cowen said he believed the country was getting back on track due to the work of successive governments.
He was satisfied that the government he led took whatever decisions necessary, things were so serious, the right thing had to be done even if a heavy price was paid.
They got a lot more right than some were prepared to give them credit for, he added.