All 113 on board an Indonesian air force transport plane that crashed today into a major city on Sumatra are believed to have been killed, the country's air force chief said.
There were 12 crew and 101 passengers on the Hercules C-130 when it went down and burst into flames in a residential area of Medan city, Agus Supriatna told AFP.
Asked if he believed anyone had survived, Mr Supriatna said: "No, no. No survivors. I just returned from the site."
He said that 49 bodies had so far been recovered and taken to hospital.
Buildings were left in ruins and cars reduced to flaming wrecks after the plane came down in Medan, a city of two million.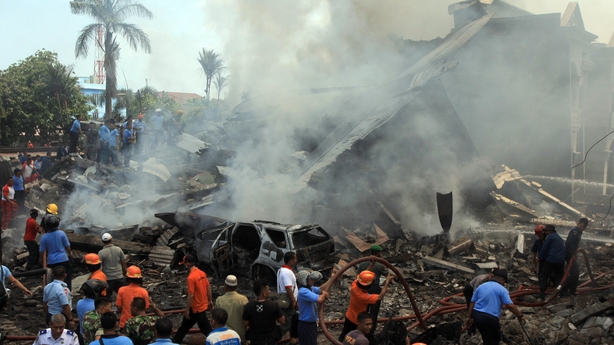 According to the Aviation Safety Network, there have been ten fatal crashes involving Indonesian military or police aircraft over the last decade.
The accidents put under a spotlight the safety record of Indonesia's aviation and its ageing commercial and military aircraft.
Mr Basya said the plane that crashed today was built in 1964.
An AirAsia plane crashed less than halfway into a two-hour flight from Surabaya in Indonesia to Singapore on 28 December.
All 162 people on board the Airbus A320 were killed.
The Hercules transport plane was on its way from an airforce base in Medan to the remote Natuna islands and crashed a few minutes after take-off, Mr Basya said.
Media said the pilot had asked to return because of technical problems.
"It passed overhead a few times, really low," said Elfrida Efi, a receptionist at the Golden Eleven Hotel.
"There was fire and black smoke. The third time it came by it crashed into the roof of the hotel and exploded straight away," she told Reuters news agency by telephone.
She said the plane also hit a massage parlour, where there are normally several people during the daytime.
Sairi M Saragih, a public relations official at the nearby Adam Malik Central General Hospital, said 11 bodies had been brought in so far.