Greek Prime Minister Alexis Tsipras has said that his country's referendum on the latest bailout offer is intended to make the country stronger in the fight for a new deal with its international creditors.
"Our aim is for the referendum to be followed by negotiations for which we will be better armed," he said in an interview on ERT television.
The Greek people will vote on the country's financial future on Sunday.
The prime minister was speaking after the country imposed capital controls and ordered its banks to stay closed for a week in a bid to prevent a run on banks.
After bailout talks collapsed at the weekend, fears mounted of a Greek default and possible eurozone exit.
Greece on Friday thrust a spoke in the wheels of the negotiations with creditors by declaring it would hold a referendum on their latest cash-for-reform plans, which Mr Tsipras had rejected outright as "humiliating".
Both German Chancellor Angela Merkel and Eurogroup head Jeroen Dijsselbloem said today that further talks with Greece were possible.
However, the crisis is expected to worsen sharply tomorrow when the country's bailout officially expires.
Mr Tsipras has implied that Greece would default on a key €1.5bn payment due to the International Monetary Fund, which is due the same day.
"(How) is it possible the creditors are waiting for the IMF payment while our banks are being suffocated?" he asked, adding: "Once they decide to stop the suffocation, they will be paid."
The prime minister admitted today that the plebiscite could cost him his job if voters accepted the contested deal.
"We are going to respect the decision," Mr Tsipras said.
Asked whether he would resign if Greeks rejected his plea for a No vote, he said he was not a prime minister who would stay in place "in all weathers".
'Door remains open' for Greece
The door remains open for Greece despite the breakdown of bailout talks over the weekend, the Eurogroup head has said.
Jeroen Dijsselbloem said it was still "conceivable" to avoid a Greek exit.
"I continue to say that, for us, the door is still open, although in the meantime the possibilities and time are very limited," he told journalists in The Hague.
Asked whether it was possible to avoid a Greek exit from the euro currency, a so-called Grexit, Mr Dijsselbloem said "it's still very conceivable".
Voicing disappointment at Greece's exit from talks, Mr Dijsselbloem said the negotiations were "about Greece's future, and despite the talks not being over, they left the table".
EU Commission head Jean-Claude Juncker has said he felt "betrayed" by the failure of Athens to agree on a bailout deal with EU ministers, despite the huge efforts made.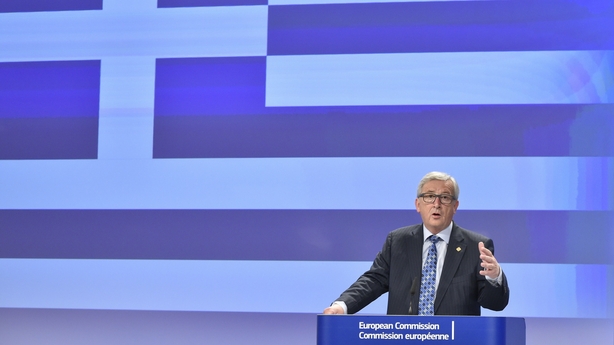 "After all the efforts I deployed from the commission, I feel betrayed because these efforts were insufficiently taken into account," Mr Juncker said at a news briefing.
Mr Juncker said if Greek voters reject proposed reforms in Sunday's referendum they would also be rejecting the European Union.
"A 'No' would mean, regardless of the question posed, that Greece had said no to Europe," Mr Juncker said in Brussels.
In response, a spokesman for the Greek government cast doubt on Mr Juncker's "sincerity", saying: "An essential element in indicating good faith and reliability in negotiations is sincerity".
Meanwhile, Ms Merkel is still prepared to hold talks with her Greek counterpart Alexis Tsipras.
A spokesman for the German leader said Ms Merkel was willing to speak to Mr Tsipras, "if he would like to".
French President Francois Hollande appealed to Mr Tsipras to return to the negotiating table.
Mr Hollande spoke to US President Barack Obama, and Mr Hollande's aide said they had agreed to work together for a resumption of talks and a solution to the crisis to ensure Greece's financial stability.
What happens if Greece defaults on IMF?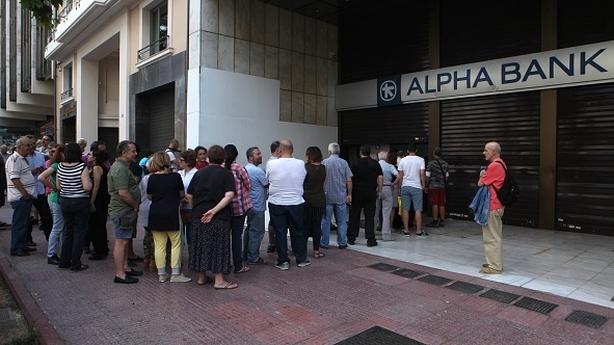 Greece's banks were shut after the European Central Bank rejected its request for €6bn of additional emergency funding yesterday to cope with massive withdrawals.
However, the ECB is expected to allow Greek banks to keep using existing funds until the referendum, people with knowledge of the matter told Reuters.
Today, cash machines remained closed until midday, and then opened for withdrawals of no more than €60 a day.
The referendum poses a simple question: "Should the proposal which was submitted by the European Commission, the European Central Bank and the International Monetary Fund at the Eurogroup of June 25, 2015, which consists of two parts that together constitute their comprehensive proposal, be accepted?"
The government says a No will strengthen its hand at the negotiating table, though other European leaders say it will instead push Greece out of the euro.