Greece will introduce capital controls and keep its banks closed tomorrow after international creditors refused to extend the country's bailout and savers queued to withdraw cash, taking Athens' standoff to a dangerous new level.
The Athens stock exchange will also be closed as the government tries to manage the financial fallout of the disagreement with the European Union and the International Monetary Fund.
Greece's banks, kept afloat by emergency funding from the European Central Bank, are on the front line as Athens moves towards defaulting on a €1.6 billion payment due to the International Monetary Fund on Tuesday.
Greece blamed the ECB, which had made it difficult for the banks to open because it froze the level of funding support rather than increasing it to cover a rise in withdrawals from worried depositors, for the moves.
Prime Minister Alexis Tsipras said the decision to reject Greece's request for a short extension of the bailout programme was "an unprecedented act" that called into question the ability of a country to decide an issue affecting its sovereign rights.
"This decision led the ECB today to limit the liquidity of Greek banks and forced the central bank of Greece to propose a bank holiday and a restriction on bank withdrawals," he said in a televised address.
Amid drama in Greece, where a clear majority of people want to remain inside the euro, the next few days present a major challenge to the integrity of the 16-year-old euro zone currency bloc. The consequences for markets and the wider financial system are unclear.
Greece's left-wing Syriza government has, for months, been negotiating a deal to release funding in time for its IMF payment.
Then suddenly, in the early hours of Saturday, Mr Tspiras asked for extra time to enable Greeks to vote in a referendum on the terms of the deal.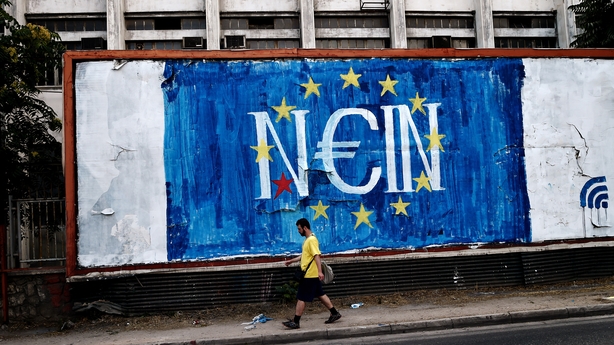 Creditors turned down this request, leaving little option for Greece but to default, piling further pressure on the country's banking system.
The creditors want Greece to cut pensions and raise taxes in ways that Mr Tsipras has long argued would deepen one of the worst economic crises of modern times in a country where a quarter of the workforce is already unemployed.
Long lines formed outside many ATMs today, including some of 40 to 50 people outside some in central Athens.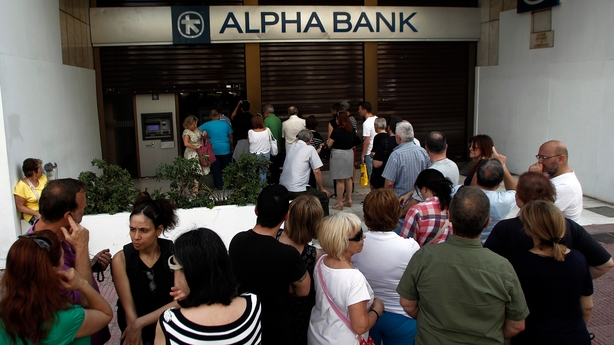 The Bank of Greece said it was making "huge efforts" to ensure the machines remained stocked.
Meanwhile the German foreign ministry has appealed to tourists heading to Greece to take plenty of money as to avoid problems with local banks.