The Taoiseach has said the Greek debt crisis has now entered a "red sector" and has left the government in Athens with some very serious decisions to make.
Speaking in Ballina Co Mayo this afternoon Enda Kenny said it was not up to Eurozone ministers to make the final call but rather a decision that would have to be made by the administration in Athens.
Mr Kenny said the Greek government had stated it did not want to default but he said it had a political responsibility to decide on the next steps it would take.
Greece will try to bring more to the table in negotiations for a debt deal and Prime Minister Alexis Tsipras will probably speak with European Commission chief Jean-Claude Juncker by phone today to try to end the deadlock, a Greek minister said.
Time is fast running out for Greece to secure a cash-for-reforms deal with its international creditors to avoid a default at the end of June that could turf it out of the eurozone.
With nervy depositors pulling billions out of Greek banks, Athens may have to impose capital controls within days to staunch the flow.
It is not clear how far Greece's leftist government, which won a January election vowing to pull its people out of austerity, is willing to bend in order to secure an agreement or what kind of additional offers it could make.
While Greece has dug its heels over demands for pension cuts and some tax rises, its leaders have continued to sound upbeat ahead of an emergency euro zone summit on Monday.
"We will try to supplement our proposal so that we get closer to a solution," State Minister Alekos Flabouraris told Greek Mega television in a morning news show.
"We are not going there with the old proposal. Some work is being done to see where we can converge, so that we achieve a mutually beneficial solution."
The European Central Bank has kept Greek lenders afloat and on Friday raised the ceiling on so-called emergency liquidity assistance, which the banks rely on to keep their doors open, by €1.8bn.
A close aide to Mr Tsipras, Mr Flabouraris said he was confident the ECB would not cut off funding as this would set off a domino effect and topple lenders in other vulnerable parts of Europe.
EU chief Juncker has been seen as more sympathetic to Greece's position, although he has reportedly warned Athens not to rely on him to avert a collapse in the debt talks.
Meanwhile, around 1,000 people rallied in Dublin this afternoon in support of Greece.
The marchers were mainly from anti-water charge groups but many also carried Greek flags.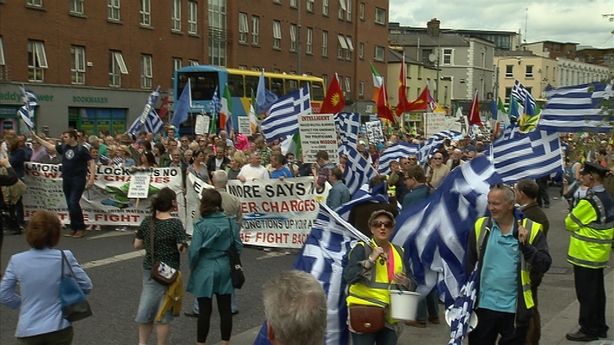 Professor Helena Sheehan of DCU told RTÉ News Greece should be given a radical restructuring of its debt.
She said there were global forces at work and while Greece is at the cutting edge it was "a struggle we are involved in".
Co-ordinator of the Greek Solidarity Committee Ronan Burtenshaw said this was a potentially existential moment for the euro and Europe. If Greece defaults or is forced out he said not only is it a "systemic failure, but failure of the entire European project". 
Merkel urges Greek debt deal before Monday summit
Meanwhile, German Chancellor Angela Merkel has said the emergency meeting of eurozone leaders in two days time will resolve the Greek debt crisis only if the country's creditors reached a deal with Greece first.
Ms Merkel said that without such an agreement the summit would have only an advisory nature.
Talks are expected to continue behind the scenes over the weekend to try to find a solution, ahead of the summit.
Meanwhile, French President Francois Hollande has insisted that "everything" must be done to seal a compromise on the Greek debt crisis before the summit.
We must "do everything to relaunch negotiations, so the talks can achieve a compromise, but one in line with European rules," said President Hollande following talks in Bratislava with his Slovak counterpart.
Later he and Ms Merkel "summed up" the dynamics of the Greek debt crisis in a brief telephone call, a source close to the French president said.
The leaders of the two eurozone powerhouses agreed that "the next three days until the extraordinary summit on Monday were to be used to move towards an agreement between Greece and (creditor) institutions - the European Central Bank, the International Monetary Fund and the European Commission," the source said.
Earlier, President Hollande said the emergency eurozone summit would be "crucial". "I don't want us to meet only to come to the conclusion that we have failed," he said.
EU President Donald Tusk called a summit of the leaders of the 19 eurozone countries on Monday in Brussels after finance ministers failed Thursday to break the five-month-old deadlock between the anti-austerity government in Athens and its EU-IMF creditors.
Slovak Prime Minister Robert Fico said yesterday Bratislava he was "prepared" for a Grexit, Greece leaving the eurozone, echoing its long held hardline on the Greek debt crisis.
"We want Greece to stay in the eurozone, but not at all costs," he said following talks with visiting British Prime Minister David Cameron.
"Slovakia is prepared both mentally and technically for the eventuality of Greece exiting the eurozone. We will thoroughly insist on Greece doing its homework," he said.