Around 30 former employees of Clerys have held a protest outside the premises of the new owners of the store at Harcourt Terrace in Dublin.
Protesters called to the door of D2 Private and posted a letter into the office requesting a meeting with the new owners of Clerys.
Clerys worker and SIPTU shop steward Gerry Markey said: "We are asking Deirdre Foley and the other new owners to meet us face-to-face.
"My colleagues and I think that after our many years of loyal service to the company we deserve to be treated with respect.
"The new owners should meet us so we can sit down and discuss the situation."
Natrium, the consortium, which took over Clerys last week, today released a statement on its initial plans for the Dublin site.
A spokesperson for Natrium said the Clerys building can be "transformed to create a major new mixed-use destination in Dublin City Centre and to create large numbers of sustainable jobs".
It said it is planning a "predominantly retail-led development encompassing other commercial uses".
Minister of State for Business and Employment Ged Nash this week told the new owners of Clerys the Government was deeply concerned about how the workers and concession owners have been treated since the shop's operating company was put into liquidation last Friday.
In a letter to Deirdre Foley and John Skelly of Natrium Ltd, Mr Nash requested a meeting to discuss the situation regarding the unexpected liquidation of the operating company OCS Operations.
He said he also wished to discuss the subsequent redundancy of Clerys workers, and wanted to know Natrium's plans for the future of the Clerys site.
Provisional liquidator Eamonn Richardson and Kieran Wallace of KPMG say that the 130 former Clerys employees will get only basic statutory redundancy.
A protest took place during the week outside Clerys in support of workers who lost their jobs.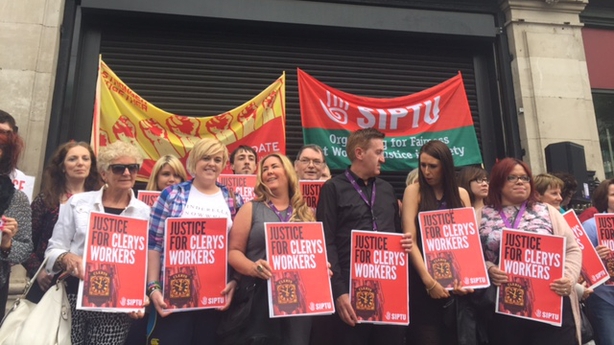 A petition was also signed calling for the new owners of Clerys to meet with the workers.
In this morning's statement, Natrium said it would give more information and initial plans in the coming months.
"Job creation will feature significantly in those plans with approximately 1,000 jobs supported throughout the planning, design, refurbishment and construction stages of the project over a two-year period," it said.
"On completion, a predominantly retail-led development encompassing other commercial uses, subject to the planning process, will generate a minimum of 1,700 new sustainable long-term jobs in Dublin City Centre."
It added: "We are advised that all issues with respect to the liquidation of the operating company are legally a matter for the court-appointed liquidator."
It also said it is "conscious that the necessary closure of the department store has had a very serious impact on the former employees".
This day last week Clerys was sold by Boston-based Gordon Brothers to Natrium Ltd, which is made up of Irish investment group D2 Private, and Cheyne Capital Management in the UK, with financing from Quadrant Real Estate Advisers.
The Clerys property and adjacent properties is its first development project.
Natrium says it plans to invest in the Clerys building and adjacent properties, in compliance with Dublin City Council planning policy.
Speaking on RTÉ's Morning Ireland, SIPTU Sector Organiser Teresa Hannick said the company is still resisting calls to meet with Clerys' employees.
"At this moment in time for our members they have asked Natrium to do the right thing, to actually meet with them and talk to them and tell them why this had to happen. Because remember Natrium were the owners of the entity, the brand the iconic institution that is Clerys."