Greek Finance Minister Yanis Varoufakis has warned that "an accident" in the dispute between Greece and its international creditors over unlocking vital bailout cash for Athens was drawing "dangerously close".
"I said we are dangerously close to a state of mind which accepts an accident.
"I told my colleagues not to accept such thinking," Mr Varoufakis said after talks with Greece's eurozone partners broke up with no deal, increasing the risk of a Greek exit from the euro.
Eurozone leaders will hold an emergency summit on Monday to try to avert a Greek default.
Finance ministers failed to make any breakthrough on a cash-for-reforms agreement at talks in Luxembourg today, just 12 days before Greece must make a crucial debt repayment to the International Monetary Fund.
"Regrettably ... too little progress has been made. No agreement is in sight," Jeroen Dijsselbloem, chairman of the Eurogroup, told a news conference.
Ministers sent a strong signal that it is up to Greece to make new proposals, he said.
European Council President Donald Tusk said in a statement he had summoned heads of state and government of the euro area to meet in Brussels at on Monday.
"It is time to urgently discuss the situation of Greece at the highest political level," Mr Tusk said.
German and EU officials dismissed a German newspaper report that the creditors were preparing a final offer to extend Greece's bailout programme until the end of the year without IMF involvement, and let Athens use €10 billion in aid earmarked for bank recapitalisation to pay off liabilities to the European Central Bank and the IMF.
Mr Dijsselbloem said if there was a last-minute deal next week, there would have to be some extension of the current bailout to allow time for disbursement.
In Greece bank withdrawals have accelerated and government revenue slumped as the stand-off between the country and its creditors continued.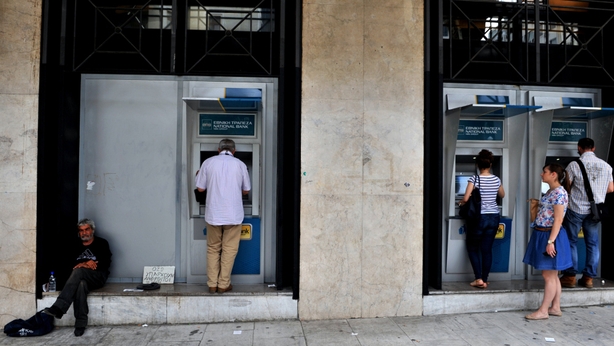 Savers pulled out some €2 billion between Monday and Wednesday, senior banking sources said, double the amount that the European Central Bank granted Greek banks in extra emergency liquidity assistance for the whole week.
If deposit flight continues to outpace ELA, it could force Greece to impose capital controls, as Cyprus did in 2013, to ration cash withdrawals and stop money fleeing the country.
The €2 billion taken out in just three days represents about 1.5% of total household and corporate deposits of €133.6 billion held by Greek banks as of end-April.
Before this week, withdrawals had been running at €200-300m a day.
Govt taking advice on possible Greek exit - Noonan
Earlier, Minister for Finance Michael Noonan said the Government is taking advice from the European Central Bank on the implications for Ireland of a Greek exit from the euro.
He said that eurozone leaders appear to have gone "as far as they can" in terms of concessions to Greece.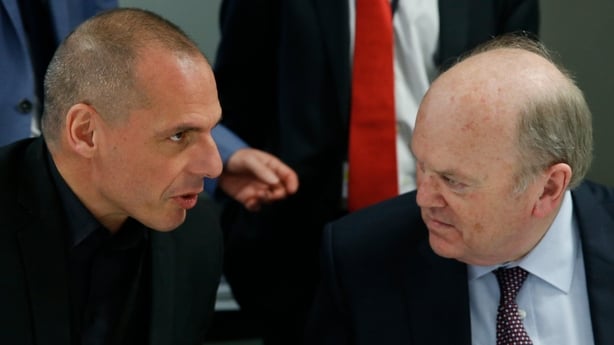 Beyond that, he added, it was time "to prepare the B plan."
Speaking ahead of the talks in Luxembourg, Mr Noonan said he "did not think there will be a contagion effect" if Greece were to quit the single currency.
"But we've had conversations at a high level with the NTMA and the central bank and, we're watching the situation, and we're taking advice from the European Central Bank in Frankfurt and elsewhere," he added.
Mr Noonan said it was "a European issue" rather than an Irish issue.
He added there was "no great expectation" of an agreement between Greece and its creditors at today's meeting..
"It will be a preliminary discussion to a longer political discussion at the heads of state and government meeting [in Brussels next week].
"There's some time left but there's no optimism among the group of people I've met already today," he said.
However, he said there was "still time" and space for a further discussion.
He said that the Greek finance minister Yanis Varoufakis would be making "an intervention" at the meeting, but he was not sure "what the nature of the intervention is."
"I've heard Yanis's proposals before and they tend to be more macro-economic rather than specific," he said, "and negotiations are about specifics."
Mr Noonan said that an offer to Greece on cash-for-reforms drawn up at a meeting between the European Commission, the International Monetary Fund, the ECB and the French and German leaders in Berlin on 8 June were "about as far as they're going to go."
"I don't see movement beyond that point."
When asked what options remained beyond that, Mr Noonan said: "The option is to prepare the B plan."
Lagarde tells Greece there will be no grace period
Separately, IMF chief Christine Lagarde warned cash-strapped Greece that it will get no extra time to make a huge debt payment due at the end of the month.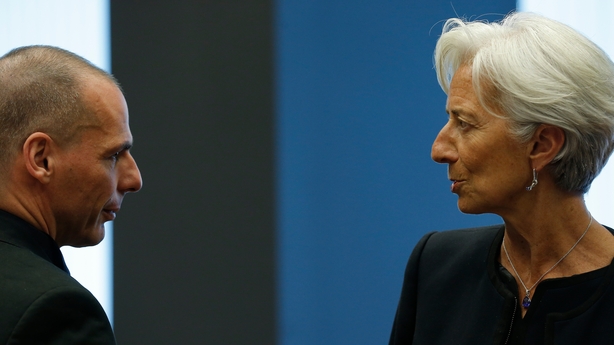 "There will be no period of grace," Ms Lagarde said in Luxembourg when asked about the huge €1.6 billion debt payment.
"I have a term of June 30. If it's not paid by July 1, it's not paid," she said, adding: "No delay of one month or two as I heard; it's due June 30."
Greece had already bought itself time by bundling four looming IMF loan payments into one to be paid by the last day of June, becoming the first country to use such a possibility since Zambia in the 1980s.
Ms Lagarde's refusal to consider an extension adds to the pressure on Greece's government as its creditors are refusing to dole out the last tranche of its international bailout, which also expires on June 30.
She said the IMF was "fully ready to discuss" the pension system, which Greece says is a red line in its war with its creditors over their demands for painful reforms, adding that smaller pensions "must be preserved".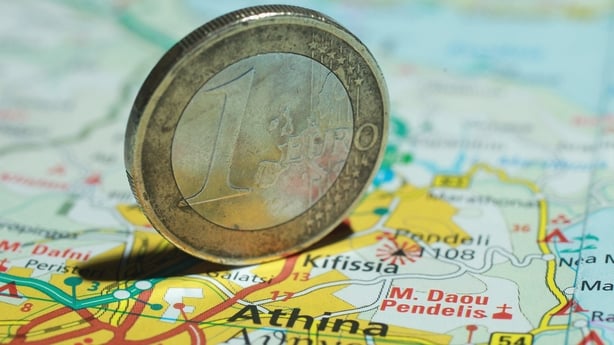 Following weeks of recrimination between Greece and its international lenders, both sides are no closer to an agreement that would see Greece receive over €7bn in rescue funds that would allow it to stave off a debt default this month.
The Bank of Greece yesterday took the unusual step of calling on the Greek government to reach agreement with its lenders or face what it called a painful exit from the euro.
Greece has less than two weeks to reach agreement with its creditors or else it will default on a €1.6bn debt with the International Monetary Fund and face an exit from the single currency.
The Bank of Greece described an agreement between Athens and the EU and IMF as a historical imperative.
It also issued an unprecedented warning that a default would probably lead to Greece not just leaving the single currency, but also the European Union.
However, an increasingly bad-tempered deadlock remains between both sides.
Earlier, Mr Varoufakis said a breakthrough at today's meeting in Luxembourg was not likely.
Meanwhile, the ECB has slightly increased the amount of emergency funding that can be given to Greek banks.
But Bundesbank head Jens Weidmann said, in an interview published this morning, that the ECB will not step in to save Greek banks if the political process fails.