Around 800 people gathered in Berkeley in California overnight for a candlelit vigil to remember the six young people who lost their lives when a balcony collapsed.
Seven other Irish J1 students remain in hospital, two in a critical condition.
The vigil was organised by J1 students living in the Kittredge Street Apartment complex.
They wanted a way to pay their respects to the five Irish students and one Irish-American who died when the apartment balcony gave way on Monday night.
The crowd formed a large circle in the Martin Luther King Civic Center Park near the apartment complex.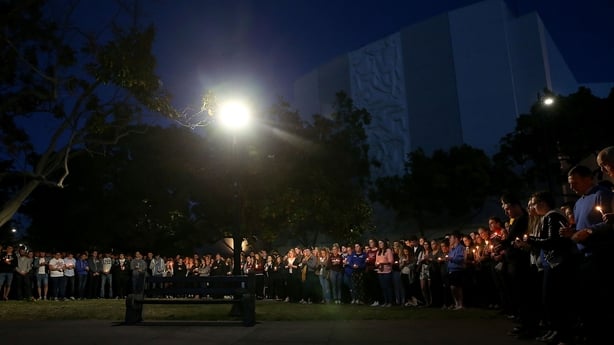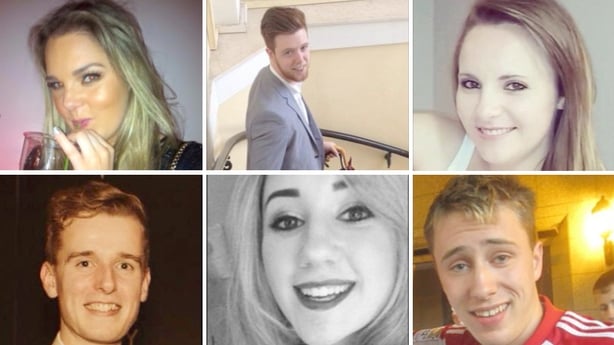 The group was silent and was led in prayer by various chaplains attached to the Irish community and the local priest.
Hundreds of young Irish gather for candlelit vigil for #Berkeley victims. @rtenews pic.twitter.com/Oy1NHICI1a

— Caitriona Perry (@CaitrionaPerry) June 18, 2015
Around 300 people attended a special memorial mass in the Bay Area of San Francisco.
The mass took place at the cathedral in nearby Oakland for Ashley Donohoe, Olivia Burke, Eimear Walsh, Eoghan Culligan, Niccolai Schuster and Lorcan Miller who died in the incident.
There were also prayers for those injured in the balcony collapse.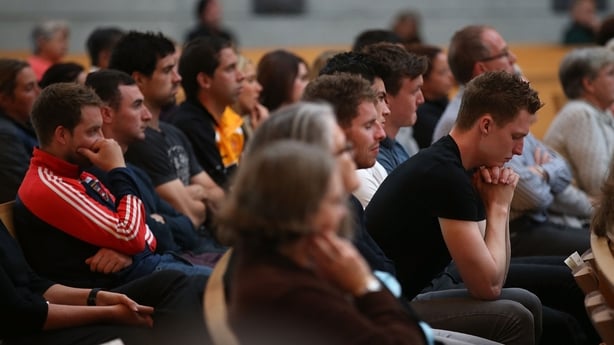 J1 students and members of the Irish community in the Bay Area were among those who attended the ceremony in the Cathedral of Christ the Light.
The ceremony was celebrated by almost a dozen priests and led by Bishop of Oakland Michael Barber.
In his homily, Co Down priest Fr Aidan McAleenan spoke of meeting the 33 family members of some of the injured and dead students who arrived on an Aer Lingus flight from Dublin overnight.
He said the families were anxious to return to Ireland with their children and that arrangements were being made for this to happen by next week.
A joint funeral mass will be held in San Francisco this weekend for the two cousins, Ms Burke from Foxrock and Ms Donohoe who is from the San Francisco area, before Ms Burke's body is returned to Ireland for burial.
Students 'shocked but supporting each other'
Speaking on RTÉ's Morning Ireland, Fr McAleenan spoke of meeting the families who arrived in California overnight.
He said: "Everybody was marvellous ... the Government, the Irish pastoral centre and everybody has just wrapped their arms around the family.
"But when they got here they're just exhausted. They're just walking putting one foot in front of the other. That's the only way to see it.
He said students affected by the tragedy were shocked but supporting each other.
"Well they're very traumatised but they're all sticking together, that's the great thing about them.
"They all know one another. They're all from south of the Liffey. They've gone to the same schools and they're all familiar with each other.
"They seem to click together and stay together and hold one another up and I think that's the great sense of community Irish people have.
"We seem to come together when it's very important and they're doing that instinctively."
Meanwhile, the American Ireland Fund is to donate $100,000 (€87,000) to support those who are providing care and assistance on the ground, in particular the San Francisco Irish Pastoral Centre.