More than 10,000 villagers have fled from their homes near a volcano in western Indonesia this month, after a series of eruptions, an official has said.
Authorities raised the alert status of Mount Sinabung, located on Sumatra island, to the highest level at the start of June after detecting a sharp increase in activity.
The volcano, which came back to life two years ago after a period of inactivity, erupted over the weekend, spewing hot ash and rocks high into the air.
Mount Sinabung killed 16 people in an eruption last year.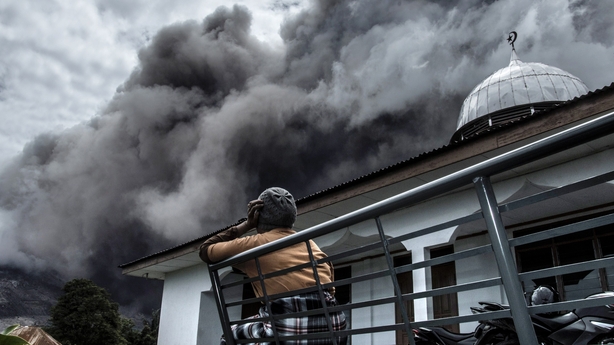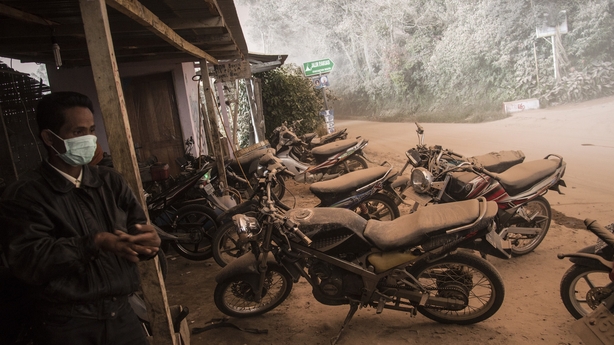 A thick plume of smoke is continuing to flow from the volcano, covering homes with a coating of ash.
Around 7,500 residents have been evacuated from their villages following the weekend eruptions, disaster agency official Tri Budiarto said.
They "left their homes on motorcycles, in cars and on military trucks. They were from six villages located in the danger zone south and southeast of the volcano," he said.
Several thousand people fled their homes at the start of the month when the alert status was first raised, and the total number of evacuees now stands at 10,714.
The evacuees are sheltering in government buildings and places of worship in the town of Kabanjahe, around 10km from Mount Sinabung.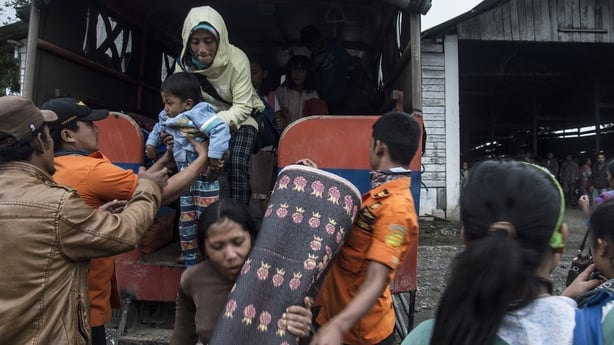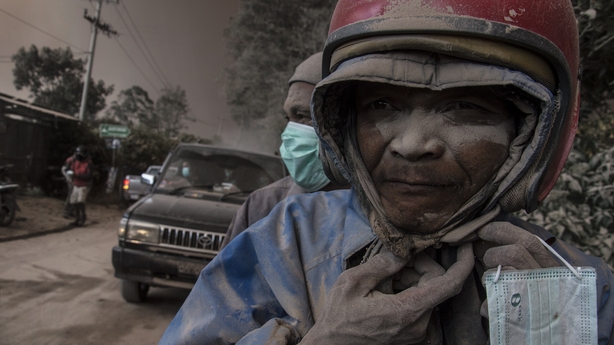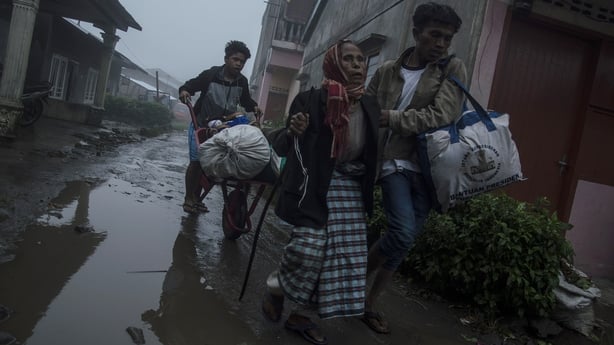 Volcanic activity remains high, with Mount Sinabung spewing out rocks and hot gas over a distance of 3km four times since early morning, said Armen Putra, Head of the Mount Sinabung's Observation Post.
"We could still feel tremors. Ash one to two milimetres thick covered roads and homes located 15km away," he said.
"It could take weeks before it eases, but for now, it is dangerous for people living nearby so we have recommended for them to evacuate," he added.
Since Mount Sinabung came back to life in 2013, some evacuees have returned home but more than 6,000 are still living in shelters.
The volcano has also had a devastating economic impact, with the disaster agency estimating it caused more than €88m in damage over the last two years in a range of areas, including infrastructure, farming and tourism.
Mount Sinabung is one of 129 active volcanoes in Indonesia, which sits on the Pacific Ring of Fire, a belt of seismic activity running around the basin of the Pacific Ocean.