A new road safety campaign has been launched by the Road Safety Authority and An Garda Síochána to highlight the existence of blind spots around trucks to cyclists and other road users.
More than 50 vulnerable road users have been killed in collisions involving trucks over the past eight years. 
Due to their size and design, trucks have significant blind spots and the driver's field of vision within the cab is limited.
The area immediately in front, behind and to the left of the vehicle is often hidden from view and cyclists and pedestrians are at an increased risk of being struck.
Last year the number of cyclists killed on Irish roads doubled, despite new regulations requiring additional mirrors around the cab of a truck being implemented in 2010.
Minister for Transport Paschal Donohoe said: "Ireland has taken progressive steps to improve the indirect vision of a truck driver by requiring the fitment of additional mirrors on the cab since 2010 which has halved the number of deaths linked to the blind spot issue.
"However, it hasn't eliminated casualties, therefore I really welcome this new campaign, which will help to raise greater awareness of the issue among cyclists and truck drivers," he said.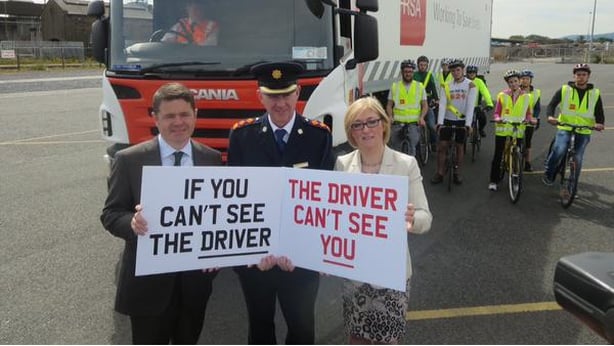 Mr Donohoe also confirmed that he will be making a decision in the coming weeks about the introduction of fixed charge notices for cyclists breaking red lights and driving recklessly.
A road safety bill before the Oireachtas would require cyclists to provide their details to authorities.
Bike Week was launched today and runs until 21 June.