The Department of Agriculture has said a suspected BSE case has been identified on a dairy farm in Co Louth.
If confirmed, this will be the first case of BSE found in Ireland since 2013.
The case was identified through the department's ongoing surveillance of animals that die on farms.
The five-year-old cow in question was not sent for slaughter and did not enter the food chain.
The results of the tests are expected to be available within a week.
If confirmed to be a classic case of BSE, this may impact on Ireland's recently awarded "negligible risk status" from the World Organisation for Animal Health (OIE) and Ireland would revert to the "controlled risk status", which applied up to last week.
A confirmed case would also mean the continuation of the existing range on controls for a number of years.
Minister for Agriculture Simon Coveney said this seems to be an isolated case and there is absolutely no risk to people.
Speaking on RTÉ's News at One, he said it was reassuring to know that we have systems that pick up these isolated cases and that we have a very robust system.
"No animal can die in Ireland without being tested and checked for BSE," Mr Coveney said.
He said since the emergence of this case he has made contact with key trade parties to let them know what happened.
He said this is an important issue because of Ireland's reputation as a beef exporter and he will move to reassure countries who import Irish beef.
He said a full investigation is under way to understand what happened and that all other animals feeding on the same feed as this animal will be tested.
Mr Coveney said that three calves born to the animal have been located and quarantined.
He said that as a precaution these animals will be destroyed and tested for BSE.
This afternoon the Taoiseach described the news of the suspected BSE case as a "setback".
Speaking in Drumcondra, Mr Kenny said it was an isolated incident and one that the Government was obviously concerned about.
He said it had been detected because of the exceptionally rigid system in place for detecting abnormalities.
He also said that that while it would be a week before there was a conclusive result, he thought it was accepted that it will be a positive result.
Mr Kenny said he hoped to have accuracy as to how this had happened.
When asked about China and the US, which have just recently re-opened their markets to Irish beef, Mr Kenny said they had been informed.
He repeated that it was an isolated case, but said it was "a disappointment to put it mildly" given what he described as "the rigid standards and the very high level of integrity and credibility that we have in our systems."
Mr Kenny said the minister for agriculture would keep everyone informed as the process of the analysis of this case develops.
He added that while he did not know all the details, he understood the animal was bought in and he is not sure if it was carrying BSE at that point, and the analysis would confirm all of these details.
President of the Irish Farmers' Association Eddie Downey has said the farming community is worried and concerned because it was thought the disease "had gone away".
He told RTÉ's Drivetime the case was found because of the level of controls in Ireland, something the country prides itself on.
Mr Downey said it is expected the case will come back positive and all traces belonging to the animal will be taken out of the system.
He said that he does not believe it will have an impact on Ireland's reputation internationally, or will affect the price of Irish beef, because they have already been negotiated.
The Irish Creamery Milk Suppliers Association has said that while the discovery of a suspected case of BSE was disappointing, it was not catastrophic.
Speaking on the same programme, ICMSA President John Comer said the case, which has yet to be confirmed, did prove the systems that are in place to detect the disease are working.
Mr Comer said how the animal possibly contracted the disease remained a mystery, but said there was a very, very, very low level of BSE in the national heard.
He said the worst case scenario would that we go back to a controlled risk status.
Mr Comer said he believed it was very unlikely the animal contracted the disease through animal feed.
A number of risk management measures were introduced following the first cases of BSE in Ireland in 1989, including disease surveillance and excluding specified risk material from human food and animal chains.
An Bord Bia CEO Aidan Cotter said he does not believe the scare will impact on the reputation of Irish beef.
Mr Cotter told RTÉ's Six One: "What we revert to now, I expect, will be back to the controlled risk status.
"We have to bear in mind that it was with that controlled risk status that access was achieved into the United States market, into the Japanese market and it was with that status that China lifted its ban on exports into that market."
Commonly known as 'mad cow disease', BSE - Bovine Spongiform Encephalopathy - is a fatal neurodegenerative disease in cattle and can be transmitted to people by eating food contaminated with the brain, spinal cord or digestive tracts of infected animals.
Last week, Mr Coveney said OIE decision on Ireland's status reflected the huge progress made in eradicating the disease from the national herd.
He said the move provided evidence of the effectiveness of measures taken to control and eradicate the disease and the beef industry would benefit through market access and new trade opportunities.
Fianna Fáil's agriculture spokesman Éamon Ó Cuív said all measures must be taken to ensure the herd's status is protected and "any threat to our reputation has the potential to inflict major damage to the economy and to farmers' income".
RTÉ Science & Technology Correspondent Will Goodbody looks at what BSE is and whether there is cause for concern about human health:
---
Analysis: Agriculture Correspondent George Lee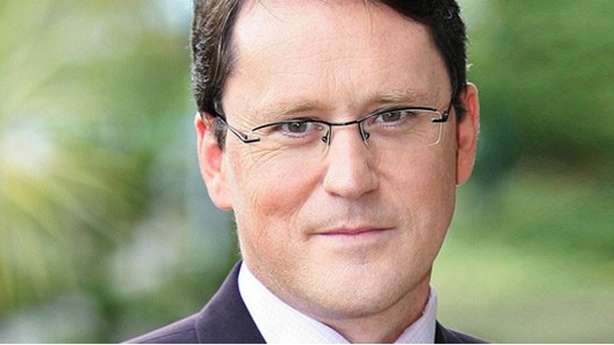 There are two ways in which BSE gets into an animal.
One is spontaneous, and it is very rare, so that is not expected.
The other is the feed system and it takes between four and six years to materialise.
If it came through a feed system other calves were likely fed the same stuff, so these calves will have to be traced.
A second test has to be confirmed, but the Department does not expect it to change.
There are big worries in regard to the implications of a confirmed test.
The good reputation of Ireland had enabled it to open the markets in China and the US. The reason we had been banned in the US was because of BSE.
There will enormous disappointment at the Department of Agriculture if the BSE is confirmed.
It will put us back at "controlled risk status" and it is very uncertain how international markets will respond to this.