Minister for Finance Michael Noonan has confirmed to the Dáil that the claims raised by Sinn Fein TD Pearse Doherty are to come under the Commission of Investigation.
Mr Doherty gave details of what he said were documents related to Denis O'Brien's IBRC loans during a debate in the Dáil this evening.
The Sinn Féin Finance spokesman said he had documents which led to questions about the way IBRC was run in the public interest.
Mr Doherty said that Mr O'Brien met a case team from the bank and said he had a "verbal agreement" with the bank's former CEO Mike Aynsley and senior executive Richard Woodhouse.
He said Mr O'Brien wrote to IBRC in March 2013 requesting that he be able to repay his loans over a three year period.
However, the bank's credit committee said the loan could only be extended by 12 months.
Pearse Doherty speaks to Dáil about relationship between Denis O'Brien & IBRC https://t.co/hwzAdKetti

— RTE News Now (@RTENewsNow) June 9, 2015
Mr Doherty said Mr O'Brien requested a further extension with no capital repayments in April 2013 but received a "de facto second rejection."
He said Mr O'Brien faced the possibility of having his loan sold to a third party with no facility.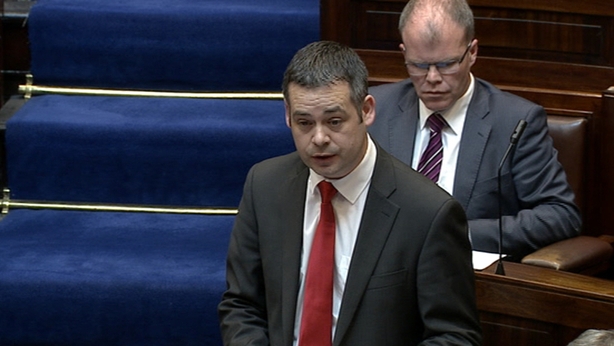 Mr Doherty said Mr O'Brien's other proposals were rejected and the loan expired with no new agreement in place.
In August 2013, Mr O'Brien met with the bank's case team and he made it clear he had a verbal agreement with Mr Woodhouse and Mr Anysley which predated the liquidation of IBRC, Mr Doherty said.
The documents said Mr O'Brien said the verbal agreement allowed him to repay his loans over a three year period beginning in 2012.
It was his view and his lawyers view that this agreement stood.
The documents also said Mr O'Brien made it known he was not prepared to enter into the process of having his loans sold and so was likely to issue protective legal proceedings, which would require the bank to honour the alleged three year term.
Deputy Doherty said this was a loan for in excess of €315m with a marginal interest rate of 3% amounting to €10m interest per annum.
He said: "The bank and the special liquidators concluded that it was regrettable that it was not able to achieve consensual agreement from the borrower to maintain the expected repayment schedule by delivery of a further €100m capital repayment given the impending loan sale and the bank's inability to extend the facility beyond 12 months."
He said these raised serious questions.
He asked: "How does a bank in liquidation create what is essentially a new, extended €315m loan, in reality a new loan, which its group credit committed had rejected just a few months earlier?"
Mr Doherty also asked "why didn't IBRC place a call on the now expired loan?
"How did the verbal agreement between certain managers prior to liquidation outweigh the decision of the group credit committee?"
Mr Doherty said Mr Anysley and Mr Woodhouse made a verbal agreement with Mr O'Brien to give him a further three years to pay off his loans and it was clear Mr O'Brien did not want his loans sold, but wanted an extension.
Mr Doherty also said the terms of the Commission of the Investigation fall short of what is required and should be changed to include the post-liquidation period.
In a comment to RTÉ this evening, Special Liquidators for IBRC described Mr Doherty's claims in the Dáil as "wholly inaccurate and misleading and does not reflect the facts of this case or the position taken by IBRC's credit committee."
Comments made in the public interest - Murphy
Speaking in the Dáil earlier this evening, Independent TD Catherine Murphy said she stood over claims she made about Mr O'Brien and IBRC in the Dáil a fortnight ago.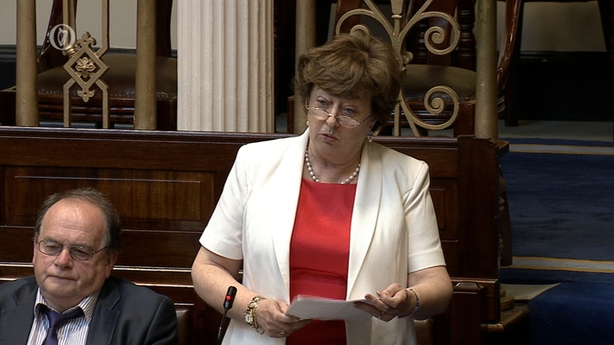 She rejected Mr O'Brien's claims the information was stolen or inaccurate, and repeated that her comments were made in the public interest.
Ms Murphy pointed out that IBRC's credit committee met on 23 May 2013, two months after Mr O'Brien's approach to the special liquidator.
She said at the time the outstanding balance he owed to IBRC was in the region of €325m.
"It is worth at this point asking the question as to why somebody so heavily indebted was allowed to make such significant purchases from IBRC rather than being asked to pay their outstanding loans," she said.
Fianna Fáil leader Micheál Martin said Ms Murphy had been labelled a liar and a thief.
"Most of the media not owned by Mr O'Brien has been effectively under siege as he has deployed resources on a level not open to other citizens to shape coverage of him" he said.
"The direct legal intimidation of journalists is a new and disturbing element which we must speak out against" he added.
He said the Government's handling of the issue had been to keep the lid on this, withholding information and had even gone into hiding in order to avoid answer questions.
Deputy Martin said if we are to believe what the Government has to say since "their humiliating climbdown", this was the first time in our history that an inquiry had been established because there is no evidence of any problems.
Mr Martin also asked why "this Government is so determined not to say anything to annoy Mr Denis O'Brien" and said no citizen should be able to use his power to silence legitimate public debate.
Minister corrects record on previous IBRC answers
Minister for Finance Michael Noonan addressed the Dáil this afternoon to correct the record on previous answers he gave on IBRC.
He said the package of board documents from 15 March 2012, where the sale of Siteserv were included, was received by the Department of Finance.
Minister Noonan said the Government would review all transactions resulting in capital loss to IRBC of €10m, or transactions giving rise to public concern.
He said there were 30-40 transactions over €10m.
IBRC was wound up two years ago, but questions have emerged about its operations and whether it offered preferential terms to borrowers such as businessman Denis O'Brien.
In the months before it was wound up as part of the promissory note deal, relations between IBRC and ministers had deteriorated significantly.
The catalyst for this investigation was a series of claims from Independent TD Catherine Murphy that the bank may have favoured Mr O'Brien particularly when the billionaire bought Siteserv from the IBRC.
The firm subsequently benefited from water metering contracts.
During Leaders' Questions, Sinn Féin leader Gerry Adams said the Commission of Investigation would not have been necessary if the Government had answered questions about IBRC over the past three years.
He pointed out a number of perceived conflicts of interest in this area.
Mr Adams asked the Taoiseach if he stood over the view that the highest ethical standards were being upheld at IBRC.
The Taoiseach said that the Minister for Finance met with the Opposition party leaders yesterday to discuss the commission.
He said that the special liquidator has been asked to collate all the files and send them to the PAC but that strategy was overtaken by events.
Nothing has been proven in terms of wrongdoing, Mr Kenny said.
He said the minister has been very flexible on the terms of reference, adding that the intention is that the commission will be properly resourced to deal with all the issues up to the liquidation of the IBRC.
Michael Martin asked the Taoiseach about the way the "shutters came down" on reporting comments of Ms Murphy on IBRC.
He said that Mr Kenny was also silent for five days, and accused him of going "into hiding" and not supporting Dáil privilege.
The Taoiseach said there was a case before the High Court.
He said he was asked to reconvene the Dáil and it could have met but there was a case under way.
Mr Kenny said he was glad to see the rights of TDs vindicated by the judge.