The Irish naval vessel Eithne has been directed by Italian authorities to travel to Taranto Port in Italy to transfer the 399 migrants who are currently aboard the ship.
Having rescued 310 migrants on a barge yesterday morning, later in the day LÉ Eithne successfully located and rescued additional migrants on two inflatable crafts, with 89 people on board, 75km north of Libya.
The ship will be deployed in the Mediterranean for a period of up to six months over the summer period, subject to the operational demands and requirements arising in the region.
Earlier, Italy's coastguard said, in total, nearly 3,500 migrants were rescued yesterday from 15 boats off the coast of Libya.
The International Organisation for Migration has praised the Irish Naval Service for its efforts - to date it has brought more than 1,100 people to safety in the Mediterranean.
In the past two days, LÉ Eithne saved more than 500 migrants attempting to cross from Africa to Europe.
It is estimated that more than 1,600 people have drowned so far this year trying to make the crossing.
Many are fleeing war in Libya, where so-called Islamic State fighters are terrorising the population, fuelling instability in the war-torn country.
In a three-hour operation on Friday, naval personnel rescued 113 people who were crammed into an inflatable craft adrift in waters 40km north of the Libyan coastal city of Tripoli.
Stark figures for rescues by @defenceforces #LEEithne in the Med http://t.co/Lptn5EMYbT pic.twitter.com/PUOlgbkIa2

— Philip Bromwell (@philipbromwell) June 7, 2015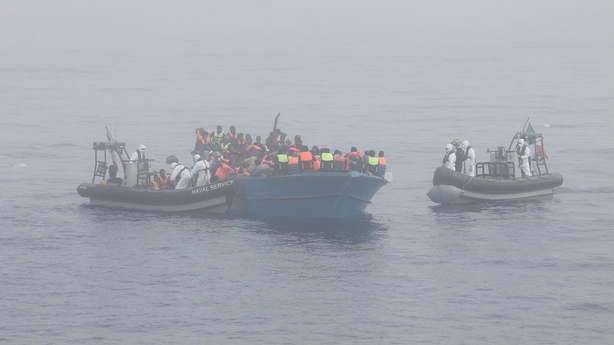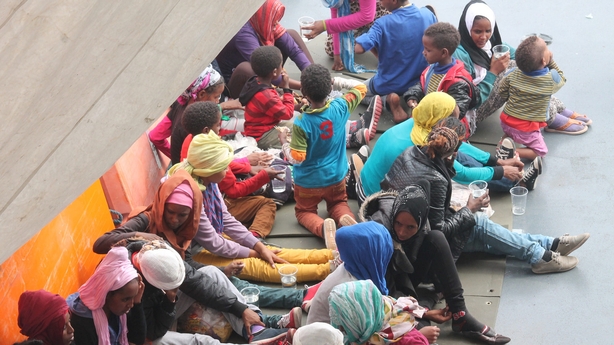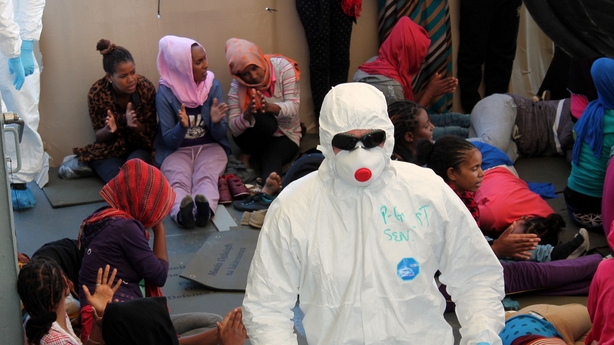 Minister for Defence Simon Coveney also commended the work of the naval service, but said there remains a pressing need for a comprehensive approach to dealing with the migration crisis.
Britain's Royal Navy warship HMS Bulwark is today involved in a rescue mission to save at least 500 migrants found in four boats in the seas off Libya.
British Defence Secretary Michael Fallon has called for action.
He told Sky News: "We could see migration attempted on a colossal scale, hundreds of thousands of people, if Europe does not get together and start tackling the problem much further back.
"In the short term, we need more ships from other European navies to come and help here.
"We need to pool more intelligence, we need to find out who is doing this trafficking, how they are making money from it, and we need to go back and smash the gangs themselves."
Thousands of migrants rescued in one day
Thousands were rescued yesterday from 15 boats, nine wooden boats thought to be converted fishing vessels and six large rubber dinghies, yesterday.
The boats were all found drifting off the Libyan coast after issuing distress calls via satellite phone, the Italian coastguard said.
Boats from the Italian, German and Irish navies took part in the rescue operation.
The exact number of migrants rescued was put at 3,480 by the coastguard and there were no reports of casualties.
One Italian navy boat, which was ferrying 475 migrants to Sicily, reported that it had seven pregnant women among its human cargo.
The number of migrants attempting to reach Italy on boats organised by people traffickers has increased by over 10% in the first five months of 2015, suggesting last year's figure of 170,000 migrants landing in Italy will be surpassed.
Hundreds are thought to have drowned attempting to make the crossing since the start of this year, including about 800 in one sinking that was the biggest maritime disaster in the Mediterranean since World War II.
That disaster prompted European governments to significantly increase search and rescue operations between Italy and North Africa.
However, they have been unable to agree on a longer-term strategy to ease the migration crisis, which aid workers blame on conflicts that have created more displaced people around the world than at any time since the end of WWII.