Leaders from the Group of Seven (G7) nations vowed at a summit in the Bavarian Alps to keep sanctions against Russia in place until President Vladimir Putin and Moscow-backed separatists fully implement the terms of a peace deal for Ukraine.
The Ukraine conflict and a long-running debt stand-off between Greece and its European partners dominated the first day of the annual meeting hosted by Chancellor Angela Merkel at Schloss Elmau, a luxury Alpine hotel in southern Germany.
Ms Merkel is hoping to secure commitments from her G7 guests to tackle global warming ahead of a major United Nations climate summit in Paris in December.
The German agenda also foresees discussions on global health issues, from Ebola to antibiotics and tropical diseases.
Ukraine took centre stage at the meeting, with US President Barack Obama calling for "standing up to Russian aggression".
The leaders want Russia and Ukraine to comply with a 12 February ceasefire agreed in the Belarus capital Minsk that largely halted fighting in eastern Ukraine between pro-Russian separatists and Ukrainian government forces.
EU leaders agreed in March that sanctions imposed over Russia's seizure and annexation of Crimea and destabilisation of eastern Ukraine would stay until the Minsk ceasefire was fully applied, effectively extending them to the end of the year, but a formal decision has yet to be taken.
Ms Merkel said any easing of the sanctions depended largely on Russia and its behaviour in Ukraine.
European Council President Donald Tusk went further, saying: "If anyone wants to start a discussion about changing the sanctions regime, it could only be about strengthening it."
European monitors have blamed a recent upsurge in violence in eastern Ukraine on the pro-Moscow separatists.
Mr Putin was frozen out of what used to be the G8 after Moscow's annexation of Crimea last year.
Obama 'looking forward' to UK staying in EU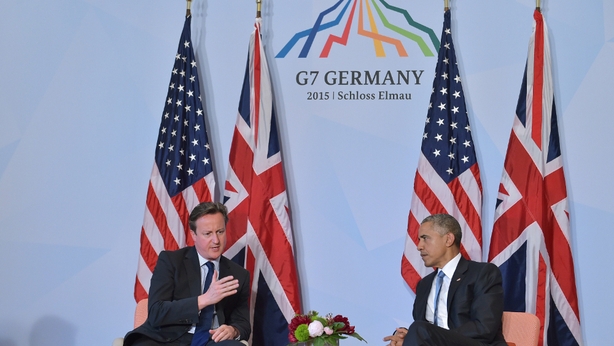 US President Barack Obama told British Prime Minister David Cameron that the United States is "very much looking forward to the United Kingdom staying part of the European Union".
He added that one of the values of having the UK in the EU is its leadership, and he said he was looking forward to the UK staying in the union.
Earlier, Mr Obama said world leaders at the G7 summit would discuss standing up to Russian aggression in Ukraine amid an upsurge in violence there.
Mr Obama was speaking at the start of the two-day summit.
Juncker expresses concern over Greece
European Commission President Jean-Claude Juncker, speaking before the start of the summit, voiced exasperation with Greek Prime Minister Alexis Tsipras.
He accused Mr Tsipras of distorting proposals by international creditors for a cash-for-reform deal to save Athens from default.
Mr Juncker reaffirmed that a Greek exit from the single currency area was not an option but cautioned that this did not mean he could "pull a rabbit out of a hat" to prevent it.
Without aid from eurozone partners and the IMF, Greece could default on its loans within weeks, possibly forcing it out of the currency bloc.
Elsewhere, Greece today said it wants to continue to seek common ground with its European Union and International Monetary Fund lenders, a government official has said.
The remarks come after Mr Tsipras told parliament on Friday that the lenders' latest proposal for more austerity measures from Greece in return for aid was "absurd".
Greece was still waiting for the creditors' response to Athens' most recent proposal, the official said.
Greece wanted to continue to negotiate "at the political level," he said, indicating that the talks should be led by political leaders rather than technical groups.
He added that there should be no deadline in the talks, just determination to find a "viable and fair solution".
'Europe must keep sanctions on Russia'
Mr Cameron said Europe had to stay united to keep sanctions on Russia in place despite any pain they caused the 28-nation bloc.
He urged the G7 to send Moscow a tough message on Ukraine.
Mr Cameron said: "We need to make sure Europe remains united."
"It [sanctions] has an impact on all countries. [But] Britain hasn't let our pre-eminence in financial services get in the way of taking a robust response to Russian-backed aggression and I don't think other countries should either."
Mr Obama said leaders would discuss the global economy, trade partnerships and "standing up to Russian aggression in Ukraine" as well as threats from violent extremism and climate change.
Both he and Ms Merkel highlighted the importance of the German-American relationship, damaged in recent years by revelations of US spying in Germany, including the bugging of the chancellor's mobile phone.
"My message to the German people is simple: we are grateful for your friendship, for your leadership," said Mr Obama.
"We stand together as inseparable allies in Europe and around the world."
Ms Merkel alluded to "differences" but described the United States as "our friend" and an "essential partner".
At the news conference with Mr Juncker, Mr Tusk said he hoped the G7 would present a united front on sanctions towards Russia.
He added: "If anyone wants to start a discussion about changing the sanctions regime, it could only be about strengthening it".
Protests ahead of summit
Ahead of the gathering, thousands of anti-G7 protesters marched in the nearby town of Garmisch-Partenkirchen yesterday.
There were sporadic clashes with police and several marchers were taken to hospital with injuries, but the violence was minor compared to some previous summits.
The Germans have deployed 17,000 police around the former winter Olympic games venue at the foot of Germany's highest mountain, the Zugspitze.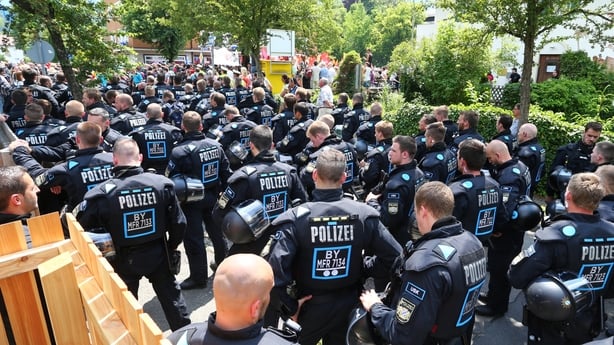 Another 2,000 are on stand-by across the border in Austria.
Tomorrow, the summit is also due to discuss militant threats from groups such as the so-called Islamic State and Boko Haram with the leaders of Nigeria, Tunisia and Iraq, part of an "outreach" group of non-G7 countries.
Ms Merkel will also have hard work on the climate talks.
She won plaudits in 2007 when she hosted a G8 meeting on the Baltic coast and convinced Mr Obama's predecessor, George W Bush, to join other leaders in pledging to fight global warming.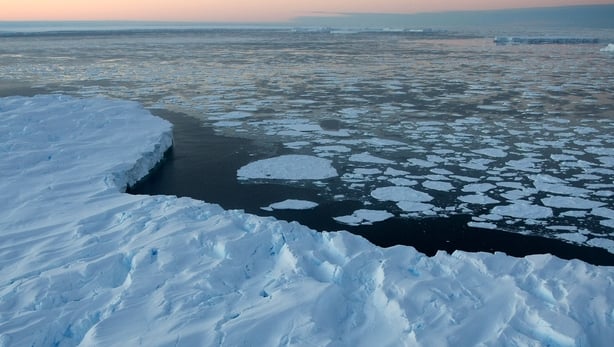 This time she and Mr Hollande, who will host the UN summit at the end of the year, need to overcome resistance from Japan and Canada.
In a video podcast yesterday, Ms Merkel said the Paris conference could only be successful if the G7 committed to limit the rise in average global temperatures to two degrees Celsius above pre-industrial levels.
"Otherwise I don't think there will be a climate agreement in Paris and all of the participants know that," she said.