A new organisation opposed to legalising assisted suicide and euthanasia has warned that the consequences of doing so in Ireland would be catastrophic.
Hope Ireland held its inaugural conference in the RDS in Dublin today.
A Private Members Bill to decriminalise assisting suicide in limited circumstances is due to be introduced before the Dáil in the coming weeks. 
Director of the group, Kevin Fitzpatrick, warned that it was not possible to put enough safeguards into legislation to cover every aspect of human nature and human motivation.
Mr Fitzpatrick, who is partially paralysed and who uses a wheelchair, said that assisted suicide and euthanasia were discriminatory against disabled people, arguing that while doctors would not hesitate to treat able-bodied people with suicidal ideation, the same was not always true for the disabled or those with other conditions.
"Too many doctors look at someone like me, or someone with a progressive condition in a worse situation, and they say, "yeah, we can't blame you" [if you are feeling suicidal.]" Mr Fitzpatrick said.
He went on to say that such a response was based solely on the persons disability, and, he said, that was where the discrimination came in, and that such discrimination "leads to death".
Mr Fitzpatrick said that he respected the late Marie Fleming, who he described as a work colleague and friend.
In 2013 Marie Fleming took her legal battle to be allowed to end her own life to the Supreme Court. She lost her case.
Her partner Tom Curran is involved in drafting the Bill which is due to be introduced by Independent TD John Halligan in the coming weeks.
If the Bill were to become law, an assisted suicide could take place, only when a person has a terminal and incurable illness.
The person must be assessed by two doctors before making the decision to end their life. One of those doctors must be independent and must not have been involved in the patient's treatment.
The person must also be over 18 and must have the legal capacity to make the request.
However Mr Fitzpatrick said that evidence showed that "once you open the door and legalise [euthanasia] things change dramatically," and that's what Hope Ireland wants to prevent. 
The Conference also heard from campaigners against euthanasia from Canada, the Netherlands, Australia and Belgium.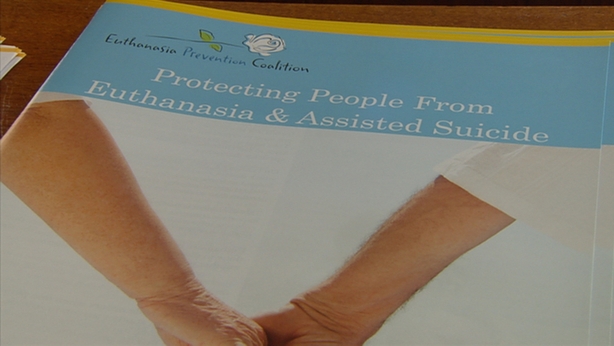 Via Skype Belgian man Tom Mortier told attendees that he had felt "neutral about euthanasia" until his mother was euthanised, which he said "caused intolerable pain" in his family.
Professor Des O'Neill, Director of the Centre for Aging, Neuroscience and the Humanities said that currently those advocating for person's right to "hasten death" in cases of neurological disease were "feeding into an apocalyptic of what diagnosis of neurological diseases are."
Professor O'Neill said that in countries where assisted suicide was legalised, more often it wasn't used by older people, but by "middle-aged to younger-older" people, where "the paradigm seems to be a fear of disability or a fear of age related disease."
"We're actually saying the answer to that fear is more support and more compassion," Professor O'Neill said.
Professor O'Neill said that he felt a huge number of medical practitioners would find the introduction of legislation to facilitate assisted suicide "hugely troubling."
He said that while he did not believe that there was an absence of debate around the issue, he felt that "much of society has not yet built up its articulacy around why this [assisted suicide] is not a prudent thing to do, and why its not a good course of action for individuals or society."
"Within the medical profession, we ourselves need to tease out better training in ethics and better training in medical humanities," Professor O'Neill added