Dunnes Stores workers and supporters from across the country marched in Dublin this afternoon over working conditions.
The Mandate trade union, which represents many Dunnes employees, organised the march, which was attended by an estimated 3,000 people.
The protest centred on low-hour contracts at Dunnes, which Mandate says give no security to workers in terms of income and working hours.
It is calling on Dunnes to introduce banded hour contracts which would give workers more certainty regarding hours and earnings.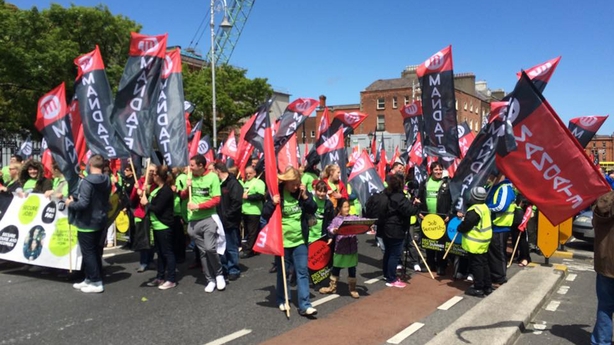 Speakers at the rally strongly criticised Dunnes Stores and its owner for failing to meet the union's demands on contracted employment and union recognition.
The speakers pledged to continue their campaign to secure better contracts and conditions of employment.
In recent weeks Dunnes unilaterally announced a 3% pay rise for its staff, but Mandate wants the company to negotiate directly with the union, which it has refused to do.
Dunnes Stores has been unavailable for comment throughout the dispute, which has now lasted several months.