A consultant in emergency medicine at Tallaght Hospital has said the 101-year-old woman who spent 26 hours on a trolley in its emergency department earlier this week, was subjected to horrendous conditions.
Dr James Gray described it as a form of torture and a human rights abuse.
Speaking on RTÉ's News At One, Dr Gray said he cannot guarantee that it would not happen again because of ongoing overcrowding issues at Tallaght Hospital, and at hospitals nationally.
He described it as a national crisis.
Dr Gray said that the elderly woman was waiting on a trolley for a total of 26 hours and experienced great indignity, lack of privacy and poor confidentiality.
He said that she is not the first person over the age of 100 to have been waiting on a trolley in the hospital's Emergency Department.
According to a report in today's Irish Times, the woman was brought to the hospital on Monday and after initial treatment was placed on a trolley where she remained until she was moved to a bed at 5pm on Tuesday.
Management at the hospital have met with the woman's family.
The hospital said it wanted to convey its apologies to the family directly for the delay that occurred in allocating a ward bed to the patient.
It said it fully accepts that no patient should be forced to wait for a bed and that priority should be given to elderly patients in the allocation of beds.
The hospital said a review is now under way and appropriate measures are being put in place to mitigate the risk of recurrence.
In a statement, the hospital said the department was experiencing a peak in patients numbers due to the bank holiday weekend.
The hospital also said it has seen a 25% increase of older patients presenting at the Emergency Department with more complex medical requirements over the past two years.
Some members of staff said they were appalled that they had to treat the woman in a public area with constant light and noise, making sleep very difficult for her.
The hospital said it was also taking other measures to improve the operation of the department.
The Health Information and Quality Authority was notified of the case on Tuesday by a member of staff.
HIQA said, however, that it has not been notified of any complaint in relation to the matter.
Breaches of 24 hours waiting on a trolley are also reportable to the Health Service Executive's National Director of Acute Hospitals.
Minister for Health Leo Varadkar said he joins Tallaght Hospital in expressing regrets for the fact a 101- year-old woman was left waiting on a trolley for 26 hours.
He said it is not something that should happen in our health service, and it is important that hospitals prioritise very elderly people when beds become available.
Mr Varadkar said he regrets that was not done in this case, and he will be in touch with the hospital's CEO over the matter.
He also said he is not just blaming the hospital, as it is under an awful lot of pressure, which is why it is currently undergoing extension work.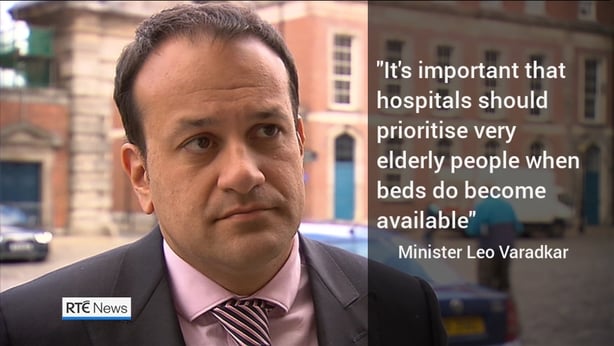 The Irish Association of Emergency Medicine said patients who have to remain on hospital trolleys for extended periods of time, have suffered an infringement of their human rights and have been subjected to inhuman and degrading treatment.
In statement, it said it is particularly concerned that the problem has got progressively worse over the last decade.
The association said the Department of Health must resolve the issue "before their inactivity causes further patients serious harm or death."
Figures show there are 405 patients on trolleys or wards waiting for admission to a bed today.
The figures show that the worst affected hospitals are University Hospital Limerick with 48 patients, Beaumont Hospital where 37 patients are waiting and Our Lady of Lourdes in Drogheda with 35.
The figures are down on yesterday, when 467 patients were waiting.
---
Health Correspondent Fergal Bowers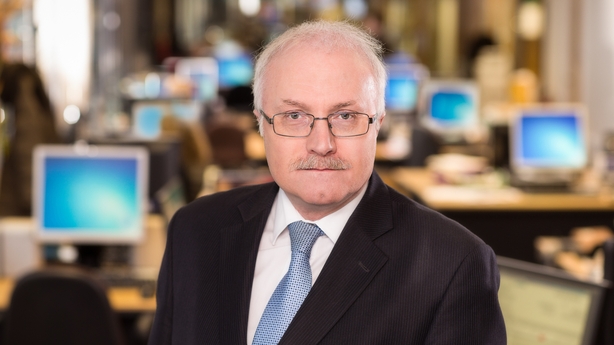 This elderly woman was born in 1913. She had suffered a heart attack at the age of 89 and also had arthritis and low blood pressure.
She arrived at Tallaght Hospital on Monday afternoon with heart problems and a low blood count. She didn't get a bed until Tuesday evening - at the age of 101 years she spent over 24 hours on a trolley before getting a bed.
She was given a blood transfusion on the trolley and according to staff she was subjected to great indignity because of light and noise.
Tallaght Hospital says it is precluded from commenting on individual cases but is aware of a delay that existed. It says it sincerely regrets any inconvenience experienced.
It also says it was experiencing demand pressures over the bank holiday weekend and work on a €5m upgrade is nearing completion.
---