Minister for Finance Michael Noonan has published the draft terms of reference for a Commission of Investigation into certain transactions and activities by the Irish Bank Resolution Corporation.
Mr Noonan said the commission will examine alleged preferential interest rates given to IBRC clients as part of its terms of reference, which were published this evening following a Cabinet meeting.
He said any interest rate differential that resulted in a loss of €4m will be examined. The figure was chosen to catch big deals but leave out smaller deals.
The commission, approved by the Government, will have the power to examine all transactions from when IBRC was set up in January 2009 up to the appointment of Special Liquidators in February 2013.
The commission must report back by 31 December.
Mr Noonan said the inquiry was not about Denis O'Brien but related to deals where there was a perceived conflict of interest
The minister also said his department has found some lost files relating to IBRC board meetings.
These do not include the specific meeting where the sale of Siteserv was decided, however, the sale was mentioned at one monthly meeting.
Mr Noonan said this meant he has to correct the Dáil record and he would do so on Tuesday. However, he said this did not change the substance of the account of who knew what and when.
He also said it was a coincidence this was discovered today and it was not connected to the Commission of Inquiry.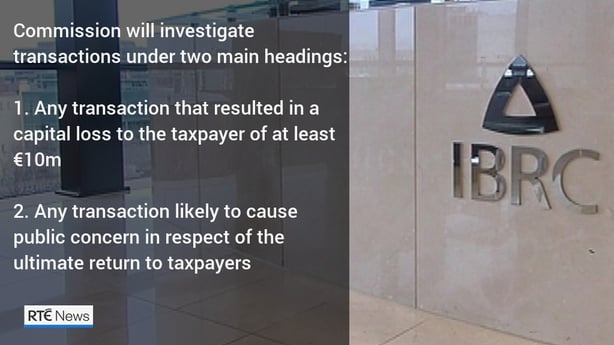 It will also examine IBRC's internal controls and governance procedures and whether they were fit for purpose.
The commission will also examine whether the interest rates or any extension to interest rates or any periods for repayments were given by IBRC on preferential terms that were unduly favourable to any borrower, where those interest rates resulted in a differential of more than €4m in interest due over the standard applicable interest rates for loans of that nature.
It will investigate whether, in respect of any transaction under investigation, any unusual share trading occurred which would give rise to an inference that inside information was improperly provided to or used by any persons, and in the event that such an inference does arise whether any such information was actually improperly provided or used.
The commission will be asked to respect obligations of confidentiality and commercial sensitivity where those are not incompatible with the public interest.
Mr Noonan made the proposal to establish the commission on foot of what the Government considers new allegations and ongoing public concern.
The "new allegations" are understood to relate to the details of interest rates for Mr O'Brien's loans with the IBRC.
Details of the interest rates were put on the record of the Dáil by independent TD Catherine Murphy.
They were at the centre of the controversy over the publication of her remarks.
Speaking on RTÉ's Six One News, Mr Noonan said he changed his mind regarding an investigation because new allegations have been made and, while there is no evidence, the allegations are causing public disquiet.
He added the original review was not adequate to deal with the new set of allegations surrounding the speech by Ms Murphy.
The minister said it is in the public interest to put the matter in the hands of a judge who will examine everything, including the original allegations, take into account the new allegations, and to report by December.
Mr Noonan defended his dealing of the issue in the Dáil and said he answered questions properly and adequately.
A Commission of Investigation had been sought by opposition parties for several weeks and it will be established under the 2004 Commissions of Investigation Act.
Mr O'Brien has insisted the information used by Ms Murphy is wrong and was obtained unlawfully.
Murphy welcomes establishment of inquiry
Ms Murphy has welcomed the Commission of Investigation and said that it needs to be wide enough so that all of the issues are captured.
Speaking on RTÉ's Drivetime, she said she could not speculate as to how long an inquiry might take and said it is important that there is transparency with a credible and independent inquiry.
Ms Murphy said that it is important that her sources are protected.
She said that she was made aware of the news of a possible investigation through Twitter.
Sinn Féin's Peadar Tóibín has said any investigation must have a tight time frame and the conclusions must be published ahead of the next general election.
Mr Tóibín said we are dealing with the consequences of legislation that was "rushed through" to dissolve IBRC.
He added "we could be weeks into an investigation had the Taoiseach taken the advice of Gerry Adams when he called for this last month."