ASTI president Philip Irwin has urged students sitting the Leaving and Junior Certificate exams, which got under way this morning, to "look after yourself".
Just under 56,000 candidates are sitting the Leaving Certificate.
60,000 have enrolled for the Junior Certificate.
The exams are taking place at nearly 5,000 centres across the country.
The first paper on the Leaving Cert is English Paper 1. The exam began at 9.30am. The Home Economics and Scientific and Social exams began this afternoon.
Junior Cert students face two English papers today.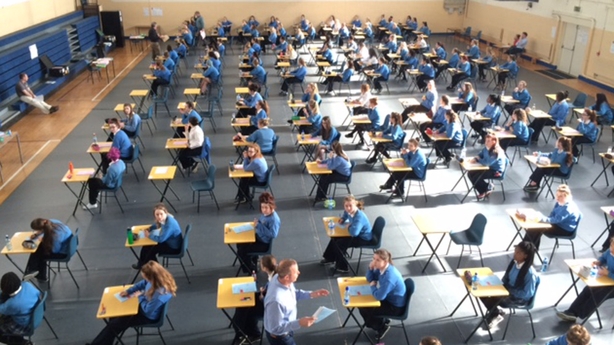 There is an increase for the fourth year in a row in the number of Leaving Cert students taking the Higher Level Maths paper, which carries CAO bonus points.
More than one-third of all candidates intend to take the Higher Level paper, with Paper 1 set for Friday and Paper 2 on Monday morning.
Wishing all those sitting exams the best of luck, Minister for Education Jan O'Sullivan said the exams were significant milestones and many students had worked incredibly hard.
She also praised the commitment and dedication of teachers.
Mr Irwin said while it is normal to experience some stress, it is important to keep things in perspective and "these exams do not define your worth as a person".
He advised students to stay away from post-exam analysis and marathon study sessions and develop a good routine that includes enough time for sleep, relaxation and exercise and to eat well.
"The Junior Cert and Leaving Cert are educational milestones and every student who completes them has achieved something important," he added.