Support for Government parties has increased according to the latest RED C opinion poll, to be published in the Sunday Business Post.
The prominence of Government ministers and TDs before and after the referendum on same-sex marriage, may be a contributing factor to the boost in support.
Fine Gael is on 28%, up three points.
While support for Labour is up two points to 10%.
This is the second time in three months the party has recorded support in double figures.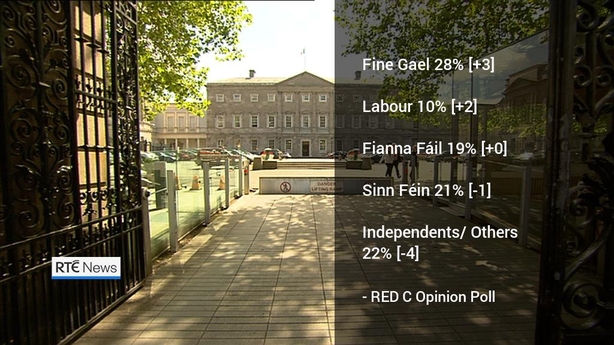 On a week when Fianna Fáil lost high profile Senator Averil Power and welcomed new TD Bobby Aylward to Leinster House, their support remains unchanged at 19%.
However the party can point to a much higher percentage of the vote in the recent by-election.
Sinn Féin is on 21% support, that is a slight drop of one point compared to the previous poll.
The survey of more than 1,000 voters also indicates a drop in support for independents and smaller parties, which fell four points to 22%.
Within that the Green party are on 3% and Renua on 1%.
Despite the gains in this and other polls the Government is still a long way off the kind of support it needs to be returned as a two party coalition.
However this opinion poll suggests Government popularity with voters is well up on what it was last winter.