Irish-American two-time Governor of Maryland and two-time Mayor of Baltimore Martin O'Malley has announced his intention to run for president of the United States.
Mr O'Malley, whose relatives come from Galway, made the announcement at an event in Baltimore today.
To the sounds of a Baltimore blues band - the Kelly Bell band- and against the backdrop of the city where he held his first political office, Martin O'Malley confirmed what has long been rumoured.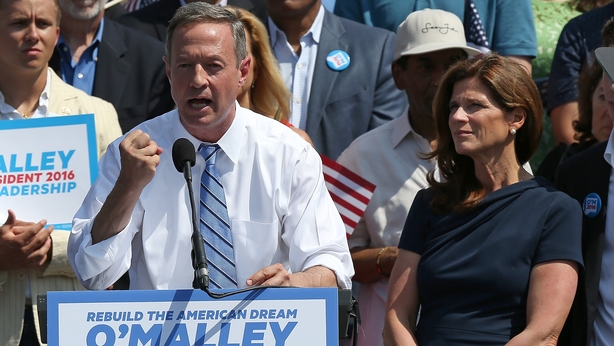 The banners and flags proclaimed the 52-year-old's campaign statement 'New Leadership' and a 'New American Dream'.
A crowd that was made up mostly of white people despite taking place a city with a 63% majority black population.
However there were four or five protesters too chanting "black lives matter", who feel that Mr O'Malley's tough on crime stance while Mayor of Baltimore led in part to the protests arising from the death of Freddie Gray last month.
Martin O'Malley now joins former Secretary of State, Senator and First Lady Hillary Clinton and Independent Senator Bernie Sanders as declared candidates seeking the Democratic nomination to be the next president of the United States.
After making his announcement from the stage, Mr O'Malley was played out to U2's song 'In The Name of Love'.
Irish- American two-time Governor of Maryland Martin O'Malley has announced his bid for Democratic nomination https://t.co/rIob0YcLZs

— RTÉ News (@rtenews) May 30, 2015