Former financial regulator Patrick Neary has told the banking inquiry that the supervisory measures were not sufficient to meet the challenges posed by the crisis and the recession that emerged.
Mr Neary said he was "deeply sorry" for that.
He said there was trust put in the banks to run their affairs prudently and he said banks should have known what they were doing.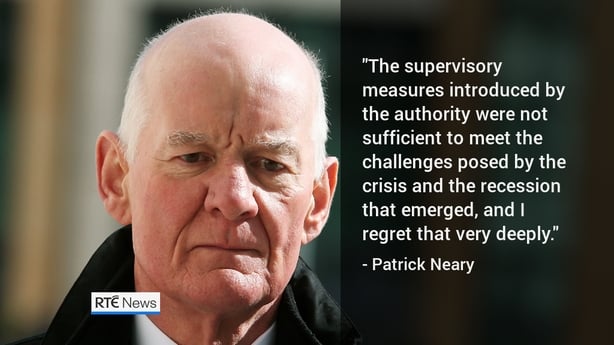 He also said nationalising Anglo alone could have hurt other banks, and he said they advised it was better to guarantee all banks.
Mr Neary said that the regulator did not run the banks and that it relied on the Central Bank, the Department of Finance and the ESRI for economic outlook.
He said the financial regulator had difficulty hiring adequately trained staff and that staff were stretched thin in banking supervision.
Mr Neary is facing questions from members of the committee, as part of its Nexus Phase public hearings.
During the Nexus Phase the committee is engaging with institutions and individuals who had roles relating to the crisis.
Committee Chairman Labour TD Ciarán Lynch has said this morning's hearing will focus on the role of the Central Bank and the Financial Regulator.
Stream provided by HEAnet
Too much money loaned to property and construction
Mr Neary conceded they did have powers to curb lending but did not use them and said banks loaned too much money to property and construction.
If they had really set hard limits, they would have been able to control the situation, he said.
Pushed by Fianna Fáil's Michael McGrath on whether he had refused six extra banking supervision staff, Mr Neary said he had sanctioned the additional people but they were unable to recruit them.
Mr Neary blamed the system of regulation.
Asked about his role in applying the system, he said it was the type of regulation which was not appropriate.
He said he first heard about Seán Quinn's use of certain share dealings known as Contracts for Difference (CFDs) in September 2007 when Anglo Irish Bank's chief executive David Drumm met him to ask what he knew.
Mr Neary said he knew nothing other than rumours.
He tried to make inquiries but there was nothing hard and fast.
He had a meeting with Mr Quinn in January 2008 who said he was "not long in financials".
Mr Neary's view was it was a matter for Mr Quinn.
He took him to mean that whatever CFDs he had, had been converted. The facts were established in March 2008 he said.
Asked by Mr McGrath whether he had taken adequate steps to establish the facts since first becoming aware of the situation, Mr Neary said there was no information only rumour.
Zero loan impairment before downturn
Mr Neary said he did not believe he could have imposed sanctions for banks breaching lending limits.
He said he accepted that these rules were allowed go into abeyance and accepted responsibility for that.
Mr Neary said he had no comment on the remark allegedly made by a former AIB chairman that he was a "hopeless regulator".
Mr Lynch asked him if the banks had lent €440 billion and economy was worth €160 billion how did he think the banks had enough capital to withstand a property downturn.
Mr Neary responded that prior to the downturn there was zero loan impairments in Irish banks.
He said the size of the entire banking sector was the responsibility of the Central Bank.
The conclusion of analysis by the OECD was there would be soft landing.
He said he regretted that Mary Burke, the former banking supervisor, felt she was being undermined by the CEOs of banks meeting her superiors without her knowledge.
Mr Neary said principal-based regulation meant that banks were best placed to assess risks and it was the boards of the banks who let their shareholders down.
Central Bank governor 'patriarch' of organisation
Mr Neary told the inquiry that he reported to the chairman of the Irish Financial Services Regulatory Authority.
Within the organisation the Governor of the Central Bank was seen as the patriarch of the organisation, Mr Neary said.
He said the Governor would have been aware that no action was taken against banks because he would have seen board minutes of the Regulator.
The resource needs of the Regulator was handled by the remuneration committee, he said.
Mr Neary said the problems hiring staff were caused because the salaries offered Regulator were not high enough because they were tied to civil service wage scales.
Asked about a meeting with former Bank of Ireland boss Brian Goggin about not taking action on 100% mortgages, Mr Neary said it was made clear very early on that it was not the role of the Regulator to ban products.
He said there were no minutes of a meeting with Mr Drumm regarding Mr Quinn's investment in Anglo because the meeting had been arranged informally.
Patrick Neary has said it was a mistake to print golf balls with the Financial Regulator's logo on them https://t.co/ZOOKlLrxQK

— RTÉ News (@rtenews) May 28, 2015
Mr Neary also said it was a mistake to print golf balls with the Regulator's logo on them.
He said these were purchased as promotional materials and it shouldn't have happened, adding they were discontinued quickly.
Socialist Party TD Joe Higgins suggested to Mr Neary that he would have done well as Regulator in the 1950s, but was at sea in cut-throat 2005 and was out of his depth.
Mr Neary said the Authority didn't see it like that and the system failed.
He said he could not interfere in relationships between banks and clients.
Pushed by Sinn Féin's Pearse Doherty on how Anglo and Irish Nationwide loaned so much to few clients, he said the law allowed it as long as loans were not impaired.
Fine Gael's Eoghan Murphy asked if carrying out 50 inspections between 2003 and 2008 was being presented as a positive. Mr Neary said it was what they could do on tight resources.
Fine Gael Senator Michael D'Arcy asked if they banks loaned recklessly. Mr Neary said he would not use the word reckless and had no evidence.
He agreed that the Regulator had signed off jointly on the Financial Stability reports with the Central Bank.
Fianna Fáil TD Michael McGrath asked if he was trying to deflect by apportioning responsibility for the reports onto the Central Bank, Mr Neary said he had no intention of deflecting blame anywhere.
Mr Neary said he told Prime Time in early October 2008 that the Irish banks were among the best-capitalised in Europe because he believed it fully at the time based on the information at his disposal.
Sinn Féin's Pearse Doherty said the banks needed €10 billion within 70 days.
On his severance and pension, Mr Neary said they reflected civil service arrangements and were what the Authority agreed to provide.
On his departure from IFSRA, he said there was a corporate governance issue in one of the banks which reflected badly on the Authority.
He felt the Authority's position was going to be difficult as the focus would be on his role.
Mr Neary didn't believe any institution was insolvent on 30 September 2008, the date of the guarantee.
He said having a social relationship with some bankers was certainly no longer appropriate.
He was asked about a golfing outing and dinner with some Anglo executives. He said it was only coffee and a sandwich and banking talk had no place in golfing societies or social events.
He said the collapse of Northern Rock sent a shiver down the spine and heightened awareness
Neary arguably the worst regulator - McWilliams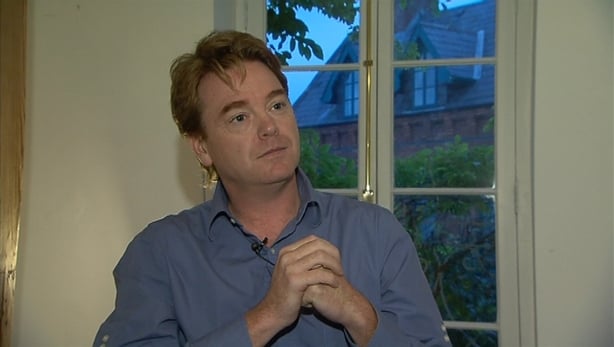 Economist David McWilliams has said Mr Neary was, arguably, the worst financial regulator the world had ever seen, but said you can not blame one person.
Speaking on RTÉ's News at One, Mr McWilliams said the institutions were sick and problematic, and the people at the top reflected the institutions.
He said that it's laughable, if it wasn't so patheticaly serious, that Mr Neary is blaming the system itself, adding just because you belong to an institution does not mean that you loose your common sense, or rationality.
Mr McWilliams added the Central Bank, Financial Regulator and the Department of Finance failed profoundly and, in so doing, endangered the entire economy.
'Irish banks are resilient' - Prime Time interview
In October 2008, Mr Neary was interviewed on RTÉ's Prime Time, when he stood by a statement he made the previous month that "Irish banks are resilient and have good shock-absorption capacity to cope with the current situation".
Asked by presenter Mark Little if he regretted the statement, Mr Neary said: "Absolutely not."
Among the issues which will be addressed with Mr Neary today relating to his role in the Central Bank and as the Chief Executive Officer of the IFSRA are the appropriateness of the regulatory regime, the effectiveness and appropriateness of the supervision policy and powers, and the effectiveness of the use of supervisory powers.
Other lines of inquiry include the nature and appropriateness of the relationship between the Central Bank, the Financial Regulator, the Department of Finance and the banking institutions.
Nexus Phase hearings will run until the middle of September.